This article originally featured in the May 2021 issue of Connect.
Yifen Jen (Kyōto)
The big island of Amami in Kagoshima, which America returned to Japanese rule in 1953, is an often overlooked traveler's paradise. Overshadowed by the larger island prefecture Okinawa down south and the artistic claim to fame of Yakushima to the north, Amami sits in between, quietly waiting for you to discover its wonders.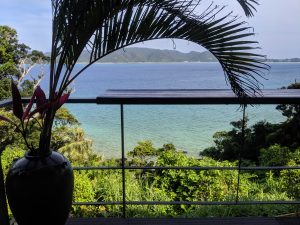 Why Amami? The relatively rural island is safe and feels free—free from the burdens of a bustling city destination. The vibe is relaxed, more carefree, but doesn't sacrifice the hospitality or eye for detail that Japan is so known for. Between the high-end resort Miru Amami that boasts individual villas and the guest house Mi-man, which the owner and his wife hand-built, there is something for all travelers. I recommend a stay in both—one for the luxury island experience and the other to connect with local surfers. Both are located in Tatsugō-chō. While not the city center, it is perfect for lodging, as it is relatively close to the airport.
Wherever you choose to stay, renting a car is a must, as the island bus is cute but few and far between.
From Tatsugō-chō, you have your choice of activities: from the scenic yet intimate Cape Ayamaru, beautiful both during the day and at night for stargazing, or Ōhama Beach, where you can enjoy a sprawling ocean view with your barbeque and, if lucky, some whales during the late winter season around January and February. There are also countless small beaches all within an hour's drive, if not half that.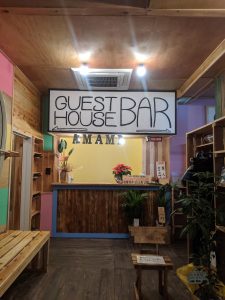 Culinary enthusiasts can find keihan, a local dish with chicken stock over rice with various toppings, served in numerous restaurants, all with their own distinct signature styles—some with a lighter or deeper broth, or even with a ramen twist. As you can imagine, local shellfish and seafood are also a hit, and the adventurous eater will be able to find vegetables they might not see in their local supermarket.
Tip: you may see "shibi" on some menus—it's the local word for Yellowfin tuna, and it is fantastic.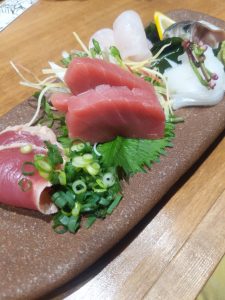 You can find it at most restaurants, but the newly opened Sake to Sakana Miyagawa (酒と肴みや川) serves it both beautifully as sashimi but also in a lightly-breaded and fried cutlet form. Those that have gotten used to ordering nihonshu (sake) with their dinner can also find a rare, rotating selection of sake here. If you are looking for something different, the drink of the island is shōchū.
More specifically, kokutō shōchū, or brown sugar shōchū. This distilled spirit tastes nothing like you would expect but will surprise and perhaps even delight any skeptic with its wide range of flavors. The crowd favorite shōchū bar on the island known for its wide range of kokutō shōchū is SAKE Kōbō Kokoro (SAKE工房心) located in the city of Naze, a half-hour drive from Tatsugō-chō.
So, why not stay in the city? For one—you are coming to get away from it all! You are coming to Amami to explore something different, to surf or SUP (stand-up paddleboard) or sunbathe to your heart's content. You are coming to discover that, even on grey days, the island is breathtakingly beautiful, as are the hearts of the people living here. Make sure to keep an open mind. Even on rainy days, you can see loads of fish on a scuba diving trip or shelter indoors and learn about the traditional dying or weaving of the island. The island demands you to slow down, to see something new. So what are you waiting for? Time to check out Amami this year.
Yifen has an avid curiosity about almost everything and loves to listen to people talk. She's been in Kyōto for seven years and is currently on the beautiful island of Amami. She is currently working on a Master's in OrgPsych and loves exploring and getting to know her community through food, drink, and sports. Connect with her on Instagram @roxanne2332233; she'd love to help you explore the island!