This article originally featured in the May 2020 issue of Connect.
Sheila Mulherin (Hokkaido)
Rishiri Island is a beautiful place in Hokkaido with quaint fishing towns, two ports, historical sites, and a seal pool. Mount Rishiri, among the 100 famous mountains in Japan, presents a challenging hike with a stunning view at the top. Rishiri Island is also where Japan's first foreign English teacher, Ranald McDonald, arrived (in 1848). The island measures a little over 50 kilometres in circumference, small enough to take a day-trip ride around on a bicycle or motorbike—both of which are available and cheap to rent.
I came to Rishiri Island to get a final training run in before the Lake Saroma 100km Ultramarathon, and to admire all of Rishiri's stunning natural beauty with my own two feet. Every June, a 53-kilometre ultramarathon is held on the island, and it serves as a perfect final long training run before the Lake Saroma 100km Ultramarathon—as well as a wonderful adventure in its own right. The Rishiri Island 53km features a challenging hilly course, with strong wind almost always guaranteed. It's the right race for me, although I will be asking a lot out of my body. I also had registered for a 43-kilometre mountain run (in record high temperatures) for the week before the Rishiri Island 53km, but I decided to ignore the huge demand I'd be putting on my legs two weeks in a row. I had faith I would survive.
Early on the Friday before race day, I drove more than five hours along the Sea of Okhotsk to the port in Wakkanai, where I took the mid-morning ferry to Rishiri Island. My ferry ticket included a separate room for 10-12 people, with space for each person to pull out a futon and sleep. I took a quiet, pleasant nap.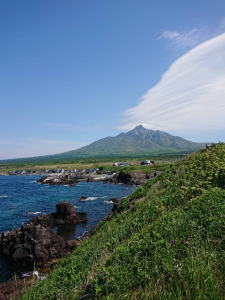 The ferry arrived at Oshidomari port, where hostel staff picked me up. I had settled into the hostel earlier than the other runners, who arrived on Saturday. I decided to come a day earlier to tour the island more leisurely. However, I was greeted by a powerful storm—heavy rain pelted down sideways, and the wind blew fiercely. I cinched the hood on my raincoat, walked around Oshidomari, and found a decent onsen to relax at. I learned the hostel I had booked, like the many in Japan, would only heat their bath water in the evening. Likewise, every onsen in Oshidomari only opens in the afternoon, which is more environmentally friendly. I had plans to go for a run in the morning and preferred feeling clean afterwards, however, and wanted a morning bath. Fortunately, the hostel staff were willing to turn the water heater on in the morning for me.
Better yet, on Saturday, the weather cleared up a bit and the wind gusted intermittently, so that made the day before the race a bit more pleasant. I went to the event headquarters and acquired my race packet, local omiyage (including various packages of seaweed and snacks) and a cloth race bib. Back at the hostel, runners started checking in, and I met a lot of them in the main dining room. Everyone introduced themselves, and I struck up conversation with my fellow competitors. Those enjoyable chats got me excited for the race.
After the friendly chatter, I went back to the ferry terminal and rented a motorbike to buzz around the island. Before moving to Japan, I owned a small motorbike, so I missed the liberating feeling of zipping along an open road. I felt a bit of a chill as I rode, so I stopped at a small museum to warm myself up and continued onwards to a rest stop. I took advantage of an abundance of delicious free samples, including Rishiri Kelp, senbei, and tea. Next, I visited the southernmost point of Rishiri Island, where I saw seals swim and play in an enclosed pool among the rocks in the ocean before I relaxed at a lovely oceanside onsen in Kutsugata.
I went back to the port to return the motorbike before dark, and had dinner with the other runners at the hostel. I fried veggie croquettes for everyone, and they shared their food as well. We all enjoyed each other's company, and the gregarious atmosphere refreshed and rejuvenated me. The weather forecast for race day seemed promising.
Race day comes!
Race day morning came, and I was among the first awake. We could either jog to the start or arrive there via the shuttle van. Many who entered the 53-kilometre race seemed too young (in my opinion) to run such a long distance, which concerned me a bit. But I learned it's normal for Japanese high school students to do an annual kyouho, or long-distance race walk. They start the race together, but don't have to finish it. They don't even need to run any of it. This news appeased me, and I wished the students good luck. We had a group photo (later printed on a large glossy sheet and mailed out to every participant), a countdown, and . . .
We all set off. We ran by my hostel, where staff cheered us on enthusiastically. Wind blew hard intermittently, but the sun shone all day. The course proved challenging and hilly, with ample bathrooms and aid stations regularly spaced out throughout the course.
My strategy for the race had been to do the same run/walk intervals I'd planned for the 100-kilometre race a month later—run 20 minutes, walk 5 minutes, and repeat. This time, however, I felt energized, so I decided against it. In the second half, I was a bit fatigued and decided to initiate my run/walk intervals. The scenery's beauty captured my attention, weaving through small fishing villages with waves crashing against the rocks. The expansive blue sea was on my right while Mount Rishiri, towering into the clouds, was on my left. Near the halfway point, a series of challenging steep hills greeted the runners, so most of us walked uphill.
I ran alone for the last 20 kilometres of the race. The wind had calmed down, so I focused on maintaining a comfortable pace and taking in the stunning ocean views. Taiko drummers playing along the course inspired and reinvigorated me with their strong pulsing beats. At the aid stations I ate fruit, onigiri and daifuku, turning down the sugary cola and candy. Then the pain set in with 10-15 kilometres to go.
I battled my way to the finish line, with strong gusts of headwind coming at me. Sprinting through Oshidomari, three women watched me with curiosity from the sidewalk. One of them stated matter-of-factly, "Gaikokujin, gambatte" while the others nodded in agreement and clapped heartily as I went by. I sprinted through the finish and wobbled to the ground as a volunteer approached me to take the chip off my shoe. Children watched me, exclaiming "whoa!" at my dramatic tumble. I hadn't done a dramatic tumble in a long time—the race kicked my butt! My finish time was 6 hours, 14 minutes. I had just completed my first 50-kilometre race! I came in 32nd place out of 156 women, a satisfying performance for me.
Later however, showering proved painful in the sensitive places that had chafed during the race, despite applying Vaseline beforehand (I made a mental note to bring more and continue applying it throughout my next ultramarathon). I didn't want to move. Fruitlessly, I tried to will the pain away. I had to wash up, of course, and I winced as the water hit my raw spots. My pain was audible, so I was glad to be alone. I gingerly washed up and made my way back to my room to stretch. As I stretched in my room, I noticed the arch muscles in my feet spasming and crawling as if worms were trying to wriggle out from under my skin. That meant my foot muscles went through a hard workout and I hadn't consumed enough nutrients. Fortunately, the spasms stopped when I ate a proper meal in the dining room.
More runners trickled into my hostel. Since a lot of them had a runner's high, chatting about the race was easy and I ended up exchanging contact information with several of them. Most left quickly, but on the ferry the next morning, we had a little reunion nonetheless. We got to know each other better through stories about life in our respective cities and countries. We also shared stories of outdoor adventures similar to what we had on Rishiri Island before parting ways in Wakkanai.
The island's quaintness and stunning scenery, and the friendships I made with the other runners in the hostel made this experience unforgettable. The physical challenge the race presented to me was a tough and satisfying experience as well. All in all, embarking on adventures alone is a rewarding experience. Never let being alone stop you from traveling. Openly introduce yourself to others around you and others just might respond positively. Lasting friendships can blossom, creating unforgettable experiences and cherished memories.
Sheila is an English teacher in Hokkaido. Originally from Boston, U.S.A., she can be seen hiking, reading, trying out new vegan recipes, playing with her adorable cats Bailey and Maisy, or running obscenely long distances on the roads and trails. She also looks forward to the Hokkaido winters when she can cross-country ski.