This article originally featured in the May 2020 issue of Connect.
Hannah Moore (Okinawa)
While Okinawa's beaches are certainly beautiful, there is a lot more to love about these little islands. Before Okinawa was annexed by Japan, it was known as the Ryukyu kingdom and it has its own vibrant culture to show for it! From the bright colours of the traditional kimono dying technique bingata to the dynamism of the traditional dance eisa, the oceans aren't the only things that sparkle here!
1. Eisa
Surrounded by bass drums sending ripples through your body and the dynamic moves of the acrobatic shime daiko players, eisa is my top pick for things to experience while in Okinawa. This originated as a dance to welcome the ancestors during Okinawan Obon, it is now danced all year round and at a number of dedicated festivals all over Okinawa. Traditionally this was a man's dance, and though now it is also performed by women it retains its power and dynamic athleticism. My top pick of places to see it is the All Island Eisa Festival in Okinawa city. You can grab an Orion, the beer that screams Okinawan pride, at the adjoining beerfest. The atmosphere is warm and exciting and you will see some great dancers! Just make sure to pace those beers, it's easy to get dehydrated in the hot, humid Okinawan summer!
Honourable mentions to see eisa include the 10,000 Eisa Dancers Parade, community groups during Obon itself, and Okinawa World.
2. Peace Park and Peace Memorial
Going to this museum was an extremely powerful and moving experience for me. Okinawa's history has been a painful one but at this museum the story is told with such a delicate sensitivity that you never feel as though they are descending into sensationalism, but neither do they turn away from the painful truth. It expertly treads this line in an incredibly informative way.
After the sobering experience of the museum itself, take some time to heal in the beautiful grounds. Various Japanese prefectural representatives have donated sculptures that blend beautifully with the natural beauty and rich greenery of the cliffside location. The overwhelming message of this museum about war is one of peace and I find it conveys that with a deep sincerity that will leave you feeling better for having come.
3. Go Drinking in Sakaemachi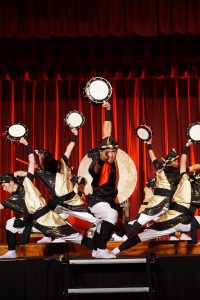 Okinawa is known almost as fondly for its people as it is for its beaches and you will find them equally warm and inviting. For those of you not lucky enough to experience living here you will definitely want to visit a place where you can mix with the locals. I recommend the drinking district Sakaemachi. In the heart of Naha, walking distance from tourist hub Kokusai Dori, you will find arcades and alleys filled with tiny izakaya bursting with life. The drinks are fairly cheap here and it's compact, perfect for a night of bar hopping. On some walls you may see a sanshin, the quintessential Okinawan instrument, and if you are lucky someone will play. Watch the people around you so you can join in the hayashi or repeated chorus of the song and let out a "Ha-i-ya!" with everyone else. Check out my handy guide to Okinawan phrases you can use while out on the town to impress the locals and they will instantly warm to you!
Okinawan phrases that can be used out on the town for instant rapport
Haisai (Haitai for females) – a common greeting, use it morning, night, whenever!
Nifēdēbiru – thank you
Kwachīsabira – The Okinawan equivalent of itadakimasu, use it at the beginning of a meal or if someone offers you some food
Kwachīsabitan – Past tense of kwachīsabira roughly means gochisosama deshita. Use this at the end of a meal or to thank someone for paying for your drinks 😉
Māsān – delicious
Churakāgī – This means a beautiful person, typically a woman. Use it wisely!
Watamicchon – My personal favourite phrase may not be known by some younger Okinawans but it's worth trying just to get the reaction when they do! It means I am really full, or really satisfied. Use it at the end of a meal to express your satisfaction with the food and get some satisfying double takes from the people around you!
4. Bingata Dyeing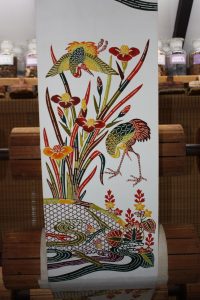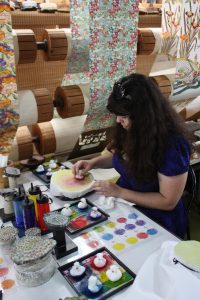 If you are a creative person like me and like to intersperse your sightseeing with a bit of getting your hands dirty you can't beat bingata for a craft you can do in a day and love the result. This traditional dyeing technique is way too expensive for me to pay someone else to do it, but at Shuri Ryusen, you can receive a small square and do it yourself! The great thing about this is it's a relief dying style, so the stencil pattern will have already been put on by someone who knows what they are doing, you just have to use the dyes to apply the colour. Deciding how to blend and balance your colours is just the right amount of engaging but relaxing for a travel activity.
If you want to make a whole day of it you can try Ryukyu village instead. Here there are a series of traditional Okinawan houses each with a different craft for you to try as well as performances, fresh fruits, juices and stalls where you can buy traditional crafts.
5. Ruins of Katsuren Castle
In a recent tragic fire, Okinawa's most iconic castle, Shuri Castle, was sadly burnt to the ground. Though the gardens surrounding the ruin are also lovely, I would also recommend heading out to the ruins of Katsuren Castle to get your fix of castle spotting. Though only the walls remain they look beautiful against the lush grass and like the stronghold of any self-respecting lord they have been built high on a hill overlooking some stunning ocean views. The hill is a bit steep but it's not a long walk and on the way you can enjoy the augmented reality through QR codes which allow you to use your phone's camera to see little scenes of ancient life superimposed onto the ruins. Though you may not need pictures to learn as I do, I have found some castles provide you with an obtuse wall of English, translated a little too literally from the Japanese. This was a welcome change!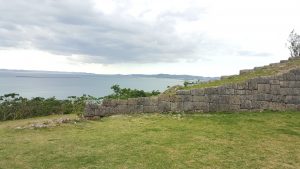 These ruins are accessible by bus from the main island hub, Naha, and are a nice way to get out of the city if you aren't renting a car to visit the unspoilt North. However, I always recommend visitors to Okinawa's main island rent a car for at least some of their stay if possible.
Photos: Hannah Moore and Teruya Kiyoshi
Hannah Moore spent three life-changing years teaching English in Okinawa where she fell in love with the local instrument, sanshin. Now back in her home country of Australia, she continues her sanshin journey as the founder and creative director of Okinawan music group Sanshin Sydney, maintaining close ties to the Okinawan community in Sydney and back in Okinawa. Follow on Instagram to show your support for her and her group's continuing mission of cultural exchange!