This article originally featured in the April 2020 issue of Connect.
Christina Bellevue (Ibaraki)
If you're a beauty lover like me, then it only makes sense that you'd want to take advantage of your stay in Japan to discover local brands and try new products. While we may not have the means to splurge on an ¥80,000 face cream inspired by neuroscience or a ¥170,000 skin-firming device beloved by models and makeup artists, there are more affordable products out there that allow us to indulge in Japanese beauty!
As a black woman and beauty lover, I've been on a mission to find beauty products that would suit me while I lived in Japan, a country where the average beauty consumer sits at the opposite end of the skin tone and hair type spectrum as I do. I've also had many people of colour (mostly black women) message me asking if it's possible to do a full face of makeup using only Japanese products.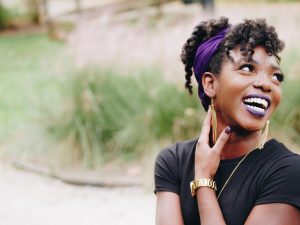 Since moving here, I've done a lot of research and tried on. So. Many. Products.
And the good news is…YES!
With a bit of ingenuity and finessing, it is possible to use only Japanese beauty products for a fresh, everyday makeup look. Since Japanese drugstore beauty products are somewhat iffy as they tend to lack pigmentation, or look ashy on dark and deep skin tones, your best bet is to save your dollars and add a few key J-beauty products to your beauty stash.
The recommendations below should help get you started!
MAKEUP FOR COMPLEXION AKA BASE MAKEUP
Welp, this is the most challenging category for any melanated folks living in Japan. Also known as base makeup in Japan, there are indeed Japanese beauty brands that cater to darker skin tones. Koh Gen Do, Shiseido, Sensai, Clé de Peau Beauté, NARS*, Laura Mercier*, and tarte* are all Japanese beauty brands that offer a decent-to-extensive range of darker shades in their foundations and concealers.
Now, they ain't no Fenty Beauty, but their products still work for us.
Thing is, even if the brands listed above are owned by Japanese parent companies, the darkest shades in their respective base makeup collections are often designed for and sold exclusively in Western markets.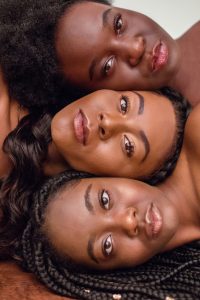 SIGH.
A good option is to order them from Sephora US or iBeautystore.com, a Hong Kong-based online beauty retailer that specialises in Western brands unavailable in Japan (with cheaper prices than retail and free shipping anywhere in Japan to boot). If you live in the Tokyo area, the ENTIRE shade range of tarte babassu foundcealer foundations and shape tape concealers are also available at the Maison Kosé flagship store in Ginza.
Locally, I also discovered RMK and FIVEISM X THREE, two homegrown Japanese brands that offer a couple of darker shades in their foundations and concealers. This foundation in shade Coffee Brown from RMK, as well as the Naked Complexion Bars in shades 13 Darius, 14 Joaquin and 15 Wyatt and the Concealed Bar in shade 05 from FIVEISM x THREE are all products that could work on certain darker complexions.
*I classify NARS, Laura Mercier and Tarte Cosmetics as Japanese brands because they are owned by Japanese beauty groups: Shiseido owns NARS and Laura Mercier, while Kosé owns tarte.
MAKEUP FOR EYES, LIPS, CHEEKS AKA POINT MAKEUP
Thankfully, point makeup—makeup for eyebrows, eyes, cheeks and lips—that's suitable for darker complexions is easier to find at every price point.
Eyebrows:
Look no further than this cult eyebrow liquid pen and matching eyebrow gel in shade Khaki for the most natural-looking, sweatproof eyebrows you wish you were born with. Worth every penny.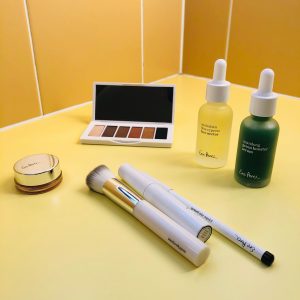 Eyeshadow:
So many options to choose from! This "drugstore MAC" brand offers tons of pigmented single eyeshadows at an affordable price, while my all-time favourite cream eyeshadow pencils are from a brand named after the "hangover" igari makeup look that was all the rage in Japan a few years ago. I also like these eyeshadow quads based on eye colour, and these silky-smooth powder eyeshadows from a Japanese makeup artist who studied under François Nars and Pat McGrath. If you love sparkly eyes, then you can't go wrong with these little pots of glitter magic. And if you're feeling extra bougie, then you might as well go all out with this divine eyeshadow quad.
Eyeliner:
I love this "tattoo-like", waterproof liquid eyeliner, these colourful liquid eyeliners with a comfortable grip, and these multi-tasking eye and lip pencils for a pigmented pop of colour. This geisha-favourite, jet-black gel eyeliner is also a must if you like your eyeliner dark as night without getting "raccoon eyes" by the end of the day.
Cheeks:
This raspberry blush in shade #16 Sister of Night is the most universally-flattering shade I've ever seen. It can be worn sheer or more pigmented. It also works on every skin tone, from the fairest to the deepest. A must-buy!
Highlighter:
This trio of versatile, shimmery gold and champagne highlighters or this face illuminator will make them cheekbones POP.
Lips:
Try this "milk tea beige" lipgloss for a perfect, brown skin-friendly nude look; or this lovely burgundy lip gloss and deep red lipstick from Japan's first-ever vegan and halal makeup brand, Race, for a vampy pout. These semi-matte lipsticks apply like a dream without leaving your lips feeling dry, and here's another luxurious, juicy berry lipstick option if you want to splurge.
Christina is a second-year Canadian JET living in Ibaraki. When she's not checking out her local LOFT or Donki for new beauty discoveries, you can find her sweating her butt off at a kickboxing gym, bingeing Korean dramas and bowls of chocolate flakes cereals, or driving off in her car to go explore something, somewhere! You can follow her on IG @diverse_beauty_trends for more #JBEAUTYFORPOC discoveries and recommendations
Cover Photo: Autumn Goodman on Unsplash.com