This article originally featured in the April 2020 issue of Connect.
Sheila Mulherin (Hokkaido)
A Winter Adventure
Hokkaido's winter earns fame through its powder snow, endless white landscape, and ice festivals. The prefecture also introduced me to the wonderful world of cross-country skiing. The sport fits me like a glove due to my strong endurance base built from running long distance since childhood, and love of winter and the outdoors.
Soon after making connections in the cross-country skiing community, I heard about an 80-kilometer ski marathon that piqued my interest. Held in late February, it stretches from Okushirataki to Yubetsu. I set the 2019 race in my sights, but the winter of 2018-2019 had arrived in a less than desirable manner. I broke my wrist and needed surgery in September 2018. Then severely injured a tendon in my left ankle that October, so I couldn't easily build an endurance base.
Ski Seasons Arrives
At last, my injuries healed enough to ski in late December. I was buoyed hearing about the race's gentle course (only one long steep hill climb in the middle) and generous time limit of eleven hours. Despite my uncertainty, I took a leap and registered for the race, I put faith in my leg muscles to pull out magic like they had in the past on dry land. I worked back into a comfortable running and weightlifting routine, and put in long ski days whenever possible to whip myself into the best shape possible. On consecutive days in early February, I did 15 and 33-kilometer races in Otaki and Chitose respectively. The next weekend was the Miyasama 38-kilometer race in Biei. The course had stunning beauty, and presented a challenge due to its steep climbs, swift descents, and snow blowing hard at my face. Despite my fatigued arms and burning hips, I finished well before the cutoff time.
The Big Race Day Loans
The last week of February arrived, and I was as prepared as possible for the Yubetsu ski race. In the information packet sent out, a menu was included, so I had in mind the vegan-friendly options I'd consume at each aid station: fruit, daifuku, umeboshi and black sesame onigiri. Early on race day morning, I drove to Yubetsu for the 4:50 a.m. shuttle bus to the Kita Taisetsu Ski Resort, the starting location for the 56 and 80 km events. The site had the bib number pickup, and plenty of warm space to change clothes, stretch, prepare gear and socialize with other skiers. The field of skiers was similar to what I've observed at other competitions, (running) marathons and trail races in Japan. About 90% of the participants were men, mostly middle aged, although there were a smattering of young skiers and tough grandpas.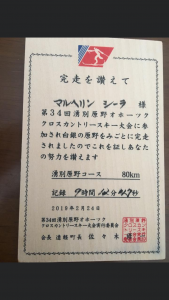 The Race Start
A little before 7:30 a.m., we all gathered at the start and stood in separate parallel ski tracks, to push straight ahead for the first 50 meters of the race. A woman whom I recognized from the Miyasama ski race took part in this event as well. Like in Miyasama, she was dressed like a cow, and took off well ahead of me quickly after the start.
Upon hearing this was my first 80-kilometer race several skiers offered a hearty "Ganbatte kudasai!" and I wished them the same. The gun went off, staff and spectators exclaiming "Itterasshai!" We slid ahead and skied out of our starting lanes, dispersing a bit before slowing for the crowd in front of us. A hill appeared before us and we widened our stance and stomped up, organizing fluidly into lines. The herd of skiers stretched out after a few kilometers and I skied with more freedom.
Fleeting whiteout conditions occurred in the first 10-15 kilometers, which proved unnerving. I'm glad I skied alone at those moments, because I couldn't see anyone even two meters in front of me. After those whiteouts, several skiers caught up to me and we made small talk, stilted by the strong wind and my low Japanese ability. The course held my attention, taking me along a river, a road, and into a hilly forest. At aid stations, I ate anpan and the like. As I exited each aid station, volunteers shouted "Itterasshai!" and "Ganbatte kudasai!"
As time went on, my suboptimal preseason training and beginner technical skills caught up with me as fatigue took over. At the bottom of the hills, controlling myself at sharp turns proved difficult. I fell as a man dressed as a Kappa came down the hill behind me. A kind staff member moved swiftly to pull me off the course while the Kappa skied past me uninterrupted.
Oh, We're Halfway There
At approximately the halfway point, the course led us directly onto the streets, through the town of Maruseppu. The locals had come out to cheer us on with kindness and enthusiasm. I appreciated their warm smiles and encouragement. The lunch aid station offered pork soup, which I passed on for orange juice. Maruseppu did indeed have a never-ending steep climb. I pointed my skis into a wide V shape, and stomped up.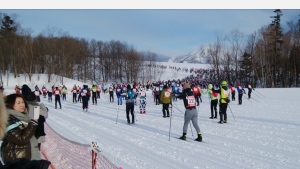 The warm midday sun moistened the snow a bit and I grew warmer. The weather remained pleasant—it was sunny or cloudy for most of the day. The course passed a convenience store that staff had encouraged us to stop at if needed. Popping off skis and using a warm bathroom during the race was quite nice! The course flattened out and led us straight along a river leading north to Engaru, where the shorter races merged with ours. Talented children zipped around me and zoomed ahead out of sight. Their fresh energy inspired me!
Novice skiers of all ages took part in the race as well, working hard to stay upright. Several near me fell, assisted back on their skis by someone near them. I offered words of encouragement, happy they were doing their best in a new sport. Surprisingly, I glided along with ease after 50 km. Spectators cheered me on from the bridges above. Kids watched curiously and exclaimed "Gaikokujin desu!" I smiled and waved. The course split in Engaru, a straight line to the finish line for the shorter races, and a bend to the left continuing the race for the 80 km skiers. I took my designated turn, where silence fell around me.
I carried on. We crossed a narrow bridge where we had to ski classic-style, a challenge for those with skate skis, which are smooth and tractionless. I powered on, using my upper body. The aid stations at 60, 65 and 70 km became increasingly more crowded with skiers resting and stretching. The pain had noticeably set in for me as well, yet I slid in swiftly only to fill my water bottle and down a drink and orange slices. Like in running ultramarathons, sitting is the devil, except when using the restroom. Stopping only delays the pain briefly, so it's wise to push on to the finish line without stopping.
The final ten kilometers represented the hardest part of the race. The powerful headwind slowed my pace, and the course had become icy. Skidding on the ice proved an arduous task for my fatigued legs to go in the desired direction. My hips burned and I progressed slowly. Nonetheless, I persisted. The finish line approached. After dark, tiki torches would light the way.
The Finish
Alas, I would finish before the torches were lit. With only three kilometers to go, I felt buoyant and free. Staff guided me through Yubetsu Town to the finishing track. I heard my name and bib number over the loudspeaker, and enthusiastic spectators and volunteers cheering wildly with noisemakers, "Ganbarimashita! Otsukaresama deshita!" The finishing sprint around a track is a different experience on skis than on feet. I had more in me and wanted to sprint, but my skis only allowed so much speed before wobbling. I glided into the finish after nine hours and twelve minutes, drained and sore but relieved and happy.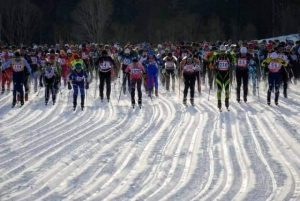 Volunteers graciously helped pop off my skis. The transition to walking after skiing for over nine hours proved itself arduous. I gingerly made my way back to the building. Staff offered me onigiri and kindly prepared a vegan-friendly soup for me upon request: noodles with soy sauce, salt and green onions. And I was presented with a finisher's certificate made of a unique material: wood!
Final Thought
Lack of snow cancelled the race in 2020. The race organizers generously refunded every skier's entry fee, and even gave us a race brooch. This event impressed me so much, with its beautiful and diverse landscapes, the seamless organization, the kindness of the staff and fellow skiers, and the way it challenged me to push my physical limits. I had only learned how to cross-country ski last year, and faced a lot of setbacks early on, yet I still accomplished a major goal. I can't wait to toe the starting line in 2021.
We all possess the capability of learning new skills and producing amazing results, despite setbacks. You never know where your new adventure will take you.
Sheila is an English teacher in Hokkaido. Originally from Boston, USA, she can be seen hiking, reading, trying out new vegan recipes, playing with her adorable cats Bailey and Maisy, or running obscenely long distances on the roads and trails. She also looks forward to the Hokkaido winters when she can cross-country ski.