This article originally featured in the April 2020 issue of Connect.
Kat Joplin (Tokyo)
Moving to the inaka of Oita, Japan was the best and worst thing for my queer agenda. On the one hand, it gave me, a freshly out-of-the-closet genderqueer, a clean slate to reinvent myself and change my gender presentation. On the other, I was geographically isolated like never before, and prefectures away from any real gay scene.
When I left JET in 2018 to enroll in a Japanese language school in Yokohama, I felt like a bottle of soda ready to pop. My three years in the countryside had been joyous and fulfilling, but finally, I had made it to the city. I decided I would be "that gay student." I would start the year off loud and proud, flamboyant, the Johnny Bravo of nonbinaries. In a room of seventy classmates and faculty, I stood and said: "My name is Kat. I study Japanese literature. I'm X-gender and prefer 'kare' or 'anohito.' Yoroshiku." The room clapped loudly.
After orientation was over, one of my classmates approached me.
"I really liked your jikoshoukai," they said. "I'm kinda private about it, but I'm X-gender too. Do you watch 'RuPaul's Drag Race'?"
This was how I met my drag sister Angel Heart, the first fellow nonbinary person I had met since coming out four years earlier. Over the following six months we would bounce from binge-watching "Drag Race," to experimenting with makeup in my apartment, to going out to gay clubs and drag shows in Tokyo, to planning our own drag debut that June.
People talk about falling in love, and whirlwind romance, and meeting people they feel they've known a lifetime. I feel that describes our journey into drag very well. We didn't start drag—we plunged into it, like Meryl Streep off the stairs in "Death Becomes Her." At the end of my time on JET, I never could have guessed I would become a drag king/queen, or how important my circle of drag friends would become in my life.
Drag in the East and West
Drag, or gender-bending performance art, can be found in many different iterations worldwide. In America, drag balls began in the 1900s as an important social and political movement among LGBTQ communities of color, and were heavily structured around "drag houses," or queer found-families. These houses, usually headed by a drag mother and or father, were places of refuge for otherwise homeless queer youth. Houses competed against one another in drag balls and pageants. Drag queens went on to become the face of the LGBTQ rights movement, when transgender activist and drag queen Marsha P. Johnson began the Stonewall Riots in 1969, famously throwing the first brick at New York police.
Japan, like many other countries, has a long history of gender-bending and cross-dressing in art, including kabuki drama and Takarazuka musical theater. Building off pre-existing underground gender subversion, drag was introduced to Japan in the 1980s and 90s through Western media representations like "Priscilla, Queen of the Desert" and "La Cage aux Folles". Adopting the showy, pageant-style presentation of the queens in these films, Japanese drag queens went on to establish their own genre of drag within Japan's underground burlesque and cabaret scene, working as bar mamas and hostesses when not performing, and focusing on niche humor, camp, and gags when on stage.
Osaka's Nadja Grandiva is one of the most celebrated queens from this genre of Japanese-style drag. Often performing in a kimono or conservative western dress, Nadja is most famous for her lip-sync and fan dance to the children's song, "Naka, Naka, Hoi," which she has performed for years. Typically in Japanese-style drag shows, queens perform the same routines over and over throughout their careers, creating a bond of familiarity with their fans.
Alongside this older form of Japanese drag, a new generation of Western-style drag, as seen on shows like "RuPaul's Drag Race" and "The Boulet Brothers' Dragula," is taking root via the influx of international residents to Japanese cities. Compared to the camp and comedy of Japanese-style drag, this genre generally features extravagant dress and wide repertoires of songs (usually pop or hip-hop), accompanied by dance such as voguing or whacking. Under the influence of "Drag Race," these performances have become increasingly elaborate and costly, with stunts and surprises such as wardrobe reveals.
There is a strong divide in the demographics drawn to these respective types of drag. The humor and jokes, as well as the campiness, found in Japanese-style drag often make it difficult to access for foreign audience goers. Meanwhile, though most Western-style drag shows have a mix of expats and Japanese people among the audience and cast of queens, these shows tend to favor English. Despite this separation, the two schools of Japanese-style and Western-style drag in Tokyo form a rich and eclectic scene, where many drag kings and queens feel at liberty to experiment with artistic and even avant-garde performances. Most make and assemble their own costumes from thrift stores, online shops, and the all-powerful Daiso.
Closet Ball
The event Angel and I debuted at, the Tokyo Closet Ball, is one of the longest-running international drag circles and variety shows in Tokyo, organized and MC-ed by drag queen Tatianna Lee since 2013. Like any crew with a mixture of Japanese and international participants, the line-up changes from year to year as performers leave the country.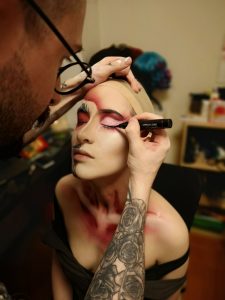 A typical maxi ball in Bar Rosso features a crowd of Japanese, non-Japanese, gay, and straight (but mostly gay) audience members, crammed on stools and couches near the stage, and standing around bar tables in the back. Performers wedge themselves in a narrow curtained-off changing room at the very rear of the venue, behind owner Toku-san's lights-and-music command console. Prep time backstage invariably becomes chaotic: props slide behind backpacks, performers lose hair brushes they were using ten seconds ago. The calmer and more seasoned queens and kings float above the panic, taking selfies with their wig caps and half-finished makeup.
Getting from the dressing room to the stage is always a special challenge. Most performers start their numbers from the back of the venue, strutting down the aisle as the music plays. For my own maxi debut—a lip-sync to Florence + the Machine's cover of "Girl With One Eye"—I scuttled through the audience with a towel over my head, and Toku-san hit the music once I was stationed in the far corner of the stage.
I never would have picked myself for the performing type. Growing up, I was shy. Years of mediocre violin recitals had left me a nervous mess. JET changed everything, however, and after years of clowning around in front of a class of judgmental teenagers, the sound of an enthusiastic audience is a high like no other.
Drag Families
While drag houses still make up the core of the western drag scene, in Japan they have been slow to develop. Most Japanese drag queens support one another as friends, senpai, kouhai, and occasionally organize themselves into troupes. Drag houses have only recently begun appearing, in some cases as a branding strategy and in others as the more traditional found-family of "Pose" and  "Paris is Burning."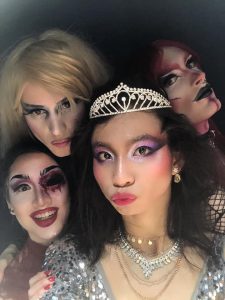 My own drag family consists of myself and my sister Angel, longtime friend Stefani St. Sl*t, and drag parents Ross Verik (Scottish makeup artist and music producer) and Die Schwarze Frau (Swedish model and B-movie director Yukiro Dravarious). While we do not all live under the same roof, as the drag families of "Pose" do, forming an alliance such as this has been a meaningful source of support for me, creatively and emotionally—and even physically, I think, as I stagger around my share-house in stiletto heels, clutching Angel's arm.
"They've always called me mother because I slay. Now I have given birth so the struggle is more real! I feel like helping new drag apprentices with a similar aesthetic and passion for drag is every queen's duty, and it is very rewarding."—Die Schwarze Frau

"My drag kids both allow me to relive the excitement I felt when I first started dressing up, and also inspire me and make me excited for the future. I'm super proud of how quickly they're both developing."—Ross Verik
Welcome to Tokyo Drag
As a weirdo with trouble fitting in in most spaces, I can say that the drag scene I've encountered has been a warm and friendly circle. It's a first for me to find a group of people who not only tolerate my weirdness but say, "That's all? Be weirder."
Whether you're a visitor or a long-time resident, please check out Tokyo's drag scene. My top picks include:
Bar Rosso at Shinjuku Gyoenmae, which hosts both the Tokyo Closet Ball maxi show and Haus of Gaishoku's Beauty Blenda series, and Bar Gamuso in Asagaya for TCB's mini shows. Details and schedules for both TCB and BB can be found on their respective Facebook, Twitter, and Instagram pages.
1. Tokyo Closet Ball is the place for experimental, grungy, and highly diverse drag, where all are welcome and performances range from dance to live-singing to magic shows. Entry is 2000 yen for the maxi show and free entry for the mini shows.
2. Beauty Blenda is a higher budget, more pop and glam focused drag production which features a medley of talent including contortionists and pole dancers. Entry is typically 3000 yen.
Aisotope Lounge, one of Ni-Chome's largest dance clubs, holds regular drag events multiple nights of the week, including both drag performances and drag hostesses. Audience members can enjoy both Japanese-style and Western-style drag shows, and performances there are mixtures of pop dance numbers and gag-heavy comedy.
Eagle Tokyo Blue hosts weekly Dragmania events on Saturdays or Sundays, with episode viewings accompanied by drag performances. Featuring murals by queer artist and manga illustrator Jiraiya, Eagle Blue is a stylish gay bar with dance space, and its patio bar counterpart, Eagle Tokyo (without the "Blue") is situated one block north.
For adult audiences only, Department H is a monthly fetish event held in Uguisudani. Hosted by famous Japanese drag queen Margarette (seen in VICE Japan), H traditionally begins its night with a pageant-style walk by some of Japan's most celebrated and longest performing drag queens, including Onan Spacemermaid, Bouillabaisse, and Masaki Durian. Interspersing the night's raunchier acts, drag shows are a mix of both Japanese-style and Western-style drag king and queen acts.
Other, more sporadic events include Witch Garden (Majo no Hanazono), a goth, visual kei, and avant-garde inspired party organized by Die Schwarze Frau and held at Club Science, and EGOMANIAC, an alternative 90s style underground house party hosted and DJ-ed by Osaka-based drag queen Belgium Solanas. Starting this year, Die Schwarze Frau and Belgium will collaborate on a new event, Viral Succubus Nacht.
Hope to see you there!
Kat Joplin (drag king/queen Le Horla) moved to Oita, Japan in the summer of 2015 to pursue the JET program after living in California their whole life. During their three years on JET, they got very fit from hiking and biking, and very fat from eating Oita's fried chicken.
As a drag performer, Kat enjoys mixing traditional glamor with a touch of the otherworldly, or the horrible. As a human being, Kat likes natto.
Featured Queens, Kings, Artists, and Other Hot Garbage
Angel Heart, is my drag sister in the Haus of Schwarz. She is in her third year in Japan. Angel performs with a goth-punk aesthetic, often splicing audio from rock music and cult classic horror films to create a complete story on stage. She sees her Angel persona as "existing in this liminal space between and outside of gender," a way of expressing her nonbinary experience through art. We currently perform together at Beauty Blenda and Tokyo Closet Ball.

Die Schwarze Frau, the alter ego of Yukiro Dravarious, is a Swedish-born model, filmmaker, and singer, formerly of the band VERJ together with Ross Verik. He became fascinated with makeup and the feminine aesthetic at age fifteen and officially began drag in 2011, winning the crown of Miss Tokyo Closet Ball 2016. He has lived in Japan for thirteen years. As DSF, Yukiro performs regularly at Tokyo Closet Ball, Beauty Blenda, Dragmania, his own club event, Witch Garden, and various goth and fetish clubs throughout the year.
Credit: Christopher Simons

Belgium Solanas, also known as Australian photographer and filmmaker Michael Judd, is a longtime resident and performer of Osaka and Nagoya, beginning drag in 2010. She often performs experimental and avant-garde shows, bucking the conventions of mainstream drag, and cites her inspiration as a "mixture of cinematic/photographic influences from the 20th century, performance art, surrealism, glamour, and garbage." This is her nineteenth year in Japan. In Tokyo, Belgium can be seen performing most regularly at Tokyo Closet Ball, occasionally Witch Garden, and at her own underground party, EGOMANIAC.

Born in the Ukraine and raised in the UK, Yana Kolesnyk splits her time performing as Erik Shawn (a drag king inspired by androgynous host boys) and as Furiosa (a persona based on burlesque and cabaret). Yana enjoys drag as a creative outlet and way of utilizing her background in acting, and hopes that one day drag kings will receive the same mainstream recognition as queens. She has lived in Japan for nine years, and performed drag for eight. She was crowned Miss Tokyo Closet Ball 2017. Yana performs at Tokyo Closet Ball regularly, switching between her personas.
Credit: Yohei Onishii

Julia YMIT is a singer and music producer originally from the US. One of Tokyo's original club kids, she has been performing in drag-style costumes to accompany her music career since 2005, and officially debuted as a bio-queen in 2018. In 2019 she was crowned Miss Tokyo Closet Ball. This is her fifteenth year in Japan. She currently performs as Julia YMIT at Tokyo Closet Ball, Beauty Blenda, and Witch Garden.

Ross Verik, born in Scotland, is a makeup artist, music producer, and singer, known for his work in bands SURGYN and VERJ. His art, both musical and visual, is often inspired by gender-bending, surgical themes, and the visual kei movement of the 90s and early 2000s. He has been Tokyo-based for the last four years. SURGYN will reunite for their eleven year anniversary at the 2021 Resistanz music festival in Sheffield. Meanwhile, Ross is launching a new music collaboration with musician Adrian Windsor, Veil of Rain. His makeup work can most often be seen on the glamorous living doll Le Horla, but he provides drag, glamor, and casual makeovers to a wide range of clients.
Credit: Guy Berresford

Kosmic Sans is a Parisian-born performer who has lived in Japan for the past nine years. With a profession in graphic design and a talent for costume-making and wig-styling, she is known for her sharp, artistic looks and versatile drag performances combining dance, acting, and digital media. She is inspired most by pop culture and the politics of deconstructing feminine identity. Kosmic performs at a wide range of events and venues—currently, her most regular shows are at Aisotope Lounge, Eagle Tokyo Blue's Dragmania, Tokyo Closet Ball, and Beauty Blenda.
Credit: Axel

Okini is one of the youngest and newest queens entering the scene, having moved to Tokyo from Hiroshima and started drag only last year. Her performances employ elaborate makeup, athletic dance, and range thematically from comedy to tragedy. About her goals and underlying concept, Okini feels that her drag is undefinable, because it is a never-ending and always evolving process. Okini is a regular performer at Beauty Blenda.
Credit: Carlos Quiapo

One of the top dancing queens in Tokyo, Xtra is a new but ambitious addition to Beauty Blenda's line-up. Born to a Japanese mother and Filipino-Spanish father, Xtra grew up performing at home, impersonating celebrities to the delight of her little brother. Xtra built her drag persona as a "dress-up doll and makeup canvas" in order to explore cosmetics and fashion. Her goal is always to amaze audiences with her stunts, tricks, and double-joints. She performs regularly at Beauty Blenda and Dragmania.
Credit: Jacob Smedley

Stefani St. Sl*t, drag persona of Nguyen Ngoc Phuc of Hanoi, Vietnam, is the current reigning Miss Tokyo Closet Ball 2020. Her drag style is known for its elaborate headdresses, handcrafted costumes, and vogue dancing. We originally met in Oita Prefecture when I was in JET and she was finishing undergrad at APU. She performs regularly at Tokyo Closet Ball and will appear in Viral Succubus Nacht.
Featured Photo: Kosmic Sans   Credit: Axel