A look at local specialty agricultural products from around Japan.
This article originally appeared in the May 2023 issue of CONNECT.
Fukuoka Strawberries
Sophia Maas (Saga)
Fukuoka Prefecture, located in the northern part of Kyushu, has a rich history that has produced plenty of amazing sights and many famous foods. If you ever have the opportunity to visit, I recommend trying their tonkotsu ramen and Umegae Mochi. We would be here all day if I tried to expound on Fukuoka's virtues, so instead of that, I'm going to narrow my focus and talk about one thing that always gets me excited: strawberries. 
Fukuoka is one of Japan's leading strawberry producers, and their strawberries are renowned for being exceptionally delicious. Some Fukuoka farms even put significant resources into developing new types of strawberries, bigger and better than ever before. The Amaou strawberry, for example, was only invented in 2001, but already accounts for 13% of Japan's total strawberry market—with exports to Taiwan and Hong Kong. With Fukuoka being the only prefecture legally able to grow them, they are a distinct staple of the region. Suffice to say, with all this research and effort put into their production, their strawberries live up to their reputation! 
Well, now that I've hyped them up, where can you get these strawberries? Most commonly, you can buy them in the prefecture itself, but where's the fun in buying them from a store when you can pick them yourself? Yearly, starting as early as December and usually ending around May, many farms open their doors to allow residents and tourists to pick strawberries straight off the vine. These strawberries boast an impressive size, color, and taste, and come in many different varieties, depending on what the farm chooses to grow. At some farms, you can even pick white strawberries! 
If you are interested in a strawberry picking experience, or you just want an excuse to eat as many strawberries as you can, I recommend checking out the Fukuoka Strawberry Picking Guide as a start to decide where to schedule your berry own adventure. It includes information on the farms, tips for strawberry picking, and links for where to schedule your visit! Just watch out—during the busy seasons, some farms can be completely reserved a month in advance. 
Onomichi Lemons
Veronica Neilson (Hiroshima)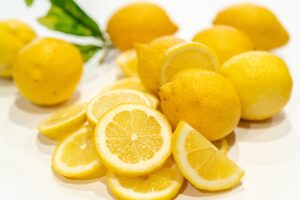 Located in eastern Hiroshima Prefecture, a small port town called Onomichi is home to one of the prefecture's most cherished fruits—lemons. 
Specifically, some refer to Ikuchijima Island (Setoda) in Onomichi as the origin of lemons in Japan. Although it is a small island, you can smell a lemon scent in the air during spring and spot lemon fruits growing all around in the summer and autumn. Because of that, it has earned the nickname Lemon Island among residents and visitors in the area (Setouchi). Lemons grown here are called Setoda lemons. 
Whether exploring the area, searching for temples, or spending time near the ocean, it is hard to avoid lemons and their light citrus scent wafting through the air. Some lemon bushes grow around the bright and colorful Kosanji Temple in Onomichi. 
Nearby gift shops sell lemon-shaped pastries filled with lemon jam for excellent omiyage or souvenir treats. Visitors can also buy lemon-scented lotions, incense sticks, and other items to enjoy their scent. 
To this day, Setoda lemons are the preferred choice for local chefs, as they have a light aroma and are rich in nutrients. At a small café called Hyakkoya, you can purchase the cafe's delicious, well-known lemonade and try other fun treats, snacks and sandwiches centered on this fruit. 
Recently, Onomichi has campaigned to promote a unique twist on a popular Japanese dish—lemon nabe. As nabe is a Japanese hot pot dish, lemon nabe consists of a hot pot filled with seafood, vegetables, and—as the name suggests—lemons. You can safely eat the fruit and peels, and various visitors continue to share their positive responses toward the dish. 
If you ever pass through eastern Hiroshima, you will not regret stopping at Onomichi for a break to check out how many lemon-centric goods and tasty treats the town has for everyone to enjoy.
Yamagata Persimmon
Tiffany Aguilar (Yamagata)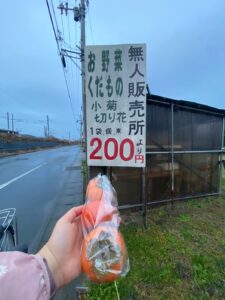 Living in Kaminoyama, Yamagata is like stepping into the greatest Japanese countryside fantasy—rice fields, surrounding mountains, a peaceful riverbank, the hourly JR-train, mom and pop shops, and cute neighborhood dogs. There you will find the gem of the Japanese countryside: the persimmon.

Starting in the fall, persimmons, or kaki, thrive in Kaminoyama. All throughout the city, these orange ornaments hang outside. Honestly, it's tempting to just pick one for yourself. But you can find them for sale anywhere, even in a little shack on the side of the street. On my walk home from work, there is an unmanned stand with seasonal vegetables, fruits, and flowers. Three persimmons are just 200 yen! All you have to do is drop your coins down an iron pole and walk away with your integrity still intact and a delicious seasonal fruit in hand.
Even though the fruits are totally affordable, I still feel lucky to have my own persimmon supplier. My coworker knew they were my favorite fruit, and we'd share them together on our breaks. Persimmons are meant to be eaten once they feel soft and squishy. If I had the patience for them to ripen, I would eat them just as they are, and If they aren't ripe enough yet, I'd drizzle them with honey or add some plain yogurt and granola. Knowing that these fruits come and go with the fall season makes the experience perfectly bittersweet. 
During my first fall in Kaminoyama, I nearly considered freezing the persimmons so I could enjoy them when I wanted. That was when I saw that persimmons are gifts that keep on giving. Once the peak season is over and winter makes its snowy debut, Yamagata transitions into the best display of fruit there ever was. Once nestled in trees, preserved persimmons are tied to hang on ropes, forming new skin, and becoming a new creation—dried persimmon! Hoshigaki is only available for a couple of weeks, so you need to make sure you treasure it if you find it. It's chewy, sweet, and the most satisfying dessert. One day, you'll find all these dried persimmons adorning the city (quite literally) like an early Christmas gift. If you blink, you may miss out and see that they're all gone.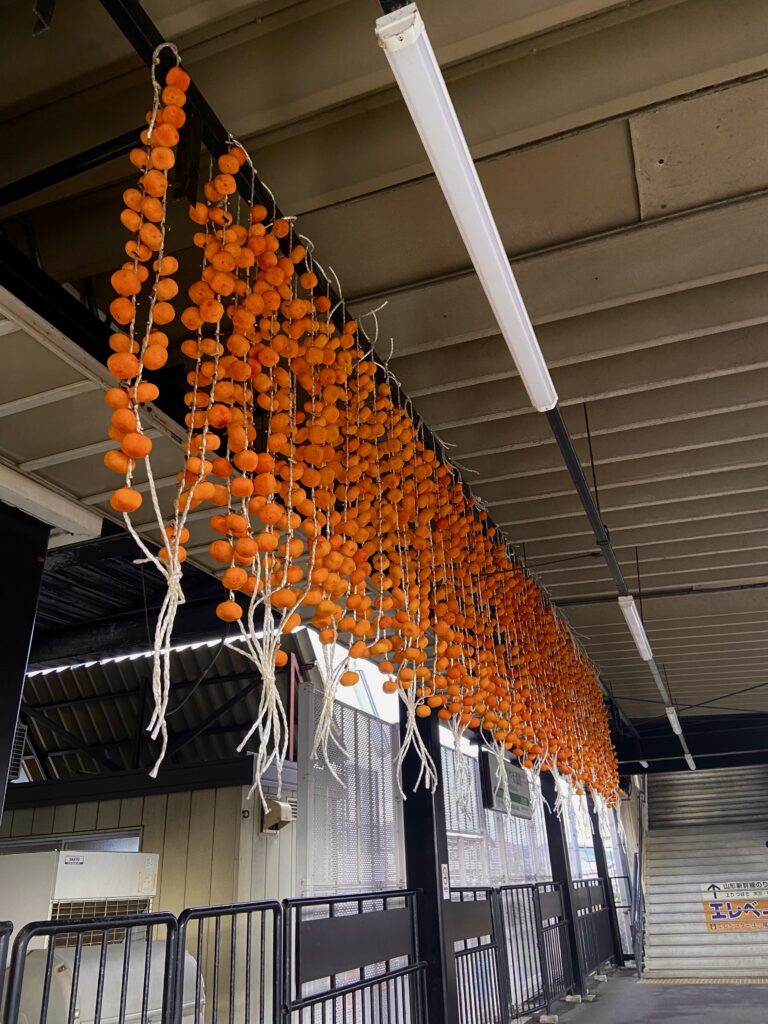 There is nothing quite as magical as admiring the autumn leaves and using a toothpick to eat a freshly sliced persimmon. Japan is the country that always finds a way to appreciate something reminiscent of the season. In the fall, I hope that you can experience the Yamagata specialty, the persimmon.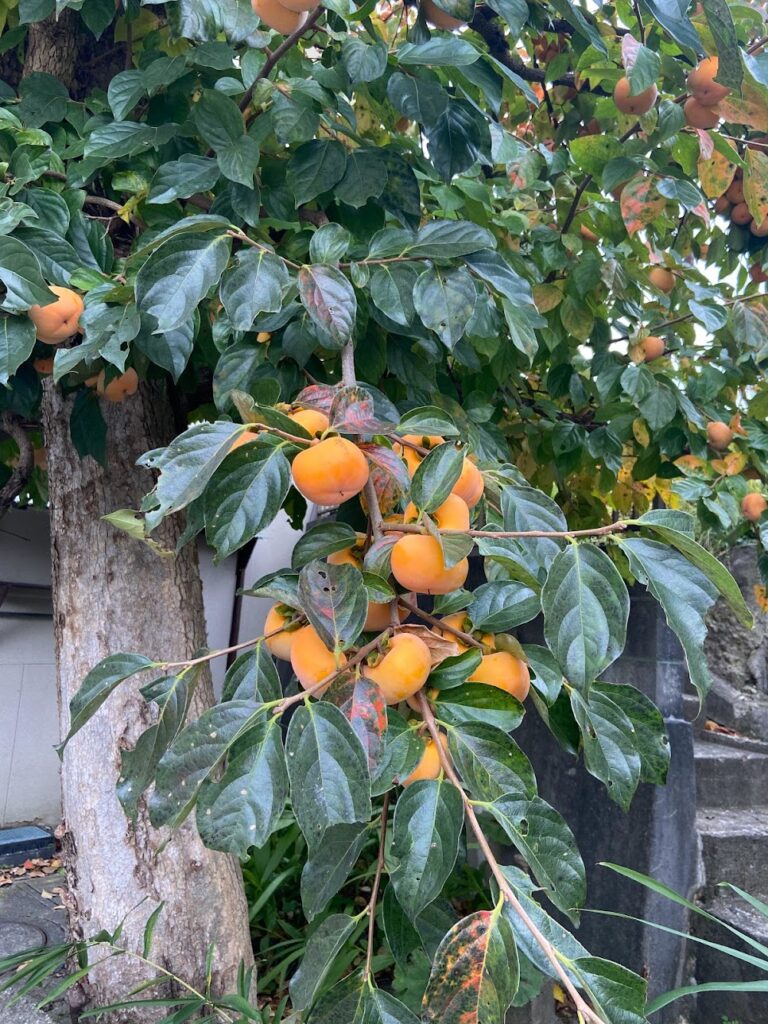 Okinawa Brown Sugar – Kokuto
Martina Comorkova (Okinawa)
There are a number of iconic Okinawa agricultural staples: the ones taking center stage are usually the stunningly bright purple beni-imo sweet potato, or the equally-blinding, equally-delicious, bright yellow pineapple. The most unassuming, and arguably most prominent crop in Okinawa, however, is sugarcane. Okinawans have crafted and mastered their own method of processing sugarcane. The crop is harvested, juiced, and then the sugarcane juice is slowly simmered over a long span of time. Afterwards, it's left to cool and harden. The finished product comes in the form of small hard blocks known as kokuto.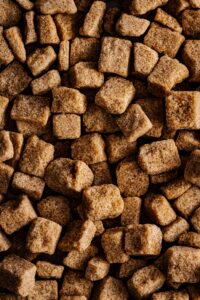 Kokuto is written with the kanji for black and sugar, and though it's often called "Okinawa brown sugar", it doesn't actually have that much in common with its equally tasty cousin. Kokuto can be eaten in its basic block form in its entirety. Shockingly, eating entire blocks of this literal sugar comes with a slew of health benefits, as it's loaded with an entire laundry list of vitamins and minerals present in the sugarcane due to how it's processed. Kokuto is made naturally with no additives or preservatives and as such, retains all of the nutrients that make plants healthy. Eaten as is, kokuto yields rather easily, and crumbles in your mouth. The taste is sweet, savory, earthy, and almost nutty in its nature. When you pair this with its one of a kind texture, it becomes a memorable experience in and of itself.
Despite being sugar, kokuto's culinary uses aren't limited only to sweets. It has a variety of savory uses as well and is a mandatory ingredient for rafute, or Okinawan braised pork belly. The dish is prepared by taking pork belly with the skin still on, and slowly cooking it, skin side up, until it's soft enough to pull apart with chopsticks! 
Kokuto is also a fantastic ingredient in homemade shoyu recipes, or any other Japanese recipes which call for sugar as an ingredient. It can be processed into a syrup known as kokumitsu, translated as black honey, which has its own vast array of uses. Kuzumochi, mochi made from kuzu starch, calls for a generous serving of kokumitsu. It's a welcome addition to the summer dish anmitsu, a medley of mochi, matcha ice cream, and a mix of fruits served cold. It's also a primary ingredient in chinsuko biscuits, kokuto manju, and certain types of wagashi. 
If you ever find yourself in Okinawa, keep your eyes peeled for dishes using kokuto. It truly is a blink-and-you'll-miss-it kind of crop. Do yourself a favor and try it as is, or in one of the aforementioned dishes. You'll be hard pressed to find other locations in Japan that use it as well as the Okinawan people do, and you won't regret it.
Feature image photo credit: Tuyen Vo on Unsplash
Sophia Maas is a first-year JET living in Saga Prefecture. Ostensibly a writer and definitely a tutor from Nashville, Tennessee, they love exploring their prefecture and finding new and unique things in every corner of Kyushu.
Veronica Nielsen is a first-year Coordinator for International Relations (CIR) on the JET Programme living in Hiroshima Prefecture. She has traveled to many prefectures in Japan and aims to visit Shikoku, Kyushu, and Okinawa—three areas she has yet to see.
Tiffany Aguilar is a second-year JET living in Kaminoyama, Yamagata. She has a Spotify playlist for every vibe. Her dream is to find the best sunset spot in Japan.
Martina Comorkova is a first-year ALT located in Okinawa Prefecture. She enjoys reading, writing, history, and all kinds of nerd culture. She's on a mission to absorb and deliver as much information about Japan while on the JET program, and potentially pen a novel or two.