This article originally appeared in the December 2022 issue of CONNECT.
Randy Poehlman (Osaka)
There are some iconic hikes in Japan. Nagano Prefecture is extremely well known to both domestic and international tourists for the stunning views provided by the hundreds of trails that weave their way through a unique mountain landscape. 
Kamikochi is perhaps the most well-known trailhead in Nagano, and many of the hikers, climbers, backpackers, or campers either begin or end their adventure at Kamikochi. 
One of the most highly regarded mountains in the area is Yarigatake, which rises to 3,180 meters. Its distinctive shark's tooth shape is easily identified when looking at the ridge line. There is a well-known Colorado mountain in the Rocky Mountain National Park which officially goes by the Sharks tooth moniker. However, I believe that the summit of Yarigatake is a much better candidate for the name. 
Yarigatake is accessible via various routes, including one of the most challenging and dangerous mountain passes in Japan known as the Daikiretto traverse. This route is not to be taken lightly as there are occasional deaths recorded here. Despite this danger, the route is often completed by a large range of hiking and climbing enthusiasts. If you'd like to test your skill and balance, then this exposed ridge line will provide a unique opportunity. 
On my recent attempt to climb Yarigatake, I opted for a somewhat less risky route as I was hiking alone and also had a few days of gear and supplies stuffed into my large backpack. 
My Yarigatake attempt started in a different prefecture. Shin-Hotaka Onsen located in Takayama, Gifu also provides an excellent trailhead to access the "Japan Alps." After driving overnight from Kyoto, I was able to sleep in the car for a few hours before starting my hike early Saturday morning. I chose a long weekend for the attempt to maximize the time I could spend on my point-to-point attempt at Yarigatake. Access to the mountain is restricted by the long-flat approach and a similar long-flat walk back to civilization.
After leaving Shin Hotaka Onsen on Saturday morning and beginning the climb, I was reminded at a few points that I was in "Bear Country" as there were signs, bells, and noise-creating devices at certain blind corners along the trail. It is a busy hiking route, so there were many of us sharing the path. The first point of note along this route is Wasabidaria, a mountain hut that boasts delicious spring water.  After leaving Wasabidaria, I came to a small river crossing around lunchtime, which proved to be a popular place to have a break. Countless hikers were resting and eating among the boulders atop the rushing water. Many of them filled their bottles with the flowing river water. 
Continuing the climb to the top of the ridge line and eventually reaching Sugorokugoya Mountain Hut took roughly eight hours. The camping and tent area extends widely in front of the fully serviced and stocked mountain hut. A nice cold beer is the preferred way to celebrate a nice day of hiking. The camping fee is ¥2,000 per night, and staying in the mountain lodge overnight is approximately ¥15,000 with three meals. I set up my tent and slept soundly through the night. Upon waking before first light Sunday morning, I packed up and watched the sunrise as I climbed to the adjacent peak; on the way to Yarigatake. I had incorrectly assumed that Yarigatake was closer to Sugorokugoya Mountain Hut and that I would be there in about two hours; the reality was more than double that, but the views were incredible as I progressed along the ridge lines inching closer to my desired destination. Ultimately, I arrived at Yarigatake Mountain Hut at about 11:30 a.m., where the true adventure begins. 
The final 45-minute climb from the Mountain Hut to the peak is not for the faint of heart. The near-vertical climb will test your dexterity, and it is highly recommended that you bring a helmet for this section, which you can rent at the mountain hut for ¥500. The majority of hikers leave their backpacks and gear at the mountain hut before the final ascent. Chains, ladders, and bolts pockmark the massive boulders and rock faces that lead up the final segment, and although no technical climbing experience is needed, it helps to calmly and surely secure your hand and foot placements. The final 10-meter segment to the peak is achieved by climbing a metal ladder secured into the rock face before emerging onto the summit platform, where you can get your coveted photo next to the small shrine while holding the small, wooden mountain sign.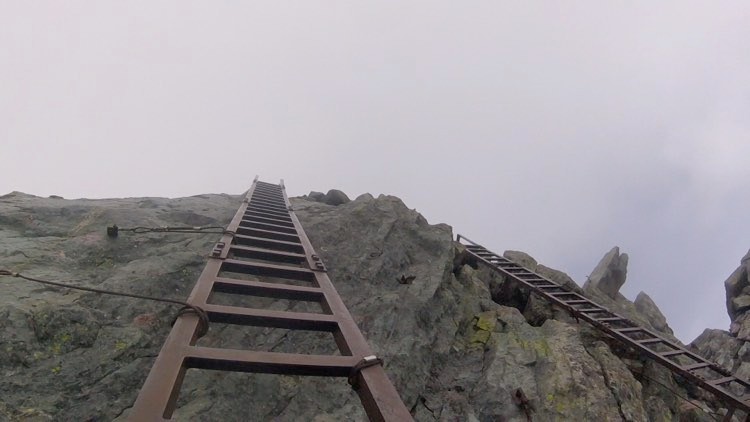 With the main objective achieved shortly after lunch on Sunday, I decided on a hasty descent as weather reports suggested an afternoon of rain. I quickly lost altitude as I skipped across the boulders on the switchback trails leading down towards Kamikochi. The first point of interest I came across on the way down was the Banryu Kutsu. Essentially, it is a cave that a monk used to stay inside when he was hiking and climbing Yarigatake in the 1800s. Apparently, he once stayed inside for roughly 50 days while chanting ancient Buddhist scriptures. 
As my descent continued, fatigue set in as the rain started, but I was fortunate enough to begin a conversation with a fellow hiker, a telecommunications employee from Tokyo who spoke English quite well. We hiked together and chatted throughout the on-again-off-again afternoon showers. The trail was long and winding but relatively flat after the initial 1,000 meters of elevation loss earlier in the afternoon. We continued along the river side nearly all afternoon and into the early evening.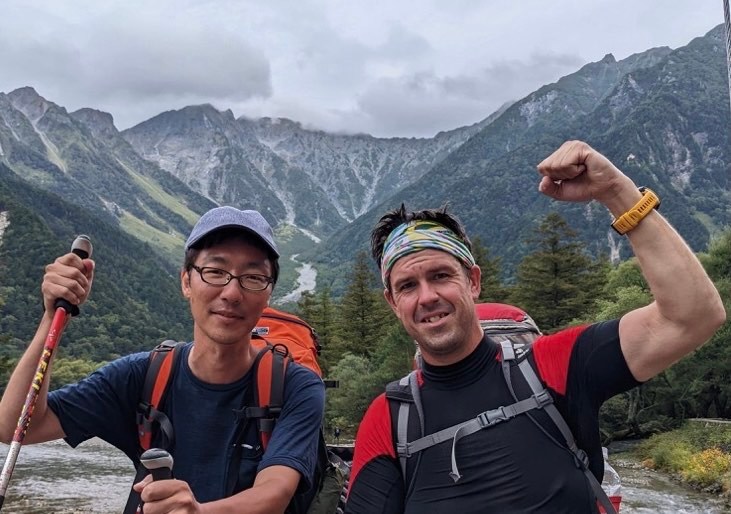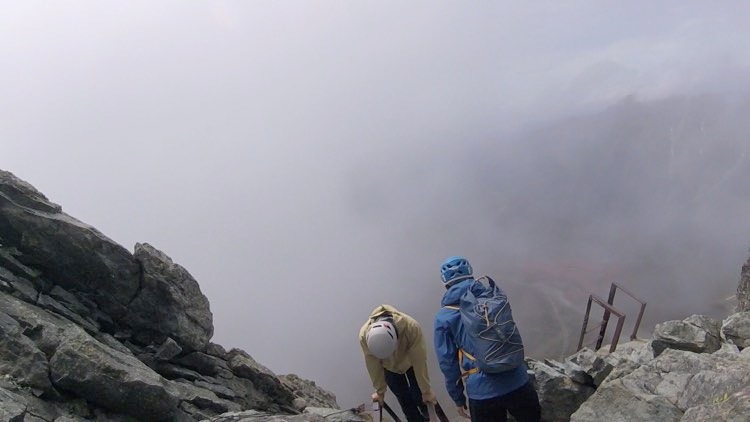 I had pre-booked a bus ticket from Kamikochi to Matsumoto leaving Monday morning at 9:30, so I was determined to get as close to Kamikochi as possible before setting up camp on Sunday evening. My new friend and I passed a few campsites but decided to push on further so that we could gain distance.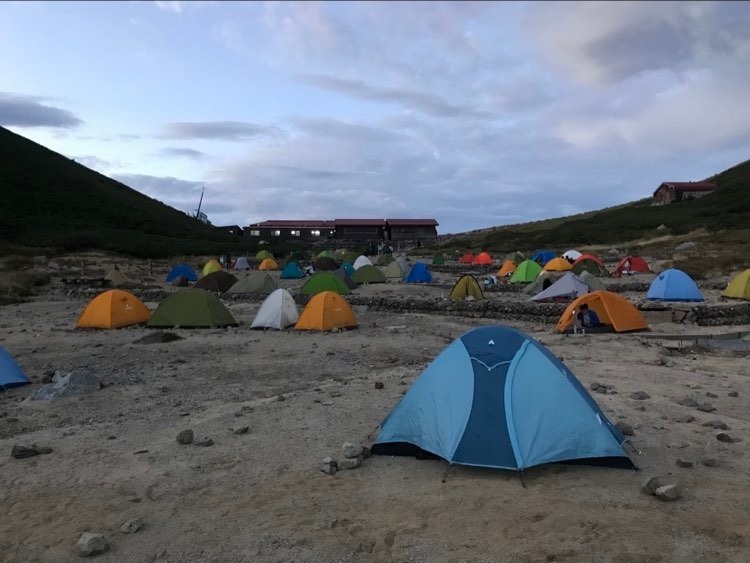 We eventually reached Yokoo Sanso, a major mountain hut along the route which boasts a restaurant, lodging, shop, and campground. The scenic riverside setting allowed my new friend and I to pitch our tents and have a few beers together as we cooked, shared snacks, and chatted. The Sunday hike took me 12 hours to complete, and slipping out of my boots and walking on the grass with bare feet really felt comforting after a long day spent with a heavy pack strapped to my shoulders.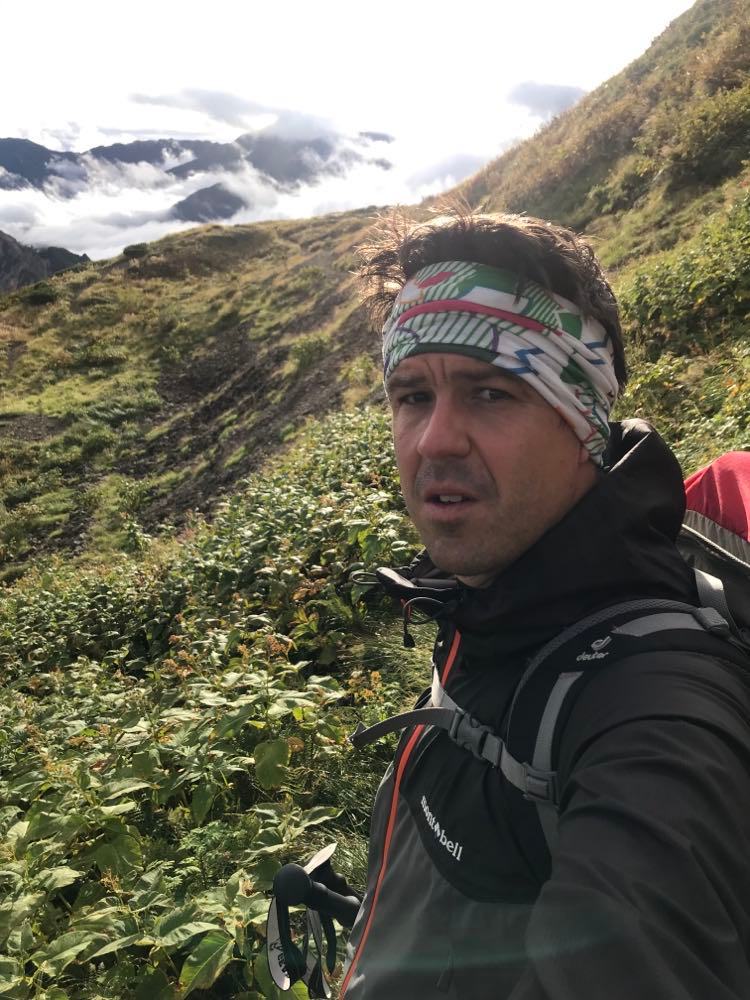 Randy Poehlman is a teacher and an adventure travel writer and photographer. He is a Canadian national who has spent more than a decade living and working in the Kansai region of Japan. He is frequently traveling, running marathons and trails, climbing, hiking, diving, golfing, skiing, kayaking and camping.