This article originally featured in the January 2022 issue of Connect
Sierra Nelson-Liner (Shizuoka)
The sliding door to the flower shop opened one last time. My flower arranging teacher told me to wait for her sister to give me a large bag. I was happily surprised to find it packed full of mikan, or satsuma mandarins. The winter fruit season had begun!
In Japan, it is common to receive omiyage which means "souvenir" or "gift". Usually these range from snacks such as cookies or crackers, to small handicrafts. In the winter, it is not uncommon to be handed a small mikan that had been tucked away into a bag or pocket. Mikan are one of the cutest gifts I have ever received, and always seem to bring smiles to people's faces when they receive them.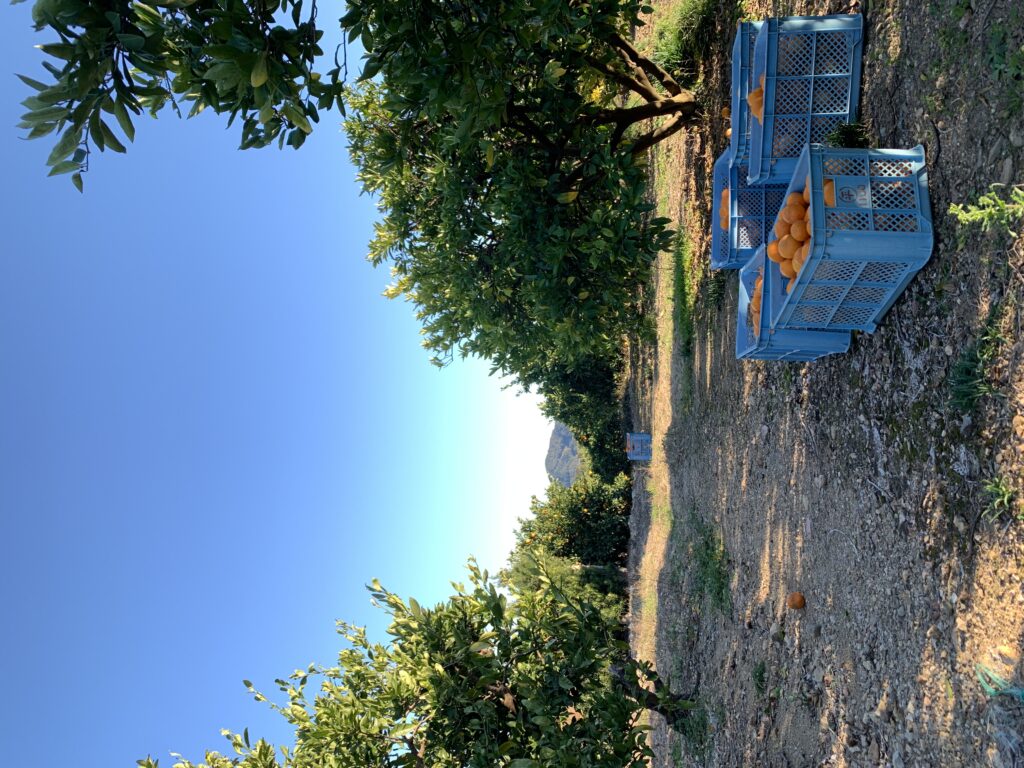 Japan is well known for this seasonal fruit. A typical scene in winter is sitting under a heated table, known as a kotatsu, peeling mikan. To promote this activity there was even a book written on how to peel the mikan skin into art. (1) Currently, Wakayama, Ehime, and Shizuoka prefectures are Japan's top mikan producers. (2) Mikkabi, a town in Shizuoka, is especially famous for this sweet and juicy fruit. (3) I have always wanted to harvest the mikan myself. Luckily enough, this last December, I finally made the connection to do just that. 
Early Sunday morning, I was picked up by my new friend Marin to go on an adventure for the day. It was the first time we met, but we quickly realized that we had a lot in common as we were both excited to harvest mikan and connect back to nature. When we reached Mikkabi, we were astounded by the number of mikan trees and their natural beauty. 
We were warmly welcomed to the local farm, Kawabe. There, we transferred to a mini pickup truck to travel up the mountain. [[pull-quote]]The mikan fields were terraced into the mountainside. Winding through switchbacks, a blur of dark green with circles of bright orange flew past the car's windows. [[pull-quote]]Each orchard was bursting with fruit. The wase mikan, or early mikan, was definitely ready to harvest! Stepping out of the car we put the baskets over our shoulder, grabbed some scissors, and set out to work. 
People of all ages were picking mikan. There were little children crawling through the lower branches as well as elderly men and women standing on silver ladders to reach the tops of the trees. The process became meditative. Leaning into the trees. Weaving through the branches to pull out the mikan. Standing on ladders or upon the center trunk. Reaching for the last mikan at the top. We lost ourselves in the orchard and were connecting to a seasonal tradition.
This style of mikan picking was by hand with small scissors. You hold the mikan in your grasp and cut it once from the tree. Then one more cut near the base of the stem to make it a flat surface, finally placing it into the basket on your back. They were heavier than I expected, so I frequently poured them into a newspaper-lined box to be transported out of the orchard. 
At first, the task of picking all of the mikan from one tree seemed daunting, but I quickly realized that it was a community effort.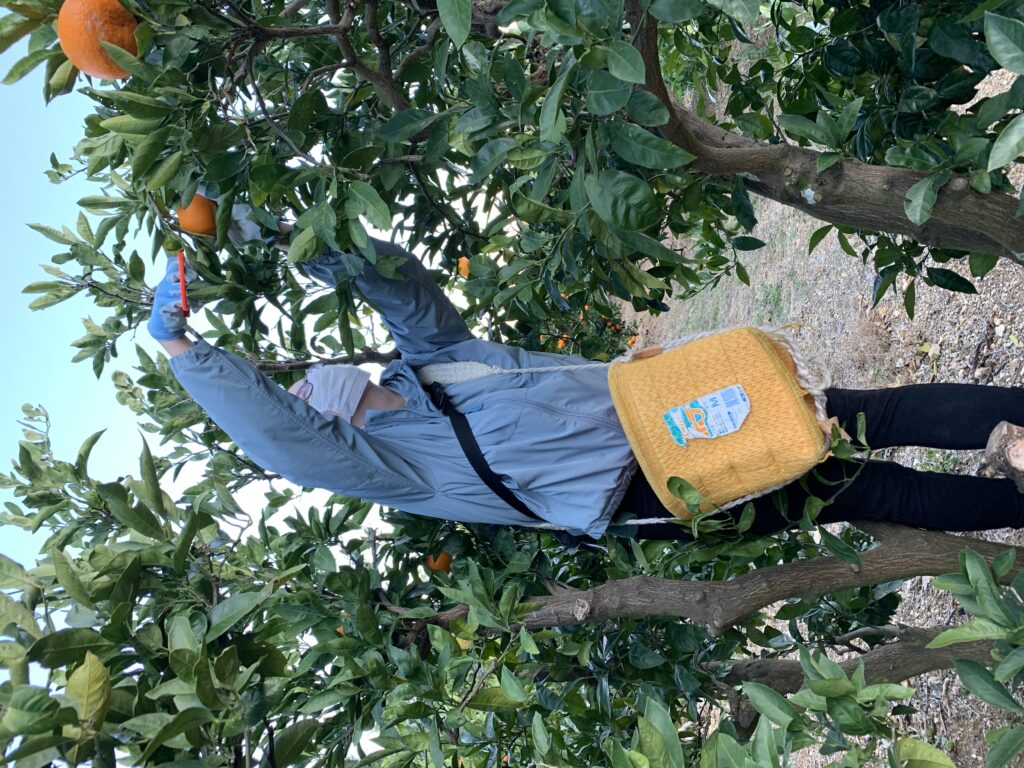 When I stepped away to pour out my full basket of mikan, another person stepped in. We all criss-crossed through the trees, until the rows were picked and the oranges placed into cartons to be carried down the mountain.
During our short breaks, we would pick a mikan right from the tree, peel it open to eat, and take a step back to appreciate the scenery. The sky was clear enough to see Lakes Irohana and Hamana. Just past lake Hamana on the horizon, was the Pacific Ocean. It was the perfect backdrop. The dark green leaves of the mikan trees, the sun-kissed, stunningly orange fruit, and the blues of the water and sky. They all wove together to create the most memorable mikan-picking morning. 
After a few hours, we stopped to take a longer rest. The plastic boxes were flipped over to make tables and chairs. They were arranged in a large circle, with some in the center to support kettles of tea and coffee. We passed around the drinks and snacks. We had all worked hard, and were happy to share this seasonal experience. 
My new friend, Marin, has been able to summarize the positivity from this day in her own words below.
"I am always surrounded by artificial devices in both my private and work life. When I went mikan picking, I was reminded of what it was like to go into nature. It is important for me to feel that connection. I loved picking mikan right from the tree. Touching it with my hands and eating it right there in the orchard. 

Naturally, I am not good at communicating with people. Especially people that I meet for the first time. But my fears of communicating completely ceased after my experience. I noticed that it was very fun to meet new people by doing an agricultural activity. I learned that I can create community and connect to others easier in a nature-inspired environment. This is a new discovery in my life. By living like this, we can give nature a voice. Just like nature gave me the opportunity to find my voice. I feel so happy in my heart to make new friends through this experience. Thank you. "

—Marin Hirokawa
If you live near Hamamatsu City, here is the website for information regarding mikan picking in the area. Thank you for taking the time to read about connecting back to nature through agriculture. I hope many of you get to experience seasonal farming throughout Japan, and take this positive energy into the new year. 
Sources:
Sierra Nelson-Liner is a third-year ALT who is the Community Editor for [CONNECT] Magazine. She enjoys catching sunsets and putting flowers in her hair. She hopes to learn more about cultural exchange through farming in this new year.