This article originally featured in the January 2021 issue of Connect.
Heritage Celebration in Kagoshima
by Melissa
In partnership with the International Friendship Center of Kagoshima (Friendship Center), Stephen Macharia and I hosted the first African and African Diaspora Heritage Celebration (AADHC) in Kagoshima City. As two Black American ALTs, we wanted to celebrate Black History Month in our hometown in Japan.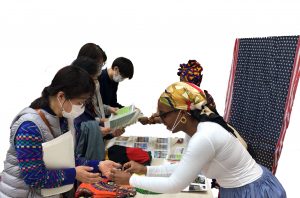 Planning started in October when I contacted the Friendship Center and pitched the idea. The Friendship Center showed immediate interest in the idea and was eager to get it off the ground.
The first event was a 2-hour symposium that consisted of "Meet & Greets," poster displays of prominent figures in history, children story time, and more. Guest presenters for the Meet & Greets were people who have ties to Haiti, Kenya, Guyana, and the United States. Presenters offered attendees a snapshot of each country's history, language, food, and music. Poster displays summarizing the contributions of several prominent figures such as Toussaint Louverture, Wangari Maathai, Kamala Harris, and Damon from Guyana were also displayed around the venue. All posters were written in both English and Japanese in an effort to make the information as accessible as possible. Attendees were encouraged to walk around, read, and ask questions to learn more. The symposium wrapped up with a dramatic reading of the popular children's book, Anansi and the Pot of Beans. The second and third events were movie nights. We screened the 2018 Oscar-winning animated film Spider-Man: Into the Spider-Verse and the 1988 Oscar-nominated film Coming to America, respectively. At both screenings, cultural commentary was provided to explain each film's contribution to Black culture.
Discussions and Q&A were followed by a raffle, where four lucky audience members won prizes related to the films. It was a fun way to reenergize the audience before closing out each night. Overall, the celebration was geared towards the local community, including school-aged children and their families. However, due to COVID-19 and school restrictions, many students were not able to attend.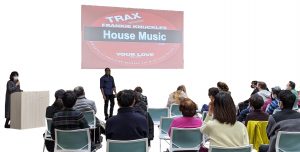 Despite the challenge of hosting an event during COVID-19, we were quite pleased with the program as a whole. Kagoshima is often described as a conservative place, especially when compared to other parts of Japan. But those who attended were eager to listen and learn about different cultures, experiences, and perspectives. As for the future of AADHC, we'll be hosting it again next year! So, if you happen to be in Kagoshima City next February, please come and join us!
Melissa is an ALT in Kagoshima Prefecture who moved to Japan nearly two years ago from Boston. She prides herself in being a curious and experience-hungry person who rarely says no to new opportunities. Since moving to Japan, she has visited 21 prefectures, danced in the 69th annual Ohara Festival in Kagoshima, joined the kyūdō team at one of her schools, and volunteered as a tourism ambassador for Kagoshima City. To learn more about her and see what she's up to, you can find her on Instagram at phinding_phineus