This article originally featured in the May 2021 issue of Connect.
A Quick-Start Guide for Beginners
Michelle Maczka (Chiba)
Universal truths are fairly rare when it comes to experiences on the JET Program, but one thing is certain: when the sun rises high in the sky and the clock ticks past noon, rumbling tummies can be heard from Sapporo to Sasebo. Some of us have only to settle down in a classroom while carrying a tray of freshly prepared kyūshoku (school lunch) which, depending on the day's menu, may be highly anticipated or deeply feared.
As a seafood hater, I had a love-hate relationship with these lunches during my tenure on JET. Whole fried fish, gritty clams, and seaweed graced my plate far too often for my liking. When I started teaching high school post-JET, I could finally eat anything I wanted! However, even convenience store bentō grew dull with time, and when I could no longer bring myself to eat another bite of soggy karāge or meat sauce pasta, I started packing a bentō.
My first ever bentō looked beautiful and garnered lots of praise from my co-workers, but it took me almost three hours to prepare and left me with a sinkful of dirty dishes. The next day, I made a completely different one, with slightly less dish washing and a time savings of 20 minutes. Suffice to say, I quickly gave up and resigned myself to cup noodles and mini salads again.
I couldn't quite figure it out in those early days of my bentō attempts. I packed my supplies away and forgot about it until last year, when I started again in earnest. The impetus came from the most unlikely of places: my students' textbook. One of the first chapters was an overview of bentō and how it has spread and been adapted to local tastes around the world. Most of the students couldn't have cared less about the topic, but it was the spark I needed to give it another shot.
The benefits of bentō are numerous and widespread, from money-saving, to maintaining a balanced diet, and even to posting that humble-brag on Facebook, so here is my Bentō 101 for you. Hopefully you'll be able to avoid the mistakes I made as a novice and develop a fun new hobby perfect for your lifestyle. Let's dig in!
This slideshow requires JavaScript.
Bentō Defined
If you ask anyone familiar with bentō-making to define what exactly a bentō is, you'll get a wide variety of res-ponses. The most general definition will be along the lines of a container filled with several different dishes. Japanese cooking theory holds there to be five colors, five flavors, and five cooking methods. Washoku (Japanese-style) meals aim to include as many of these as possible, and it's also a good rule of thumb for bentō. This not only balances nutrition but also gives variation that satisfies us and, if I'm being perfectly honest, yields a beautiful photo to upload to social media.
There's really no wrong way to bentō and no need to confine it to just Japanese dishes either. In fact, these days Japanese bentō cookbooks include recipes for sandwiches, pastas, and even soups. There's also no reason to stress about how "homemade" your lunch is, as long as it works for you. I usually focus on cooking a main dish, a simple side dish, and then buy one or two things at the supermarket to round out my lunch. For example, if I made teriyaki chicken thighs as my main dish, I'd pair it with a cabbage and mushroom saute, then buy some daikon pickles and grapes from the store to finish it off.
The Box
What is a bentō without a bentō box? There are myriad options out there in every price, material, size, and color imaginable. But before we get ahead of ourselves, at its core, a bentō box is just a container. Not much separates the fanciest, high-end monbento made in France from any old tupperware from your neighborhood Daiso. As a beginner, I had little idea which size would work best for me. Most bentō boxes are quoted in milliliter capacity. Generally speaking, aim for 600-800 mL; adjust accordingly if you have a big appetite or are a light eater.
Before buying a bentō box, do a week or two of test runs using containers you have on hand. You can find out their capacity by filling them with water from a measuring cup—just make sure you write it down somewhere. You can also pop over to the 100-yen shop and grab two or three differently-sized food storage containers, which should have their capacities written on the label.
If you're ready to invest in a fancier box, you should also consider the material. If you plan on eating your bentō without reheating it, you can choose any kind you like: wood, metal, or plastic. However, if you want to warm your lunch before eating, it limits your choice to plastic. In most cases, plastic bentō boxes should be reheatable in the microwave without their lids, and I recommend heating them for no longer than two to three minutes.
The Fillings
Browsing Pinterest or YouTube, it's far too easy to be drawn into the world of kyaraben and other complicated arrangements. Before you know it, you'll be up past midnight cooking or running out the door with a half-packed bentō. For first-timers, consider your cooking skill, available time, and clean-up motivation before committing to any recipe or menu. Re-creating Doraemon out of blue and white rice with nori cutouts for a face may look cute, but it's also time-consuming for little yield. The idea here is to pick just one recipe that's new or more time-intensive, and keep all other elements as uncomplicated as possible.
Basic bentō guidelines suggest half of a bentō be carbohydrates, one quarter a protein, and the remaining quarter reserved for one to two sides or accents like pickles, sliced fruit, or mini sausages. You might want to keep these guidelines in mind if you're completely new to meal planning but don't feel restricted by them. Rather, use it as a basis for adapting bentō to your needs. Some people prefer to reduce carbs by subbing in shredded cabbage, while others may need half of their lunch to be protein to stay full until the end of the day.
This is also where a strategic store-bought side or plain old fruits and veggies can become your biggest allies. Mini tomatoes and steamed broccoli florets are often used to fill oddly-shaped spaces left behind after packing in other foods. Dishes that require the one-two punch of long preparation time and small amounts of many ingredients–I'm looking at you potato and macaroni salads–are something I almost always buy rather than make. If you time your purchases right, these premade sides will keep in your fridge for two to three days and can be used over multiple bentō. This actually ties into my next point.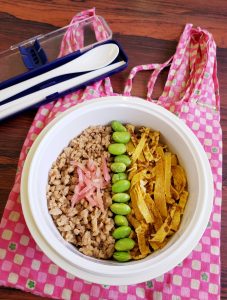 Eat Twice But Cook Once
You've likely heard of batch cooking before, and luckily we can apply this to bentō too! Referred to in terms such as tsukurioki or jobisai, this technique saves both time and money. While just starting out and building up your repertoire, consider also simply making an extra portion or two at dinner to save for future bentō.
Before you haul off and quadruple your recipe, you should know that not every ingredient or dish yields well to this method. Some foods, like tōfu and eggs, are fairly sensitive. They have a relatively short shelf life once cooked, and their textures will change when frozen and reheated. Pickles keep five days or more in the fridge but can't be frozen.
When in doubt, try to eat up or freeze any recipes within two days. If you're also questioning whether you'll enjoy the food after a freeze and reheat cycle, start off by freezing just a portion or two to minimize waste in case the worst happens. Once I made the mistake of freezing, untested, a large batch of egg quiche—it was not pretty (or tasty).
If you try this system out yourself, here are just a few food safety tips. The biggest rule is to always have clean utensils and containers when portioning out food. Use a fresh pair of chopsticks or new spoon to pack each dish, or wipe them off well before touching a different food. Avoid directly touching or licking your utensil before putting it back into the container. It's also recommended to cool hot foods, such as rice, to room temperature before packing them alongside leftover cold foods to prevent bacteria growth. Above all, if you have any doubt about the freshness of the food, better to toss it than to risk it.
Final Touches
If you have an extra few minutes, you can add a bit of pizzazz to your lunch quite easily. Browsing the bentō supply aisle of stores will uncover a range of whimsical plastic picks, mini sauce holders, shaped silicone containers, nori seaweed punches, and even hard boiled egg molds.
My go-to tools for that extra touch are shaped bentō punches, which look like tiny cookie cutters. I have them in flower and leaf designs as well as a bevy of holiday-themed ones too. Sliced carrot or cucumber, bell pepper halves, and even cheese make for perfect materials to cut out shapes to your heart's desire.
Want something even simpler than those ideas? Keep on hand black or white sesame seeds as well as some furikake seasoning. Just a quick sprinkle of these on rice can help add some amazing visual appeal with zero effort.
With that, you're now ready to craft your own delectable bentō. Above all, if it's tasty and satisfying, then you've done it right. Let's get cooking!
Profile image: Miso cabbage stir fry; benishoga (pickled ginger); julienned carrots with cumin and black pepper; kiriboshi daikon with carrot and fried tōfu; macaroni salad; black sesame over rice.
A Massachusetts native, Michelle came to Japan via JET in 2014 and spent two years in Murakami, Niigata before moving to Chiba. She enjoys searching out regional specialties and "B-kyū" gourmet restaurants with her spouse. She also likes sumo wrestling, board games, and studying kanji.