This article originally featured in the February 2021 issue of Connect.
Hoong Shao Ting (Nagano)
In February 2020, I managed to squeeze in one final trip to Sapporo before the pandemic blew up in Japan. I had planned the trip together with another Singaporean friend—coming from the tropical little red dot, experiencing full-blown winter in Hokkaidō and attending the Sapporo Snow Festival were the highlights of the trip. We got off to a bumpy start, with snow in Hokkaidō threatening to divert our flights to land at the airports in Asahikawa and Obihiro (my friend and I flew separately from Tōkyō and Matsumoto respectively) rather than the intended New Chitose, but with some luck and a break in the snow over Sapporo, we managed to meet up as planned.
When planning the trip, I suggested to my friend that we stay with my host family from the exchange programme I took part in back in secondary school, and they happily agreed to take us in. They were not only excited to give my friend and me a place to stay but were also enthusiastic about showing us around. They asked if we'd like to go do wakasagi-tsuri (ワカサギ釣り, aka Japanese smelt fishing) together, and having never done that before, we were both eager to try.
On the morning of our fishing trip, we loaded the car with lots of food and gear and set off for Lake Katsurazawa. The wintery snowscape that greeted us once we alighted from the car was almost magical—the image of the quiet lake and its surrounding forests accented by colourful tents dotted along the perimeter will probably remain etched in my mind as my idea of 'winter' for some time to come. Making our way downhill to the lake while carrying the gear and trying not to slip on the powder snow was great morning exercise, though! It differs from place to place, apparently, but Lake Katsurazawa had staff operating a rental hut where you paid to use one of the holes they have ready on the frozen lake surface and also where you could rent fishing gear if you did not have your own. The night before, my host dad had shown us the equipment he used to bore holes into the ice at secluded ponds and rivers, but we did not need it this time round.
After picking a nice spot, we put up a tent around our fishing hole—I am sure some of you who hail from countries with winter might have tried ice fishing and are familiar with the relevant gear, but please pardon this tropical city girl who was really fascinated by the tent that had no base (so the hole in the ground was not covered, right)! It was reportedly one of the coldest days of the year with the maximum temperature only reaching -16°C where we were, but wrapped up in layers and sheltered from the wind in our tent, the adrenalin from my first fishing experience kept me warm. The water was so clear we could see the tiny wakasagi swimming around, and we must have gotten a good spot because we caught a total of 52 that day!
In between, for our lunch, my host mum produced delish homemade onigiri and a full-sized kettle, which she used to boil water for our cup noodles and to cook sausages in. The Japanese really know how to enjoy their picnics in all forms!
After trying a couple of different spots, and when the Japanese smelt stopped biting our bait, we packed up and went on to fill our tummies with Hokkaidō's creamy desserts and attend another ice festival at Lake Shikotsu before heading home. The real closure of wakasagi-tsuri, however, only happened then. The fresh smelt were battered and deep-fried karaage-style (there are a variety of ways of eating it, but they usually entail frying coupled with marinade or seasoning), and the piping hot, crispy fish doused with lemon juice disappeared into our tummies in probably less than 10 minutes.
The entire experience was new, exciting, beautiful, fascinating and delicious, but most importantly, it allowed for quality time spent together with the people whom I was sitting around the fishing hole with. I went for the winter festivals, but the ice fishing experience turned out to be my best takeaway from the trip, no less thanks to my beloved host family who has welcomed me with open arms for the past 12 years.
If you are keen on experiencing Japanese winter like the locals do (I am pretty sure most tour packages do not include ice fishing), I highly recommend checking out the lakes nearby if your area is cold enough! Although the wakasagi is native to Hokkaidō, it has made its way around the country and even to other parts of the world. I hope that those of you who give wakasagi-tsuri a try enjoy it as much as I did—go fish!
How to enjoy wakasagi-tsuri on ice (from the amateur who has only been once):
1. Make sure your car is ready for the drive—the fishing spots are usually away from the city and understandably in cold areas where roads could be snowy or icy, so you want to get there and back safely.
2. Wear proper shoes, preferably winter boots with grip—you don't want to slip and fall on the ice, nor do you want to sit in wet shoes after trudging through snow!
3. Layer up and bring heat packs/warmers—you'll be sitting in one spot and it could get cold! Better to sport layers which you can remove as necessary.
4. Bring hot drinks and plan for a hot meal if you can—I cannot emphasise how much I enjoyed my piping hot instant noodles in the snow!
5. Bring good friends—well, you'll be stuck together for quite some time, you know.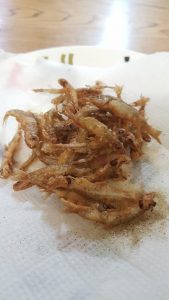 Where to enjoy wakasagi-tsuri on ice:
The Wakasagitsuri Portal website is pretty informative, with details about the pricing, how to access the different places, and when the spots are open for fishing. (The website is in Japanese, but plug it into Google Translate and the result is pretty decent and makes sense!) You can click on your preferred region and prefecture to find a spot near you. One point to note, though, is that the term 'wakasagi-tsuri' refers to fishing for Japanese smelt in general, and this can mean doing it from a boat or from the shore, not just over a hole in the ice. So if you are looking to tread on ice like I did, make sure to select the spots that say "on ice" according to the translation, or for those who read Japanese, 氷上 ('on ice') or 穴釣り('hole fishing').
Shao Ting is CONNECT's social media manager and a second-year ALT who cannot wait to try ice fishing in her home ground of Nagano while surrounded by its glorious mountains this winter. Follow her adventures @inSakuraLand for tidbits and tips on Japan travel.