This article originally featured in the February 2021 issue of Connect.
Lisa Paper (Tōkyō)
TW: The following article discusses suicide, sexism, racism and eating disorders.
The Japanese term, "yamato nadeshiko"(1) refers to the personification of an "ideal Japanese woman." It covers a lot of ground: she's beloved for her beautiful, pale skin (bihada), willowy hips (yanagigoshi), and her modesty (okuyukashisa), among other attributes. She's also, perhaps unsurprisingly, considered increasingly rare. While many argue that modern Japanese culture is gradually ditching traditional gender norms such as these, the leftover pressures of embodying the ideal of being appropriately "feminine" while balancing the sometimes (seemingly) contradictory kinds of personal attributes needed to rise to the top of their fields in competitive sports can create a strain on female athletes. This expected duality seems as pervasive as ever: even the Japan women's national soccer team is affectionately nicknamed(2) "Nadeshiko Japan." The struggle of juggling being both "feminine women" and "athletes" is not new—but many female athletes grapple with these seemingly conflicting pressures in silence, which can have devastating effects on their mental, emotional, and physical health.
On May 3, 2020, Japan was rocked by the tragic death of 22-year-old Terrace House star and pro-wrestler, Hana Kimura(3), in what was deemed an apparent suicide(4). Kimura and her teammates openly discussed the difficulty of dating as an athlete in Japan on the show, citing concerns that they didn't want to intimidate men. They would often go so far as to keep their careers a secret(5) when navigating the ins and outs of a budding new romance. Kimura's wrestling teammate, Jungle Kyona, told her that, "You should want to be with someone who accepts you and your work, who likes you for who you truly are." Kimura was an inspiration to many and was able to shed some much-needed light on life as a biracial female wrestler in present-day Japan. The beloved pink-haired star and successful second-generation female wrestler wrote to followers on Twitter that she only ever "wanted to be loved in life."(6)
Instead, Kimura faced a wave of online cyber-bullying. In particular, she was targeted after an episode aired in which she had a confrontation with a male roommate over one of her wrestling outfits. Following Kimura's death, there was an outcry against bullying which spanned the international community, and Terrace House was deemed "toxic" by many avid former fans. Her apparent confidence as she body-slammed opponents while decked in bright colors undoubtedly made her a role model to many young, aspiring female athletes who watched the show. Her loss was a tragedy, and some argue there is culpability in the way in which she was portrayed by producers. Pro-wrestler, Chigusa Nagayo, stated(7), "She was an athlete, a professional wrestler with a future. She just played the villain. In reality, she was a polite and kind junior professional wrestler." In response to the tragedy, Terrace House suspended the 2019-2020 season, issued an apology, and posted a note of condolence on their website. Still, many wondered if this was enough.
Kimura is not the only female athlete to have struggled with warped representations in the spotlight. Naomi Osaka, a professional Japanese tennis player who's been consistently ranked as one of the world's top players by the Women's Tennis Association, spoke out about controversial cartoon representations which have received notable backlash. Noodle company, Nissin(8), ran an animated advertisement of the Haitian-Japanese star with lightened skin and muted brown hair in "Hungry to Win" in January 2019. The company was quickly accused of "whitewashing"(9) Osaka. At the Australian open, she told journalists, "It's obvious, I'm tan. It's pretty obvious." She was forgiving, saying that she didn't think the company had "whitewashed"(10) her on purpose and that ". . . next time . . . I feel like they should talk to me about it." (Surprisingly, this wasn't the first time Osaka had faced this situation—in September 2018, an Australian cartoonist depicted(11) Osaka as a blonde-haired white woman). The ad has since been removed from YouTube.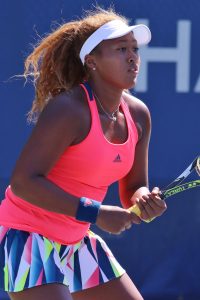 Osaka has been known to push back against negative comments on her personal photos, famously clapping back at internet trolls who had made disparaging comments about her bikini body in July 2020 by tweeting(12), "You don't know me, I'm 22, I wear swimsuits to the pool. Why do you think you can comment on what I can wear?"
Female athletes in Japan may face a plethora of similar, subtler stigmas in their daily lives when it comes to narrow, contemporary beauty standards. In particular, muscles are often viewed as unfeminine, while being ultra-thin is "in:" according to one government survey, just 10% of Japanese women in their twenties and thirties engage in regular exercise(13), instead choosing to diet to achieve a specific body type. Diet culture is very popular among Japanese women, which has sometimes been documented as a rise in disordered eating(14). Athletic builds sculpted by training tend to be more muscular, which is a body type that doesn't "fit" in with this ideal.
Meanwhile, female athletes who "fit" within these societal and beauty standards tend to receive largely positive press and high praise—take Hinako Shibuno(15), for example, a professional golfing sensation who has won the Japan LPGA four times. She has been dubbed as "Smiling Cinderella" in the world of professional golf due to her cheerful disposition and the fact that she is always sporting a demure smile. However, maintaining this facade has taken its toll on Shibuno. Shibuno has come forward during the U.S. Women's Open to say that she has only recently felt as if she could come out of her shell as a celebrity and is working on the ability to "be herself again" in the face of celebrity pressures.
Despite all of these hurdles, there's a growing admiration for women's fitness in Japan. Fitness trainer, Aya Osanai(16), has reached celebrity status as a fit fashion model. Her Instagram(17) account features photos of Osanai proudly displaying sculpted abs and arms as she models for her over 400,000 followers. Osanai thinks that Japan has the potential to become the "next fitness nation." There is momentum growing behind a female fitness movement, which is usually promoted with a focus on women's overall health. Tomoko Katagiri(13) from the PR department of the fitness company, Curves Japan, in an effort to promote female fitness, commented on the benefits of exercise by saying that, "Maintaining muscle strength is a key for prolonging healthy life expectancy."
There are also a number of body positivity bloggers and influencers who are fighting back against the traditional idealization(18) of the Japanese female figure as being petite and light-skinned, including plus-size fashionista(19), Naomi Watanabe(20). One YouTuber personality, Ryo(21), gained mass attention by addressing viewers on her channel, Ryo :3(22), where she speaks candidly about her experience as a tanned and taller woman in Japan. She encourages Japanese women to not let negative remarks bog them down and to instead have confidence in themselves and their bodies.
One former female athlete is looking to reshape the narrative surrounding female athletes' bodies and empower future Olympians when it comes to women's healthcare. Retired Olympian swimmer, Hanae Ito(23), is working publicly to destigmatize menstruation for female athletes. Ito has said that, had she known about ways to manage menstruation (specifically, she has talked about birth control), she believes she would have performed better as an Olympic athlete. She has stated that she believes that lack of access to information had an effect on her ability to compete up to her full potential during the Beijing Olympics in 2008, as she was competing while on her period. It wasn't until after returning from the games that the professional swimmer was presented with the possibility of period-managing contraceptives. Ito is now working in the Tōkyō Olympics and Paralympics committee PR department and hopes to support the health and wellbeing of sportswomen.
Sayaka Nose(23), an OB-GYN who specializes in female athlete care at the University of Tōkyō hospital, said that, according to one study, only 27% of female athletes representing Japan were using a contraceptive during the 2016 Rio Olympics, a number she finds "shockingly low." Furthermore, very few female athletes return to careers in sports after childbirth, according to Nose. Nose has said that "there is a lot more work to be done in terms of scientific and cultural change" in regards to educating and supporting Japanese female athletes. Nose feels that Japan should be doing more in terms of reproductive education for teens, saying that "These girls are potential future Olympians."
From cyber-bullying to "whitewashing," from access to education regarding contraceptives to supporting Japanese female athletes who happen to be mothers, there is still a great deal of work to be done when it comes to helping female athletes in Japan to feel empowered and positively represented in the media. The year is 2021. Perhaps it's time to destigmatize women's bodies in Japan and start applauding them instead—for their ability to golf, swim, wrestle, dominate the tennis courts on a global scale, and so much more—all while representing Japan. At the end of the day, the stats and world records won't be based on skin color or muscle mass, BMI, whether an athlete has had a child, or whether or not an athlete was taking birth control to manage her symptoms. The only important factor will be that athlete's ability to compete effectively in her field. Maybe yamato nadeshiko, and its personification of the ideal woman, is due for an update.
Lisa Paper is a Tōkyō JET and a returned Peace Corps volunteer. She studied English and Telecommunications at the University of Florida.
Sources:
https://bit.ly/3nBvCee
https://bit.ly/3sbLWWF
https://bbc.in/2LEFuXp
https://s.nikkei.com/3i4hqJn
https://bit.ly/3i2cCEB
https://bit.ly/39knauQ
https://bit.ly/3qcUXNi
https://bit.ly/3owOI6q
https://bit.ly/3qbjnXw
https://bbc.in/38xQL4I
https://bbc.in/35uCNhY
https://bit.ly/3i5zOlp
https://bit.ly/3nBFcgU
https://bit.ly/35zyBxo
https://bit.ly/2XwxgTJ
https://bit.ly/2K6Cqmp
https://bit.ly/2XwnaSR
https://bit.ly/39mkCMK
https://r29.co/2LK4Anr
https://bit.ly/3i8IhnF
https://bit.ly/2LIxXqg
https://bit.ly/3qoBDNh
https://bit.ly/2LIhDps