This article originally featured in the February 2021 issue of Connect.
Jessica Craven (Saitama)
Louisiana Creole cuisine (or Cajun, for short) is one of the greatest masterpieces that emerged from the blend of the various cultures in the port city of New Orleans. The style of cooking blends West African, French, Spanish, Italian, and Amerindian influences, as well as influences from the general cuisine of the Southern United States, making it the most distinctive and iconic regional American cuisine.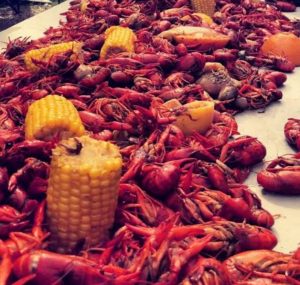 To some Louisiana natives, only Southern Louisiana has "true" Creole cuisine because the cuisine of the northern part of the state is generally more influenced by traditional southern cooking. While I am not a Louisiana native, my homeland of Southern Arkansas also has an abundance of Creole cuisine, including the iconic crawfish boils. Also, my family has learned and exchanged many recipes with our long-time neighbor who is a native of Southern Louisiana, so I would consider myself somewhat of an expert when it comes to the cooking style. I often cook these recipes from my childhood when I feel homesick, and it helps me feel much better. In general, I think Creole recipes are warm and hearty, so they can lift most people's spirits both mentally and physically.
Today I will share how I managed to make a popular Cajun dish with ingredients straight out of a normal Japanese supermarket. I really like to eat it when I'm tired of the comparatively more mild taste of Japanese cuisine.
Cajun chicken and Rice
Ingredients
2 chicken breasts, butterflied (Tutorial on how to butterfly chicken; also, it doesn't have to be the "perfect" shape. The point is just to cut the meat into thinner pieces so it's easier to cook through.)
1 onion, diced
1 medium sized bell pepper, diced (or about three of the smaller Japanese type)
Approximately half a bag of dried black beans (kuromame)
1 cup rice, uncooked
1 can chopped tomatoes
1.75 cups chicken stock
Olive oil
Cajun spice, to taste*
*I have found what is called "Creole Spice" (in katakana) in a Japanese supermarket, but I haven't found a similar spice I consider strong enough even in Kaldi. Personally, I have a big bottle of Zataran's spice from America that I use for extra spice, but in lieu of that, I will include how you can make a Cajun spice from scratch, although it might be a bit milder.
Cajun Spice
2 teaspoons salt
2 teaspoons garlic powder
2 teaspoons paprika
1 teaspoon black pepper
1 teaspoon cayenne pepper (chili pepper also works)
1 teaspoon dried oregano
1 teaspoon dried thyme
Directions
1. Rub chicken breasts with olive oil and then the cajun spice mix.
2. Sear the chicken breasts on each side for about two minutes, then remove from the pan.
3. Add some more oil and fry the onions and peppers until softened.
4. Add the black beans and fry for a couple of minutes. Add the uncooked rice and fry for a minute further.
5. Place the chicken back on and cover in chopped tomatoes.
6. Add chicken stock and more cajun spice (to taste).
7. Bring to boil, then cover and simmer for 25 minutes.
8. Enjoy!
Hope my recipe brings a bit more flavor to your kitchen in Japan!
Extra note about creole culture
Creole is a term that was originally used in the 1700s to describe people descended from the French and Spanish during their colonial rule of the Louisiana territory. It took on greater political and cultural meaning when the United States acquired the territory in the 1800s. These people share cultural ties that differ from other parts of the United States, such as the use of French, Spanish, or a combination of these languages with English. The term was expanded to mean something more like "native-born," regardless of race, so the identity came to include African-descended people brought to Louisiana through the slave trade and Native Americans born in Louisiana. Therefore, people of fully African descent, fully European descent, or a mixture may identify as Creoles. In the early 19th century, later immigrants to the New Orleans area, such as Germans, Italians, and Irish, married into the Creole group and thus became a part of it. Most of Creole culture is strongly Catholic, as opposed to the rest of the United States, which was predominantly Anglo-Saxon Protestant at that time.
Personally, my family descends from early 20th century Italian-American settlers in the nearby Mississippi Delta region. So, while we aren't considered "Creole" in the strictest of terms, we share a lot in common with the people of this culture and have exchanged a lot of ideas, recipes, and customs. Certainly Creole is a rich culture with an influence that has extended beyond its geographical borders. There is a plethora of information out there about the culture beyond just recipes if you are interested to learn more!
Jessica is a fourth-year American JET from Arkansas state now living in Saitama. She is the art section editor for CONNECT. On weekends she enjoys hiking in remote areas of Saitama or taking day-trips to Tokyo. When not adventuring, she can be found reading or creating her own artwork, which can be seen on her Instagram @jessica_craven_art.