This article originally featured in the February 2021 issue of Connect.
Sheila Mulherin (Hokkaido)
Raw veganism is a clean and healing lifestyle for bubbling energy, power, vitality, and improved mental and physical wellbeing. Flavors are fresh, rich and bursting. Food is considered raw when cooked under 45 degrees Celsius, so the living medicinal enzymes are retained. Preparing methods include dehydration, and sprouting legumes and grains to promote peak nutrition. This follows up from my first article in September about starting my raw vegan journey. Refer back to it for the basics on raw veganism. I will talk about changes I've noticed in my body, tips for food preparation and maintaining the raw vegan lifestyle, more restaurants in Japan with a partially raw menu, and recipes working with what's available in Japan or frugally purchased from abroad.
My Body Condition and Changes
With a 70% raw vegan/30% plant-based whole foods lifestyle, I continue to maintain a healthy weight for me. I haven't lost any weight, but over the course of two months, my jeans and trousers fit looser. Many clothes I bought online last year arrived a smidge too tight to wear, but I didn't bother returning them due to the shipping fees. They now fit comfortably. I'm shedding fat and building muscle. My energy level has been consistently high, and I trust my body to get through my ultramarathon training, and be ready for work every day. My gut health has improved so much, and my tummy isn't bloated anymore. My face has more color. I have a hunch the lack of weight loss is due to consuming lots of high-calorie raw foods such as nuts, avocado, coconut, and cold-pressed coconut, sesame, and olive oils. I also still eat cooked soybeans, since a giant bag of soybeans has resided in my house for a couple years and they need to be eaten. I believe the fat loss is due to the lack of additives, preservatives, empty carbohydrates, and starches formerly in my conventional vegan diet.
Raw Vegan Meals
My meals are limited by what's available and affordable in Japan, which crosses out many recipes in American raw cookbooks. One raw cookbook with many recipes compatible with typical Japanese ingredients is Ani Phyo's Asia Food Fusion cookbook. Mornings include a smoothie made from homemade yogurt (made of raw sprouted rice, soybean puree, or coconut milk), whatever extra fruit and greens are around, chia seeds soaked overnight, turmeric, ginger, maca, and sesame seeds.
Since I used up the (not raw) rolled oats, I needed a filling replacement. Adding nuts or psyllium husks to the smoothie, or eating a snack along with the smoothie suffices. I also got the (expensive) Garden of Life raw organic meal replacement powder for emergency breakfast smoothies from iHerb. Lunch includes a huge green salad with walnuts and dressing, wakame salad with walnuts, or zucchini "noodles" with a soybean based homemade ramen broth. Wraps are wonderful and versatile, but take care bringing them in a tupperware container for lunch. The wrap can become soggy throughout the morning and fall apart when the time comes to pick it up and eat it. Often, by the time evening comes, I am so full from breakfast and lunch I don't even need a proper dinner, so a handful of nuts or a piece of fruit suffices.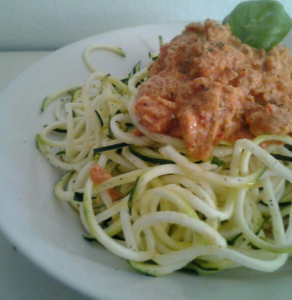 Spaghetti made from spiralized zucchini
Here are my go-to dishes for a proper evening meal: a walnut-based paste from Ani Phyo's raw cookbook on a bed of salad, a wrap from raw nori sheets, coconut wraps, or a homemade wrap—such as a tortilla wrap made of blended flax meal, corn, and onions. The "mince meat" for the tortilla includes sunflower seeds, walnuts, zucchini, lime (or lemon) juice, and assorted spices and herbs. Another evening meal or snack includes chia tomato crackers with homemade raw sprouted hummus.
Raw (or mostly raw) yogurt is a staple in my lifestyle now. Yogurt makers are plentiful and thrifty on the online marketplace Mercari. For the rawest yogurt, sprout brown rice, blend it with water and sweetener in the Vitamix, and put it in the yogurt maker. Next add vegan yogurt starter. If you don't have that, take two capsules of high quality strong probiotic, open the capsules and empty the contents in the yogurt, and whisk it. Then set the yogurt maker's temperature to 42-46 degrees Celsius, and heat for at least eight hours. If you want a tart taste, set for 14 hours. Chill in the refrigerator for at least two hours before eating it, to "shut off" the live and active cultures. Additionally, blending cooked soybeans with water and sweetener also creates a tasty yogurt, as does blending any raw nuts with sweetener and yogurt starter
Tips for Following a Raw Vegan Lifestyle
Walnuts are tastier after soaking in water for two hours. Nuts may also be easier to digest if soaked in water for 7-24 hours, then dehydrated in the Excalibur for 12-24 hours.
If you're in Japan and you're health-conscious, brown rice probably resides in your cabinets. Good news is you can sprout raw brown rice! It's not particularly palatable without further preparation. It's crunchy, so I recommend blending it with water in the Vitamix to make yogurt with it. You can also grind it into a powder, dehydrate it, and add to smoothies for a protein boost.
Recommended supplements include Vitamin B12 and Iron, and Vitamin D in the winter for those who live in snowy climates.
Shopping Advice
An average Japanese grocery store reliably carries the following raw items: walnuts, raisins, and fresh produce. Sometimes you may find raw nori, soy sauce, sesame oil, and sesame seeds, but usually they are cooked, so read labels carefully. I shop online on Amazon Japan to find these, where labels are easily translated. You may find raw food in surprising places! A man in my town who visits schools and the Board of Education to sell seaweed actually had many raw varieties of seaweed available. I'm a loyal customer of his. Tengu Natural Foods is an online organic food seller in Japan. In addition, iHerb is an American company shipping food products and supplements to Japan without extra shipping charge if your purchase is around 4000-14000 yen. Purchasing with a credit card or through the convenience store is possible. Mercari and Tabechoku sell organic produce in bulk, directly from the farm. Tabechoku often has the option to pay through a convenience store. The shipping fees are high, though. Mercari proves useful for used kitchen appliances, such as a Vitamix and spiralizer.
Recommended Restaurants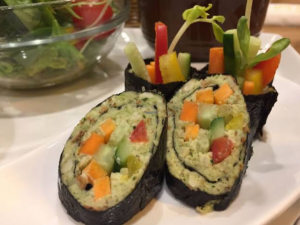 1. Raw Food LOHAS in Sapporo serves a lovely raw sushi set and smoothie bowls.
2. Café Dream (2-Chome-408 Sakae, Nisshin 470-0113) is a vegan restaurant in Nagoya with raw vegan options. Be aware of one or two other Dream cafes in Nagoya city!
3. Raw Souk in Kumagaya, Saitama
4. Hareto-Keto Raw Chocolate and Detox Café in Hikone, Shiga has raw vegan chocolates, smoothies, salads, granola bowls and desserts.
5. Chandan Cafe in Fukuoka has raw desserts.
6. Veggy Mom in Tokushima is a high-quality raw vegan restaurant.
7. RAW in Roppongi is a salad buffet, with many vegan and nonvegan options.
8. Victoria Station is a chain family restaurant with a salad bar, if you don't mind the beefy smell in the air, due to the popularity of their hamburger steaks.
For more restaurant recommendations, see the first article.
Tips for Daily Life
Not eating after 6pm will ensure you sleep soundly, without a full tummy working hard to digest food. Also, the following morning, your tummy will feel happier. I always keep walnuts and dried fruit in my car for a snack, and in my purse in case I am out and need a filling snack. In winter, cravings for hot food come. Heating soup until hot to the touch, and eating wraps, "burger" patties and other food straight from the dehydrator satisfy the craving for hot meals. As well, work towards putting on your body only what you would put in your body. It may take a while to use up the products in your house before replacing them one by one with something purer or homemade.
Good luck on your raw food journey! Don't be hard on yourself if you slip up. Every little bit helps. Experiment and enjoy the process. Trying a raw vegan lifestyle now is a special opportunity, while many restaurants are closed and Nomihodais are cancelled due to the virus. Everyone stays home, so now is your opportunity to experiment at home with various foods and recipes. Enjoy living foods and vibrant bubbling energy!
Sheila is an English teacher in Hokkaido. Originally from Boston, USA, she can be seen hiking, reading, trying out new raw vegan recipes, playing with her adorable cats Bailey and Maisy, or running obscenely long distances on the roads and trails. She also looks forward to the Hokkaido winters when she can cross-country ski.