This article originally featured in the January 2021 issue of Connect.
Damien Levi (Tōkyō)
How do you feel about an anime where the main character is a single father raising his adorable daughter? What if I added in the fact that he's also training to be an Olympic athlete? Not sold quite yet, huh? Okay, it's also the year 2002, with a ballet dancing ninja, a snack bar mama and a semi-sentient exotic bird.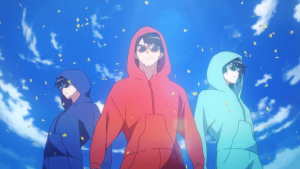 That's Taisō Zamurai (The Gymnastics Samurai) in a nutshell.
In a time where anime is oversaturated with isekai (different world) shows full of harems, there are few anime other than the shōnen big hitters that are catching my attention. Taisō Zamurai has been a nice respite in the past anime season, offering a relaxed slice of life story with a few quirks.
The story centres around Aragaki Jōtarō, an aging former-Olympic medalist stuck in a slump and raising his daughter Rei alone after his wife's passing. Meanwhile, he's also trying to get back into fighting shape for the 2004 Olympic Games when a mysterious ninja, Leo, and a young rival, Minamino, enter their lives.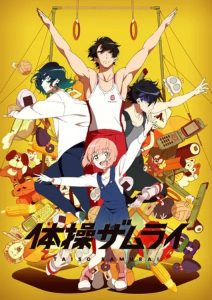 Our cast quickly balloons out with an amusing array of side-characters who all have stylish and exciting designs: Jō's mother-in-law; the mama at a snack bar, Ayu; a ganguro girl working at the bar, Birgbird; a semi-sentient bird from South America; and Britney, a flamboyant acupuncturist.
The story is nothing crazy; it's easy to follow with a couple of twists and turns but is ultimately a slow burn of Jō getting himself back to competing condition. It's a refreshing change from anime that are throwing a new huge story twist at you every three episodes, making the things convoluted.
It was Taisō Zamurai's art style that initially grabbed my attention when I was browsing through the seasonal anime releases a few months back. With its bright colours, rounded lines and dynamic poses, it stands out as a work from the MAPPA animation studio.
MAPPA has been busy the last few years, pushing out several really popular works like Yuri on Ice, Banana Fish, Dororo, Saranzanmai, The God of High School and Dorohedoro. I have to give props to them for managing what's arguably the fan-favourite anime of the last season Jujutsu Kaisen, and the final season of Shingeki no Kyojin (Attack on Titan) without sacrificing the quality of animation in Taisō Zamurai.
Taisō Zamurai is sweet simplicity, a fact that has drawn some criticism from viewers who were expecting a focus on gymnastics that you would expect from a sports anime. In my opinion, at its core, this anime is a story about family and how they can be unconventional and how that's okay. Get into it!
Damien is the Assistant Editor for CONNECT Magazine and a Māori New Zealander in Tōkyō teaching English. He's slowly working his way through his gaming and tv/film back-catalogues through the winter months. Catch him over on Instagram @damienlevi for shenanigans.