This article originally featured in the January 2021 issue of Connect.
Kayla Francis (Tōkyō)
Tōkyō is home to hundreds of bakeries. In a city famous for thousands of restaurants and 304 Michelin stars, it can be hard to know where to go. Of course, the chances of walking into a great place are high, but with so much choice available, very few places warrant a return back. That's why we at CONNECT have done all the hard work for you. Here are the top three bakeries you can't leave Tōkyō without visiting.
Nata de Cristiano – Yoyogi Kōen


Come here for one thing and one thing only. The pastéis de nata (custard tarts) here are probably one of the best outside of Portugal. Famous for their soft, crispy pastry, slightly warm, rich custard that's caramelised on top and speckled with little pieces of sea salt, this tiny shop will have you coming back on a regular basis. The staff are consistently making tarts, so you can guarantee that, when you arrive, they will be fresh. There are no seats; however, just around the corner is Cafe Rostro, a charming cafe with outdoor seating, excellent coffee, and even coffee-flavoured soft serve, or, with Yoyogi Park closeby, these tarts will make you very popular at any picnic.
Boul'ange – Shibuya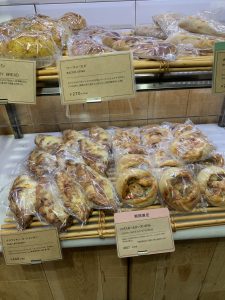 Boul'ange is a chain of bakeries in Tōkyō, so you don't have to go to the one in Shibuya. However, what makes this place special is convenience. Being close to the station, it's the perfect rest stop if you want something small. Upstairs, it has 60 seats, and there is even a toaster oven by the checkouts, making it perfect for takeaways. Boul'ange also wins for its seasonal menu items. They tend to have something new out on a regular basis, so you always want to come back and try the new items.
Gentille – Meguro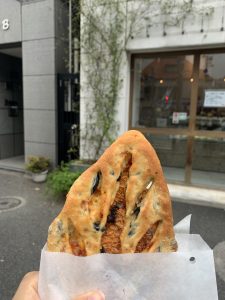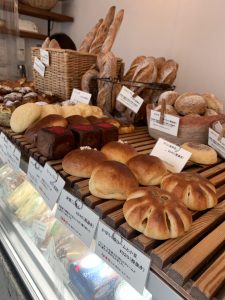 Of all the bakeries, this is the one I find myself coming to the most. Despite being in Meguro and only a walk away from Nakameguro Station, this bakery is seemingly in the middle of nowhere as it is hidden amongst apartments and a busy road. This place does crispy French bread very, very well. For a European-inspired bakery, it is more on the affordable side compared to other Tōkyō bakeries. It's so popular that there is often a small queue outside at peak times. Come here for the fougasse bread! My favourite is the olive and tomato. The cheesy pizza-inspired breads are also very good. My go-to is the Gorgonzola and honey one. The bakery is located close to Meguro River, so I highly recommend stopping there afterwards.
Kayla is a second-year Tōkyō JET from London, UK. When she's not working, she can be found eating her way through Tōkyō, trying out new classes, reading, and cooking. She keeps track of all her eating and cooking on Instagram: @kayla64a and has a blog.