This article originally featured in the May 2020 issue of Connect.
Rhema Baquero (Kobe)
Between working the maximum 28 hours a week their dependent visa allows and spending time with their families, the factotum father, Franmar Mongcopa, and multifaceted musician Marc Baquero, have found time to focus on their interests and to find a personal fit in Japan.
To read about the kohai dependents, check out the article in the April issue.
Both Mongcopas were teachers in the university town of hot and rainy Dumaguete City, Philippines. He taught senior high school physical science, the vocational subject of wellness and massage, and also taught junior high general science and caregiving. School in the Philippines is very different from Japan, starting in June and ending in March. They worked in a classroom of a minimum of 60 students, with 15 sitting on the floor, and 35 textbooks to distribute in a class.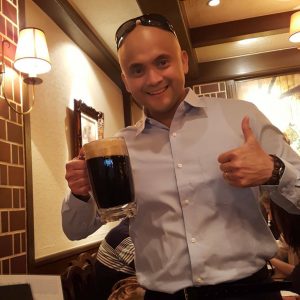 Before moving to Japan, Franmar Mongcopa and his wife Catherine spent four years apart, with her working in Chiba as a preschool teacher and him in England as a waiter. They were married in 2007, but the distance was still very difficult for them.
"After four years, around 2008, I made her come home so we could have our baby," he said. "We would see each other just once a year on our vacation and then we would go our separate ways. I would go to England and she goes to Japan."
Eventually, Cathy wanted to go back to Japan, and heard about the JET Programme. They moved here in 2016 with their then 5-year-old son, Francis Nikolai.
"I told her if you get it, then we'll go. If not, the talk about applying for a job abroad is going to stop. But then God willing, they gave it to her," he said. "That's why we are here. And it's a good thing."
Marc Baquero struck up a conversation with Rhema in the kitchen of mutual friends' house in the summer of 2012. Both were exhausted from work and did not intend to go to the housewarming party that night.
"I saw her from afar and admired her Pokémon earrings," he said. "I decided that I wanted to go talk to her." They began dating the following week, and nearly three years later had a DC vs Marvel-themed wedding with sprinkles of Pokémon.
The Baqueros wanted to live in a new country before they were too old and had too many roots to prevent them from doing so. He said they both had a fascination with Japanese culture from a young age, from Japanese food to the music to the anime.
"A friend of mine did a similar English teaching abroad program in the country of Taiwan and informed us that many Asian countries had similar programs," he said. "We found out JET was a thing and my wife did the application. A few months later we got our placement in Kobe."
Baquero, 31, whose wife is a high school ALT, did not have many expectations about Japan, but knew it was a place where he would have to relearn how to live in a new environment.
"I LOVE IT HERE. It's great. A year and a half later and I'm still learning new things about this city, I'm still learning new things about the country, and I'm still making new friends wherever I go," he said.
Family Adventures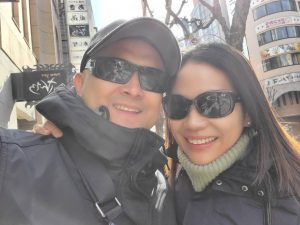 When the Mongcopas have time together, they spend it being active. He is a practitioner of martial arts, and his favorite Japanese movies are 47 Ronin and The Last Samurai. Because gyms are very expensive, Mongcopa teaches his son how to box and to grapple with the punching and kicking mitts he has. He also works out with Cathy, who is an elementary school ALT adviser, doing boxing, kickboxing, crossfit and weightlifting.
"We used to be very active at home. We used to do cross fit and kickboxing. But here, it's very expensive [to join a gym]," he said.
As a family, they have traveled around the Kansai area to Kyoto, Nara, Osaka. This past July, they went home to the Philippines for a short vacation to "go back to the roots and recharge".
The Mongcopas intend to stay in Japan for a long time. He said overall Japan is nice, clean, and disciplined. His family appreciates the social services—their son's medical care is basically free. "When we go to the hospital for a checkup it only costs around four dollars, total, for consultation and medicine. And me, because I am under Catherine's insurance, it is 30% off. So it is very nice here." He added, "The streets are very safe at night. The kids can walk on their own relatively safe. Nobody bothers them. It's a very nice place—that's why we are planning to stay here for a long, long time."
The Baqueros visited Japan in 2016 for their honeymoon, a wedding gift from his father who travels worldwide for business.
"Tokyo was, at the time, amazing. It was our first experience being in Japan. We had to learn how to navigate the subways. We had to learn how to go around the city. We didn't go on any guided tours or any events; we did everything in the city on our own," he said. "And so we essentially had to learn how to navigate the city and we were quite successful at it. We would find somewhere we wanted to go, and within an hour we were able to get there with minimal help from the locals."
With his partner, he likes to explore new parts of Japan, sing karaoke with their friends, and explore the city of Kobe itself. Though not set in stone, they have plans to visit Okinawa when it is safe to travel again.
"We have been to Kyoto, Hokkaido, Osaka, and Wakayama. By far, Hokkaido was my favorite," he said. "The food in Hokkaido was unparalleled; while Japanese food was always my favorite type of food, Hokkaido seems to have the best Japanese food."
A Typical Day
Each day, Mongcopa wakes up at 6:30a.m. to prepare lunch for Cathy and himself. He makes sure his son is off to school, and then he takes four trains to get to Rokko Island. At work, he makes desserts for the next few days and prepares cookies for 400 people each day. He leaves work at around 3p.m. and boards the trains again; "I need to be on time because my son finishes his school at 2:45p.m., but then he has afterschool care, gakudō (学童), which we are paying for so that I can work an extra hour," he said. "Because we are here in Japan, there's no day off, even if it's your day off, you need to do something."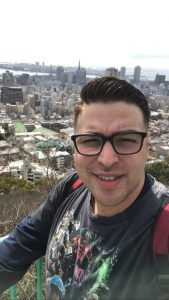 On his days off, Baquero takes care of the housework and then spends time practicing music and streaming various games on Twitch.
On the plane back to visit family in America, he watched the movie Bohemian Rhapsody, which sparked in him the desire to seek out a band, which he had not played in for a year.
"Finding a band was, thankfully, relatively easy for me. I used a website called OURSOUNDS that matches musicians looking to start bands with other musicians in the area. Within two days of making my profile, I had an audition to be a singer for a Red Hot Chili Peppers cover band in Osaka."
So far, Scar Tissue, the name of the band Baquero joined, has performed in Kobe twice and Osaka once. All players in the band except Baquero are Japanese.
"The shows were fantastic! In America I was a bass player in a band for seven years and would only sing backup vocals very sparingly," he said. "I was apprehensive about performing as a singer as I don't consider my voice to be necessarily that great. But I discovered that my love for performing outweighs my anxiety about whether or not I'm a good singer."
Working Life
For the past few years, Mongcopa has worked as a baker for a second-party food provider at Canadian Academy on Rokko Island. He bakes chocolate cookies, breads, pizza, brownies, cookies, and other desserts for the students and staff.
"My favorite part of the job is constantly learning new techniques in baking and making bread," he said. They accept cake orders from parents, so he has also learned to work with fondant. His entry into this job was through an assistant chef friend from their church who told Mongcopa about an available position. First, he worked as a dishwasher, but when there was an opening for a baker-in-training, he applied for it.
"It's so far-fetched: certified teacher [in the Philippines] but baker here [in Japan]," he said. "Sometimes I bring [my family] cookies or chocolate cakes. Sometimes pizza. My wife—she's the true baker. She bakes cakes at home, and cookies and cupcakes, so I let her taste to see if it's up to her standards. I'm getting tips from her."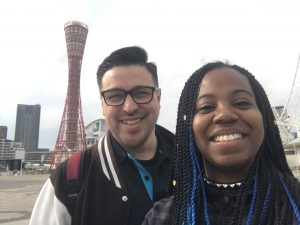 Each of Baquero's days are typically different as he works part-time for an eikaiwa or an English learning center. His very first job in Japan actually found him after he posted his resume on Gaijin Pot. They wanted to interview him immediately, but he would not be in the country for a few more weeks.
"After I moved here, I reached back out to them for an interview. They met with me and I was hired on the spot," he said. "I have been very fortunate as it has come to my attention that it is much harder for other people to find employment in similar circumstances as mine."
At his first position, he typically taught seven lessons a day on multiple days of the week with only a five minute break between each class to prepare for the next. He said it was quite normal for him to go into work, have 10 minutes to set up the first class and then not get a true break until it was time to leave.
"When I first started with my first company, I would teach students as young as 6 months old, to 53, my oldest student being 53," he said. "My current job, as early as 6 months to 1 year, but now the age limit is 13 years old for our program."
In America, Baquero worked in the sales industry and held multiple jobs as a sales representative. Jumping to education was a transition for him.
"For better or worse, teaching English in Japan is less about having an educational background and more about being comfortable and energetic in front of a classroom," he said. "I had always had a natural inclination for performing and that, more than anything, has made my transition from sales to teaching in Japan extremely successful."
Baquero enjoys that his eikaiwa work allows him to travel to different parts of Japan that he did not know existed. Though Baquero works for a different company, he is still friends with the first manager who reached out to him.
"He invited me and my wife to spend a weekend with him and his family in his native city of Sapporo in Hokkaido. We spent New Year's Eve and New Year's day in Hokkaido with his family. It was one of the best vacations my wife and I have ever had."
Chasing Goals
Mongcopa's goal is to get a full-time job, but he is still looking for a company to sponsor him for a visa. Each day he scours websites for a teaching job, but many of them require Japanese speaking skill.
"I can speak a little. I can understand a little bit. When they talk really fast, like a native to a native, you're like 'すみません (excuse me)?'," he said. "I really cannot get it anymore. It's too fast. You say one thing and they think you're native level."
Another goal is to obtain a Japanese driving license. He said there is an ALT company that will loan a car to its employees so they can drive to the further schools in the rural areas.
"I miss teaching, especially the junior high and the senior kids. I miss it," he said. "Although I still love my job as a baker. I have no complaints. You can put me anywhere. I used to be a garbageman in England. I used to do a lot of stuff. So I'm used to anything. Throw anything at me, and I'll do it with a smile, no worries. But still I would love to go back to teaching."
Baquero came to Japan with the goal of establishing friendships. The couple assumed they would be placed in inaka (countryside), and went in with the mindset of finding a place in the community. In the city, making friends can still be a challenge because of the language barrier.
"I never let being nervous stop me from at least making the attempt. I know plenty of people who have better Japanese speaking skills than I do but still talk to Japanese people less than I do," he said. "I have been invited into the homes of a few Japanese friends. I was taught how to make miso soup by a friend and her mother. I have joined a band since coming to Japan. And my very first Japanese teacher came to one of our very first live performances," he said.
In April of 2019, Baquero was inducted into the Kobe PR Ambassadors program. Ambassadors are sent on excursions through the city and charged with promoting tourism through their personal social media pages. He applied for the program because it seemed like a good way for him to learn about the city and to share his love for Kobe with his friends and family back home.
"The ambassador program has given me some truly memorable experiences such as meeting the mayor of Kobe, picking grapes off the Kobe winery vineyard and hiking through the Futatabi Mountains where the Kobe lights [shine]," he said. "All of these being experiences I would not have had had I not been a part of the Kobe PR Ambassador Program."
Commitment
For families thinking about making a big move to Japan, Mongcopa said first and foremost they have to be very sure that they are willing to give up their regular job, their comfortable life and to be 150 percent sure as a family that they want to be in another country for years.
"It's not easy. You leave your friends, you leave your family, so both of you, the husband and the wife, should both decide on it and also consider if you have kids, consider the kids' future. Will you stay there for a couple of years?" he said. "Both of the couple should decide their goals: if you're going to stay here for the rest of their lives or just to test the waters."
For him and his wife, they don't see the sense of going back at this point, their son has acclimated to Japanese schools, and he speaks English and Japanese but not Filipino. Also, Mongcopa said it will be difficult to find another job back home when you have been away for so long. But just because it may be difficult, does not mean a family should not try moving.
If life gives you lemons, you make iced tea. Go for it!
Do your best in everything that's always my motto," he said. "We thank the Lord for giving us the opportunity to be here. We thank God for everything, the ups and the downs. We're happy."
While here, Baquero plans to continue learning the language, make as many Japanese friends as possible, and to explore as much of the country as possible.
"Living in Japan has been a truly awesome experience I never thought I would have. It's been the adventure of a lifetime and continues to be so," he said. "While it is very hard sometimes to go grocery shopping with the language barrier, the success of accomplishing even the smallest goals, such as buying flour or yeast, yields incredibly satisfying results. My time in Japan is something I will always treasure."
Baquero arrived in Japan just a few days after his wife, and was fortunate to have a few kind senpai JETs volunteer to help him get his life started. When the new dependents arrived this past summer, he returned the favor by taking them on tours of the neighborhood and city. He advises all dependents to come with their spouses as early as possible. For those on the fence about making the big move, Baquero advises them to come. He knows it may be difficult to find work, but he still recommends taking the leap.
"Working in Japan has been one of the most unexpected, greatest joys in my life. And it allows me to have unique experiences of my own, which I could then invite my spouse to join in on," Baquero said.
Cover Photo: Marc Baquero
Baquero is a second-year ALT from America in the great port city of Kobe. She can often be found in a coffee shop either reading, writing, drawing, or studying Japanese. After playing rugby at university and graduate school, she was excited to finally attend the Rugby World Cup.