This article originally featured in the May 2020 issue of Connect.
Laura Pollacco (Kanagawa 2017-2019)
Life after JET is different for everybody. For some, JET is almost like a working gap year and after having had a jolly good time, we go back to our countries, pursuing further studies or a job that may have no relation to what we did in Japan at all. For others, JET becomes something that opens our eyes to careers we didn't even know existed, some choosing to stay and work in Japan, unable to leave, and others taking what we have learnt and putting it to use back home. Sarah Parsons is one ex-JET who really took to heart some of the key principles of the JET programme—connection, communication, and cultural understanding—and has created a career out of them, working in trans-cultural business and education.
We hear about reverse culture shock, and after recently finishing on the JET Programme myself, I understand how confusing it can be to have spent so much time in a country, learnt so much, and to have that desire to continue to be connected in some way, but not quite knowing how. So I reached out to Sarah to ask her some questions about her own experiences and what advice she might have to those, such as myself, who still want to stay in touch with Japan. During the coronavirus social distancing here in the UK, we agreed to Skype one another, both in our bedrooms, to talk about what life after JET has been like for her; how she used her time on JET to her advantage to create a business, lecture at universities, become head of the JETAA UK and even meeting the Japanese Emperor.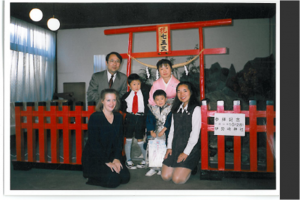 Q: After graduating in 1995 from the University of Warwick with a degree in Business and German, you applied to the JET Programme. What made you want to apply to JET in the first place?
A: The honest answer was that I didn't know what to do because I lived in Germany for a year and I wanted to travel and work overseas, and I saw an advert at a career fair for a free business class flight to Japan! That's the honest answer. This is back in 1995 when they flew JETs out in business class. So I saw that, and I thought, "oh wow." And that was the first exposure I had to Japan!
Q: What was life like being placed in Gunma? Did you often visit Tokyo?
A: No I didn't actually visit Tokyo much, because it was a strange part of my life where I was a bit overwhelmed by everything and I wanted to spend more time in my community. I found Tokyo overwhelming. Because I was in a small town, I didn't have lots of JETs around me so I spent more time in the community. I ended up teaching a few local ladies, doing night classes. I played bassoon in a local orchestra as well and I also spent a lot of time with my teacher's family. It actually got to the point where it was a bit too much. I appreciate it now a lot but at the time I remember being a bit exhausted. I got a lot out of it. It's good to have these experiences and I feel like it was hard to get bored. Living in the inaka I didn't get bored, but they gave me a car so that was good; I travelled around a lot visiting other JETs.
Q: After JET, you worked for the Japan Local Government Centre in London. How did you find that job? Was it through JET?
A: It wasn't specifically through JET. When I got back, again, I didn't know what to do. I travelled through Italy and then I got back and signed up for JETAA. Years ago, when you signed up (to JETAA) you got a monthly newsletter called 'Jetlag' that had Japan-related jobs in it. I saw an advert for a Japan-related job. I just needed to be back in touch with it, because everyone I was talking to had no idea about Japan. This was a while ago so they didn't know as much about Japan as we do now, so they wouldn't have had a clue what I was talking about! I was really desperate to get that back, because I felt like I had this amazing experience but I couldn't relate to anybody. Even within my family, no one could really relate to my experience even though my dad and sister had visited me in Japan, so when I saw this job, I had to go for it. Because I had been on the JET programme, I probably had an edge over the other candidates because they wanted to have someone who understood the Japanese mentality to work with the Japanese expatriates in the office.
When I got down to London, I also got involved in JETAA London. We were very active and we got involved with the Japanese Embassy and Ambassador and we had a fantastic time. For me it was the perfect situation because I was having a mini Japanese experience in London and I was actually a lot more sociable and met many more JETs through that than I had in Japan! And it was great. It was a nice job. I was helping the Japanese out whilst learning more about the Japanese business culture, I was a PA to the director and they were really nice and treated me really well. And then I got pregnant.
Q: So that was when you decided to move again. At what point did you start teaching and working in universities?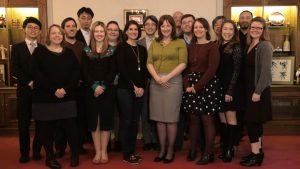 A: I moved back up to the Midlands to raise my family, and then I went into teaching. I trained to be a primary school teacher. I did that for a few years and then I started my business, originally called 'Japan in Perspective,' now called 'East West Interface,' and I started going into a few universities to do a little lecturing and they were happy for me to do that, because I had business experience, but also because I have a teaching qualification. So I started to lecture on cross-cultural communications and now I am a Senior Teaching Fellow and SOAS (School of Asian Studies University of London) and The University of Sheffield specialising in Japanese and Korean Business & Management and also have taught some Business in China.
Q: Along with the lecturing and the business, you also became the chair of JETAA UK and worked with a few Japanese cultural societies. How did you find juggling all those things?
A: I really wanted to get involved with JETAA again because I had been so active in the London chapter when I got back from Japan, and it was very exciting, so coming back to it in 2012 was the right thing for me. As Chair of JETAA UK I got involved with all the big cultural organisations in London. It was really good networking for my business so at the time it wasn't so much juggling; it was something that I wanted to do to get that exposure and continue being involved with Japan in the UK. I wasn't getting paid, as it was voluntary.
Obviously, I wasn't pushing my business, I wasn't allowed to do that, but I made a lot of good contacts. For example I got to meet the ex-JET head of HR of a major Japanese company through networking and have delivered their European management for the last 3 years. I obviously didn't just get the work handed to me because I was a JET, but it's a fantastic professional network to be involved in. I did also get involved in the Japan Society and was on their Board of Trustees for 3 years. I recently just resigned from their Funding Committee, as I gave a lot of time to it and it was all voluntary.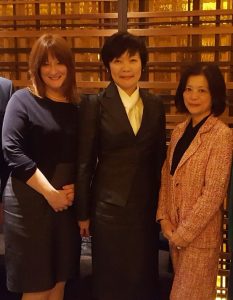 I got so much out of my experiences with JETAA: trips to Japan, I got to meet the current Emperor and Empress, I had dinner with the Japanese Prime Minister and had lunch with his wife when she visited London, I co-organised and hosted an event at the Houses of Parliament alongside the British Japanese Parliamentary Group and although it was great, a lot of work went into it, so that's what prompted me to step down, as I needed to concentrate on running my own business and lecturing.
Q: But from that work, you received a Commendation from the Japanese Ambassador to the UK. How was that?
A: It was amazing, it was so lovely because two years prior, five male ex-JETs received a commendation for their work for JETAA, which made me feel a little deflated, but other people I know behind the scenes and staff at the Embassy advocated for me to receive the award. And I've met the Ambassador having done many speeches alongside him and visited his residence to meet Princess Takamado so it was lovely to finally get recognition from him, and listen to his heartfelt speech about me. The event was made even more special as my kids came and I got a beautiful brooch designed by the Ambassador with the flowers of Japan and the UK on it.
Q: We understand that Japan has some issues when it comes to gender equality, and viewing women as being as capable as men. Seeing as you are still working closely with the Japanese and also conducting research into the gender roles in Japan, have you found that sexism is an issue even whilst working in the UK?
A: I understand the hierarchies and gendered differences within Japan and that the status of Japanese women is still much lower than the Japanese man within the workplace and as a western woman, I am given more elevation than Japanese women are and I do sometimes take advantage of that. However there is still the assumption that if a man is talking and he is higher ranking, then his voice and opinion takes precedent. On occasions where I have had to have meetings with high ranking Japanese officials and dignitaries, I have found men, even western men, try to talk over me even if I am the host. Once we received a present for JETAA and the Japanese minister couldn't look at me, he gave it to a male colleague because he just couldn't get his head around the fact that I was in charge.
I have also been called "美魔女" (bimajo, beauty witch) a term coined for a woman who is beautiful over a certain age. This man was calling me this in a restaurant in London and I just had to laugh along because there is not much you can do against these stereotypes and I know that it wasn't meant as an offensive term. It can be difficult though treading that fine line between respecting and understanding a culture and wanting to call out the sexism and low levels of gender equality and for the most part, I have been treated with respect by my Japanese male colleagues.
Q: What current goals are you working towards within your company?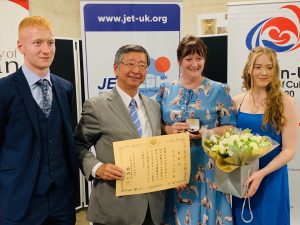 A: With my company I am looking towards developing online courses, which now is the perfect time for. I already deliver online cross-cultural communications courses and am developing a course on gender in business, alongside doing a lot of gender research. I'm actually writing a book chapter on the gender roles in Japan and I am writing a lot about kawaii in there.
Now it's not just Japan for me, as I am looking to work with China as well, as it's explaining those cross-cultural distinctions. It's not just etiquette, it's about communications and how you approach negotiations and how you motivate staff and how to get good PR. Now I am looking to work more widely, so that's a goal, to widen the net, and to make some really creative courses. I'm a musician and I was about to roll-out (well, before coronavirus) a training course looking at leadership and music at universities with the
students. For me, my goals are to be more flexible, creative and innovative.
Q: We have lots of things to help us with careers after JET, but what would you say to JETs looking to go down a similar path to yours, wanting to use their knowledge of Japan, but not really sure how?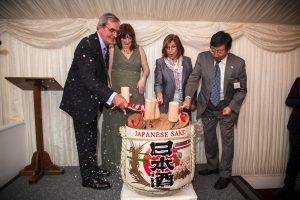 A: Definitely get involved in things like JETAA, in the UK there are regional groups as well. Getting a job, so I got one at CLAIR, it wasn't well paid, but getting that job was great as I had that experience of how the Japanese work, and their business culture. I understand that people are a bit more entrepreneurial these days, and there are a lot more younger people wanting to start their own business which is great, but if you want to work with the Japanese, they want to see experience and that you know what you are talking about. You have to show knowledge, that's why I've done a lot of lecturing. But there are so many more opportunities now than when I came back. I see a lot of JETs coming back to London, and jumping into things and being a lot more entrepreneurial, but for me I would say get as much experience as you can with the Japanese if you want to continue working with them, as even if you aren't in Japan you still have to deal with that mindset.
The JET experience is unique, and you get so much from it, but you don't get so much of the skills to apply in the workplace if you want to start a business, so you have to be patient and learn that. There is now so much more interest from the UK at least towards Japan, it's crazy. In terms of what is happening right now in regards to the coronavirus, we have no idea where things will be in regards to the economy and our relationship with Japan after this and Brexit. It's just going to be very interesting to see. I suppose people could look at their wider skills of having that knowledge of cross cultural communications.
Also a lot of people think 'oh, I have to speak fluent Japanese' but the biggest secret about me is that I don't speak totally fluent Japanese! I have a Level 2 Japanese Language Proficiency certificate, from literally studying and getting help from people in my office, but I don't use it in my job all the time. So unless you want to work in Japan, you don't have to have it. Be more creative as well, a lot of people think 'I want to work for a Japanese company!' Well there are a lot of variations and lots of companies working with Japan. Get experience and be open. The best skill you can have at this time is to be flexible.
If you are interested in Sarah Parsons and would like to know more about her work visit her website.
Laura Pollacco was a Kanagawa JET from 2017-2019 and former CONNECT Style and Beauty Editor. She is back in the UK to pursue her love of acting but will also be working on her Japanese and ensuring she doesn't lose touch with everything she learnt in Japan; once she gets out of lockdown that is.