This article originally featured in the May 2020 issue of Connect.
by Mike Clapis
Dogenzaka. Whether or not you've heard the name, you have most certainly seen it in pictures and videos. This shopping district is home to the densely-packed Shibuya Scramble crossing, a favorite location for tourist selfies and impromptu interview segments for NHK. The Shibuya 109 shopping mall proudly towers over the space like a watchful mother, bearing gifts of cosmetics and neon activewear commercials. It might be the most famously crowded city block in Tokyo, which makes it a good contender for most crowded worldwide.
As a Tokyo resident, I avoid Dogenzaka at all costs. Just the thought of the inevitable train-cramming that awaits on my commute to and from the place is enough to get a claustrophobe like me breathing into a paper bag. So if you told me when I first got here in 2014 that I'd be dancing up the legendary Shibuya thoroughfare with around 2,000 others wearing a bright cotton happi and matching headband under the hot Tokyo sun, sidewalks lined with cameras capturing every moment, I might have been a little skeptical.
This slideshow requires JavaScript.
The Ohara Matsuri, as this event is known, has its origins in Kagoshima, where it is renowned as the largest dance festival in Southern Kyushu. Every year, the city floods with troupes of dancers and street performers keeping Edo-era Kyushu artforms alive. It was started to honor the efforts of Kagoshima's post-WWII reconstruction period, but the Tokyo branch of the festival (which began in 1996) is held between Shibuya's Dogenzaka and Bunkamura streets and celebrates the bonds of friendship bridging Shibuya and Kagoshima. In my research of historical links between the two cities, I discovered that Kagoshima was the birthplace of both Togo Heihachiro, a naval hero during the Russo-Japanese war whose shrine can be found in Harajuku, as well as sculptor Teru Ando, who made the original version of the Hachiko statue that stands outside Shibuya Station to this day.
Street vendors and convenience stores share in the promotion of Kyushu tourism with prefectural delicacies. Spectators can expect to see scores of local dance crews representing their neighborhoods with specifically-designed uniforms of happi and headbands, and parading the length of Shibuya's biggest shopping district set to the rhythm of taiko drums and flutes. So how did an uncoordinated, culturally illiterate JET like myself end up in the middle of it all?
I joined the International Ohara dance group in 2018 at the behest of my girlfriend, another JET who had friends already participating. She sold it to me as a fun way to bond with our fellow Tokyo JETs. I foresaw a potential problem in the form of my two left feet, but I knew I'd be alright once I saw the choreography. Festival dancing consists of deliberate, full-body sweeps favoring smoothness over speed or technical ability. This makes it easy for onlookers of any age to jump in after watching only a few cycles. This open-door policy makes sense—matsuri are famous for fostering a sense of community and cultural sharing through dance, and anyone can join the march behind the dancers during Ohara, like an Edo Japan conga line.
I contacted former TJET Social Chair Marlene Pierce to learn more about the group's formation in 2017.
"We were actually contacted by a guy [called Tommy] who was interested in pairing with Tokyo JETs for a cultural opportunity. He pitched the idea of having an all-JET team to the TJET board and we all decided it was too good of an opportunity to pass up. One of the other council members, Rebecca Harkness, agreed to co-captain the group and we were off and running!"
Another former JET, Farshad Khansari, elaborates. "Tommy started it all. It was nice to be able to participate in a local festival. A lot of Tokyo JETs say they missed out on being part of a community since they weren't placed in a smaller town or village, and this was a great opportunity to have that 'Japan' experience in a big city."
Tomokazu Mistudome (aka Tommy) is a native of Kagoshima prefecture and now lives in Yokohama as a local promoter of cultural exchange. From my experience with the group, Tommy had a hand in every aspect of our practice and performance, and made arrangements for us to share a practice space and reception venue with another dance team. When Farshad announced he was moving back to the US, Tommy even organized his going-away party.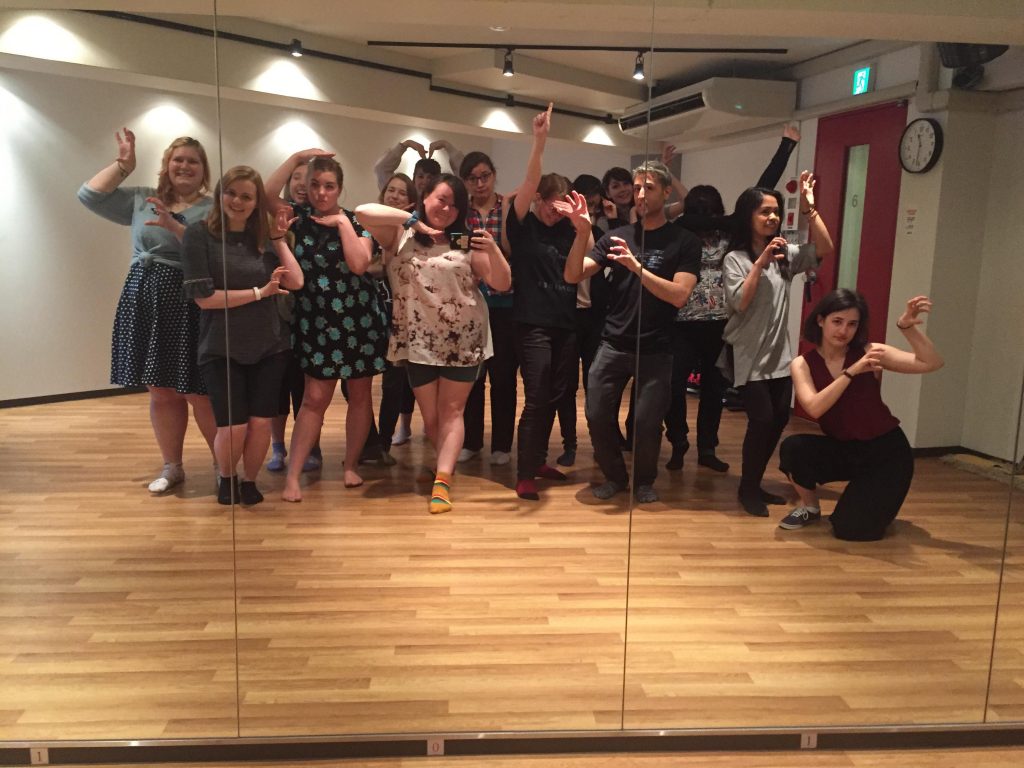 The practice sessions I attended in 2018 with the rest of the crew were held every weekend over the course of a few months in a two-storey house just outside downtown Shibuya. We practiced in the home's large tatami rooms with an experienced team of middle-aged and senior dancers who fed us a constant stream of compliments and omiyage during lunch breaks.
Dancers are given three routines to learn: the "Ohara Bushi" (Kagoshima's most famous Bon Odori dance, from which the festival gets its namesake), the "Kagoshima Han'ya Bushi", and the "Shibuya Ondo". Each dance's historical value can be understood when you realize the moves correspond to the natural geography of their place of origin. I recalled learning this during a practice session—one of our teachers was demonstrating the proper wrist rotation and gradual raising of the arms in the Ohara Bushi steps, palms open and fingers splayed out, which she likened to smoke rising from a volcano.
Marlene spoke more on this detail. "A lot of the flat arm moments are representative of flat grassy plains, arms make the peaks of mountains, hands swish above heads to represent tall fields of grass swaying in the wind. Other dances have the casting of fishing nets into oceans or depictions of rising or setting suns." A quick YouTube search of these dances in action prove the importance of getting these naturalistic details just right.
Since joining the event three years ago, JET's International Ohara team has won awards for their efforts, and in fact their attention to detail could stem from the knowledge that they will stand out as foreign ambassadors. Maybe this is something all JETs implicitly understand—that when all eyes are on you, you become extra careful not to make mistakes.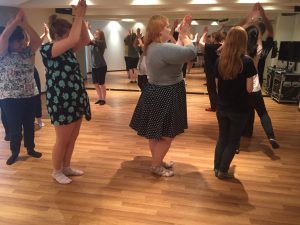 But this isn't to make the Ohara Matsuri sound contentious, or even competitive. In a land governed by social hierarchies, everyone taking part in the festival can appreciate this is one venue where rules and convention take a backseat to fun and cultural exchange. It is, after all, a loving tribute between the sister cities of Shibuya and Kagoshima. The International Ohara team stretches the boundaries of that sisterhood to encompass nations from across the globe. Even when COVID-19 has rendered the event all but cancelled for 2020, there is a strong feeling among members of the team that many of us will be back next year, ready to dance alongside our new friends.
Readers who would like to learn more about the TJET Ohara Group or get involved themselves can contact the International Ohara 2020 Facebook group, or message the group moderators Caitlin Fox Orwell & Kathy Agüero.
Mike Clapis is a former Tokyo JET who lives in Nerima with his girlfriend and a tomato plant. He enjoys swinging in hammocks and collecting Civil War chess sets. He subsists entirely on a diet of yakisoba and milk candy. He is an okay dungeon master but wants to get better.