This article originally featured in the May 2020 issue of Connect.
The Landscape of Meetups in Stay-at-Home Japan
By Eli Ferster (Kyoto)
The community centers are closed, cafes and other meeting spots vacant, but for many, online Meetups keep them connected to the events they've come to count on. Indeed, compared to some local clubs and activities which only get together through scheduled meetings and physical spaces, groups that have always been run through Meetups—an app for finding and organizing events and gatherings—are much better equipped to make the jump over to the internet—give or take a few hurdles.
While the ever-popular sports Meetups are largely off the table, it's heartening to see, browsing through the app, that many others have shown surprising resilience. "On-nomi", a contraction of online nomikai (drinking party), have sprung up in groups usually catering to izakaya meetups and bar-hopping nights out, here offering BYOB online socializing. But perhaps the most suited for this transition are the language exchange groups, which require no special equipment or ambience.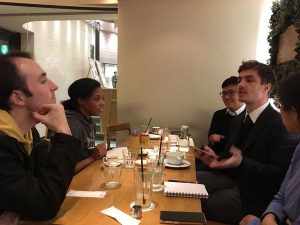 "We started the online session in mid-march," says Leila Koizumi, organizer of the Osaka area Meetup Learn Japanese and Make Japanese Friends. "Originally we wanted to just end it at the end of March but now that the virus situation is getting worse we have to continue on."
While the online format does pose some challenges, both on the technical and atmospheric side, Leila has been able to continue her three-times-a-week Meetup without significant disruption. "I think the good side would be we can give more attention to each individual participant," she considers. "In a very confined space online, multiple people cannot talk at the same time otherwise it's very hard to understand. So it's like an individual interaction. When a few people are talking to each other, the others keep quiet and observe the conversation. So the quality of the learning is quite good. I didn't really expect it to be this meaningful, to be honest."
This intimacy, however, seems to come at the expense of spontaneity. "It's definitely less exciting," continues Leila. "When we meet online, it becomes more of a classroom style. It's really controlled. We usually meet at a cafe, and each member can talk to the person next to them. Just spark up some conversation. But it's not that possible online. Little chats that really connect people—it's hard to carry that on in this online environment."
For a well-established group like Leila's, this shift in environment is nonetheless viable. "We're very fortunate because we have regular members and they keep coming back all the time," she reflects. "I think this kind of online environment would be very difficult if we kept having first-timers all the time. Me or other teachers would have a very difficult time understanding the level of the conversation or personal interest in general. But since our members are pretty much regulars, we know them very well, we know what they like, we know what kind of lifestyle they live. It's a lot easier. When they struggle or when they hesitate we can kind of sense that, and we can throw in some little support."
For other, less-established groups, this lack of an established community has made the transition to online next to impossible.
"I had really bad timing," remarks Tamara, organizer of a Meetup called Tokyo American Cooking and English Class. "I started my meetup around the end of February and I got a lot of messages from people saying they were looking forward to my first meetup. But due to my schedule, I couldn't organize my first Meetup until last month when things started to get bad with COVID-19."
Since then, Tamara's online Meetups have had scattered and unreliable attendance. Granted, an online session is very different from her initial vision, which involved a full kitchen setup in a community center.
"I use Zoom and it's free for 45 minutes, so I try to pick things I can do in a short amount of time and that other people can do at home easily in front of their laptop," she explains. "I want people to either be able to watch me or be able to follow along easily without having to use their stove or oven etc. Ice cream in a bag is easy and fun. Just need some milk, salt, ice, some zip lock bags, and strong arms and patience for shaking. And just add whatever flavorings or fruit you like. Or crushed cookies."
But even for meetups with established communities, transitioning to an online format isn't always a top priority. For many gaming Meetups, already existing online gaming communities seem to swallow up Meetup attendees, even for things like tabletop gaming.
"There are (and have been for some time) many ways to do online play including a plethora of Board Game apps as well as specialised software like Table Top Simulator (Which allows you to simulate almost any board game available, so long as you or someone else can put in the time to design it in their engine)," explains Graham, one of organizers of the meetup Board Gamers of Osaka.
Board Gamers of Osaka, which typically meets in a bar called The Hearth Osaka, has yet to post any online events on their Meetups page. Another gaming meetup organizer, Japan International Gamers Guild has likewise cancelled all upcoming events and left it to members to organize on their own via the group's Discord page.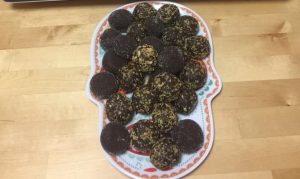 On top of that, for meetups ope rating out of a specific locale like Board Gamers of Osaka, losing the benefits of bringing people into your bar or cafe through the meetup could remove much of the appeal of hosting these meetups in the first place. Business concerns like this can have a constraining effect on an organizer's view of online viability, especially if attendance is scattered.
"Originally I made my events only ¥100. But I decided to make it ¥1,000 because I still have to pay meetup fees every month whether people come or not," explains Tamara. "Also, even though the class is online I still felt like I wanted to be paid for my time and for buying the ingredients."
Luckily, whether the transition has been smooth or turbulent, there are still some unforeseen silver linings to the online situation.
"Since we have been doing our sessions online, we can kind of bring back some returnees and talk to them," explains Leila. "One person came back this morning and he was logging in from Brisbane, and there are two members in Pittsburg who often take our Saturday morning session, and my colleague in Toronto . . . since we're meeting anyway for the language exchange, it's easy to invite each other."
What was once a local space can easily make the leap to an international one once it moves online, provided the community or the interest is strong enough.
Eli Ferster is a second-year ALT in Kyoto Prefecture and a General Section Editor for CONNECT. He hopes to join some online meetups in the future, if for nothing else than the novelty of going out for digital drinks.