This article originally featured in the April 2020 issue of Connect.
Daniel Cruse (Ehime)
Day 1: Mikan-gari
My suggestions mostly consisted of castles, temples and an excursion out to an island in the Seto Inland Sea, but my companion had a different idea:
"I want to go mikan picking!"
"Okay, I'm not sure where we could do that…"
A quick Google search, a phone call and we were on our way to a previously unknown (to me) mikan orchard in Doi in western Shikokuchuo, Ehime. We wandered down a couple of side streets trying to find the place. Eventually, a friendly elderly woman greeted us, equipped us with buckets and led us past some hedges to her mikan grove.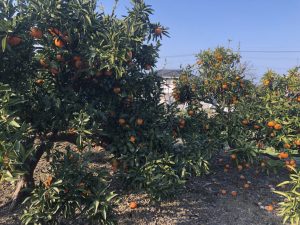 Shikoku has a robust community of arachnids, and many of them make their homes in orchards like the one we visited. We took care not to disturb them as we made our way through the mikan trees.
I had been blueberry and huckleberry picking growing up in the Pacific Northwest of North America and as with the blueberry picking I did back then, it's all-you-can eat at the mikan orchard. I was impressed that every tree seemed to be surrounded with a ring of mikan that had ripened and fallen off, unpicked. The owner suggested we avoid the largest and most pristine-looking fruit in favor of smaller ones with blemishes. Sure enough, the smaller fruit were riper and juicier. After we finished picking and eating our fill, she packed them in boxes advertising her organic mikan orchard and sold us the fruit at ¥800/10 kg.
The advertised picking season for the Ando mikan orchard is October through December, nevertheless, we were heartily welcomed in early January and the roadside mikan stall in my neighborhood had bags of fruit for sale through the end of the month.
Reservation via fax (0896-74-2516) is required. Read more about Ando Farm (安藤農園) here (Japanese only).

Day 2: Naoshima
We got a late start around midmorning. It was an hour's drive to the ferry terminal in Takamatsu.
My only visit to this city was a layover at the central train station in late July. Laden with large luggage bags at the time, I had struggled to keep to the shade then; with no escape from the humidity, I dripped with sweat.
On this day, I was relieved to find a parking lot near the ferry terminal. Pleasant sunshine was accompanied by a bitter wind whipping across the wharf. As we arrived at the ticket booths, I second-guessed my choice of island. Megijima is the most famous (no one who taught elementary English with "Hi, Friends!" can forget the Onigashima chant, much as we may wish to.) Shodojima is the largest in the area, and a friend's friend grows olives there, but Naoshima is the art island, and we bought an express ticket. The other islands could wait for another day.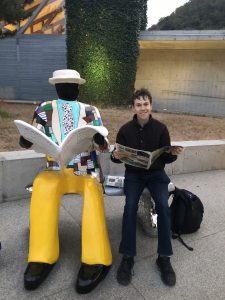 We arrived at the island and disembarked. One of Yayoi Kusama's famous pumpkins (''Red Pumpkin,'' hollow on the inside and dotted with black spots) awaited, but we hurried onto a bus to explore what seems to be the island's main attraction—the Chichu Art Museum. The bus arrived at the ticket center, where we learnt that entrance is staggered; we'd need to wait an hour. We passed the time with a pleasant walk down the narrow yet picturesque road overlooking the beach.
The art museum is largely subterranean, designed so as not to mar the landscape. Having expected something of a European-style art museum, I left puzzled but satisfied. A written description doesn't do it justice.
Rather than eat in the museum café, we made off for another village in the east of the island. The road there ran along several lakes, and I found myself humming the tune "Seto no Hana-yome'' (The Bride of Seto). It's a song about a young woman leaving her family and home behind her, poignantly telling her brother not to cry for her. I heard it rehearsed and performed by my former choir in north Japan. Last July, I went to my last rehearsal with them before moving away. At the end, I had tried to read a goodbye message, but started weeping.
The hostel-café we had chosen on eastern Naoshima turned out to be closed. Moving on through the village, we heard loud laughter, which seemed to come a bit incongruously from a group of black-clad funeral attendees. After a long search (it was past normal lunch hours), we found a café, then decided to set out to find one more pumpkin. The bright sunlight of the afternoon was gone and we shivered as we retraced our steps to a hotel complex on the beach. At long last, we reached Yayoi Kusama's Yellow Pumpkin. We waited our turn to take pictures with the pumpkin, glowing over the water at dusk.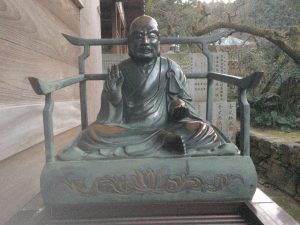 Day 3: Temple No. 61
When I accepted a job in Ehime, the first thing the internet told me about Shikoku was Kobo Daishi's pilgrimage route a.k.a. the Shikoku Junrei or Henro. Each year pilgrims from around the world circumambulate the island and visit the 88 designated temples (as well as associated shrines and bangai, other temples near the route.) My city has one temple, Sankakuji (Temple 65), so the occasional walking pilgrim (Japanese or European) can be seen equipped with a conical suge-kasa hat and staff. The largest city in the area, Niihama, has no pilgrimage temples, but the next town over has five.
Today we head in that direction, west.
We park at a nearby shrine by accident. As we walk to Kouon-ji, the 61st temple on the pilgrimage, my companion comments on the strong scent. It smells to me of incense. A sign near the entrance speaks to this temple having a special meaning related to childbirth—perhaps that explains the feeling of vibrancy here.
We walk up to a multistory gray brick structure with six large pillars on the front facade. Passing the temple bell and shop, we climb the stairs to the right of the building to the main hall on the second floor. A huge golden Buddha is flanked by two smaller statues on an elevated dais. A woman writes on a votive candle, while another prays loudly.
As we are about to leave, two priests enter and sit in the central elevated dais, facing one another perpendicularly. The one facing the left wall begins chanting, interspersed with an occasional cough. The priest facing the central golden Buddha statue lites a fire and fans the flames.
Though it's different from the religious services I grew up attending, I don't mind. I'm filled with a feeling of familiarity and warmth.
All Photos: Daniel Cruse
Daniel Cruse is a CIR at Shikokuchuo City Hall in eastern Ehime. Until last July, he was a JET ALT in Ofunato, Iwate, and as a high school student, he spent a wonderful (though very sweaty) six weeks in Shiraho, Ishigaki Island. He enjoys singing and traveling around Southeast Asia and Japan. He looks forward to exploring Kanto, Chubu and Kyushu in the future. His Instagram handle is @dbasimc.