This article originally featured in the April 2020 issue of Connect.
Sophie McCarthy (Hyogo)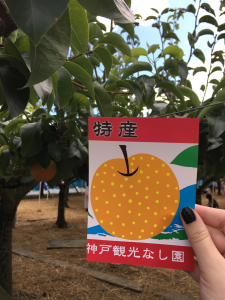 While Kobe is the sixth largest city in Japan, many are unaware that just on the other side of the Rokko Mountain Range lies much untapped beauty and nature still within city limits. Due to this advantageous design, organizations like Eat Local Kobe (webpage in Japanese only) have been given the opportunity to thrive. By having ample land available in the Kita and Nishi Wards, Eat Local Kobe is able to grow produce and then quickly deliver it to their restaurant and weekly farmers market in downtown Kobe, thus encouraging the relatively small farm-to-table lifestyle in Japan.
This being said, Nishi Ward has also allowed fruit picking excursions to flourish. Kobekankonashi Orchards (website in Japanese only) offers a plethora of activities, from potato digging to pear picking. Japanese Pear season begins around the end of summer to early fall. The best time to go is September, as the weather is cooler and the pears are at their peak ripeness. This orchard in particular offers a tabehoudai a.k.a. "all-you-can-eat" option. You begin by entering the orchard and picking up a straw mat that you can place anywhere under the pear trees. Then, you get picking! Instructions are provided on what pears are ripe for picking as well as the proper way to remove it from the branch. After that, you can sit under the pear trees and cut your pear up for eating (knife and plate provided). Unlike American pears, Japanese pears more closely resemble apples and are much sweeter. After you finish, you can also buy pears to take home if you desire.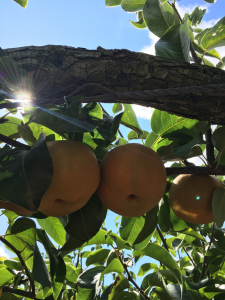 Accessibility: From Sannomiya, you can take a bus or train to Miki Station and then a bus to the orchard. It is about a 10-minute walk from the bus stop. There is also a parking lot if you drive a car.
The correct soil and climate conditions to g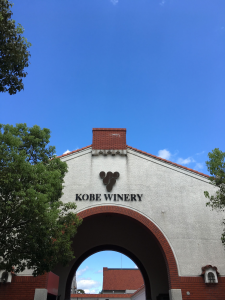 row wine grapes in the Nishi Ward saw the opening of Kobe Winery in 1983. Now, after winning multiple wine awards, Kobe Winery offers tours and tastings apart from selling their wine in restaurants and shops throughout Hyogo Prefecture. Spanning 40 acres, visitors are allowed to help pick grapes during harvest season, which runs from August to October. A tour of the grounds also includes a look inside the bottling factory and wine barrel fermentation rooms. A tasting of their signature whites and reds is also included. The best part is that the tour is free! On site is also a fantastic gift shop with omiyage for all your wine-loving friends.
Accessibility: From Sannomiya, take the subway to Seishin-Chuo Station. Then, either walk 30 minutes or catch a bus that drops you off right in front of the winery. Free parking is also available.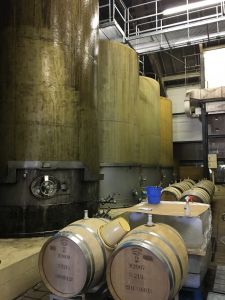 Next time you visit Kansai, I urge you to reconsider the overcrowded Osaka and Kyoto, and hop on over to Kobe for a day or two. While a large city, Kobe has far less tourists and locals are less likely to assume you are a tourist to Japan as well. From Kobe Beef to mountain hiking, famous onsens to Chinatown, Kobe is uniquely its own and unlike any other city in Japan.
Sophie is a second-year JET working at a SHS in Northern Kobe. She is from Philadelphia and enjoys thrifting, photography, and coffee in her spare time. Follow her on Instagram @sophielmccarthy if you are interested in seeing her favorite spots in Kobe, or shoot her a PM so that she can send you her interactive Google map.