This article originally featured in the April 2020 issue of Connect.
Victoria Esnard (Hyogo)
Welcome to the world of anime stage shows! Technically, in Japan, these shows are covered under the moniker "2.5D theater," bringing together the best of both animation and extreme cosplay talent. In 2020, pretty much any popular anime from the last decade and even several shows I had never heard of were up for grabs when it came to stage adaptation. Surprisingly, most of the stage adaptations are created as musicals, whereas music-based anime adapt the original songs for the stage. With impressive fight and dance choreography, as well as show-exclusive merch, these are certainly special events that any anime fan won't want to miss.
To start, let's talk tickets.
The 2.5D Theater website is available in English and provides all the information you need about which shows are coming up and how to buy tickets. If you would like to skip the Japanese wait lines at the Loppi machine and buy a ticket from a fully English website, there's even a handy feature that lets you know if international tickets are available. Usually, when buying international tickets, you will not be able to select the seat, as these seats are already pre-chosen. Once they're sold out, they're gone. You may also be required to show your passport when you pick up tickets, but at least you can skip the Will-Call ticket line. Sometimes this option might be better than purchasing what tickets are left on the Japanese website.
There are usually two pricing tiers for anime stage show tickets: tickets in the orchestra and closer to the stage can be around 10,000 yen, while tickets a little farther back and around the mezzanine level might be a few thousand yen cheaper. Paying the cost to travel to the larger cities where these shows are held can also add to the price, making this possibly an expensive endeavor. For the ultimate anime fan, it's certainly worth it to experience something unique and to add to your merch collection.
Recalling My First Stage Show Experience
Arguably the most popular anime of the last year (at least according to my elementary and middle school students), Kimetsu no Yaiba was graced with a stage adaptation in late January. When I saw the news, I jumped at the chance to go to the show, being a big fan myself. This particular show was being held with numerous showings in Tokyo (of course) with a few in Kobe at the appropriately-named AiiA 2.5 Theater Kobe, located near the Kobe shinkansen station. While waiting for the tickets to drop at 10 a.m. on a Saturday in front of the Loppi machine, I realized I would run into the same issues that I had when buying tickets to the Ghibli Museum. It's not uncommon for this machine to be completely overrun with requests and the server just can't seem to handle the traffic. This was an excellent opportunity to take advantage of the international ticket website, where I was able to purchase tickets at the same price as the higher-end seats in a selected area just for foreigners. Talk about foreigner privilege.
The show date arrived and I attended, driving myself down to Kobe from Tanba, and dragging my sister in tow. Our seats were in the second row of the mezzanine level with another group of foreigners from France, who were just as excited to see the show as we were.
The stage was lit up with a typical Kimetsu no Yaiba motif and even though photos weren't allowed, we were able to take a picture of at least the stage set before the show began. It's important to note that the show is entirely in Japanese, and there is no audio guide in English provided for these types of stage shows. Whether you already know the story or not, it is still quite enjoyable and something wonderful to behold. Before the show began, an attendant approached us and let us know the rules of the theater in English: No photos or video, leave the theater to eat or drink.
Effects in 2.5D theater are a bit odd compared to the traditional Broadway theater experience. Simply put, it feels like an extremely extravagant cosplay stage show that you could expect at a cosplay skit contest. However, the use of music, extras to fill in expertly coordinated dance numbers, light effects, and video projections brings the entire thing together and really reminds you that this is part stage show and part anime. For example, during the fight scene when Tanjirou and Inosuke first meet, Inosuke shows off his incredible body flexibility by doing a full back-bend and putting his head between his legs. Such flexibility might be reserved for a performer from Cirque du Soleil, but a Japanese stage show couldn't possibly pull off such a feat. The crew is able to creatively showcase such an effect with the use of a stage ninja's legs at the back of the stage.
During the fight scene with the arrow demon, stage ninjas come out in force with red arrow ribbons, making it difficult for Tanjirou to swing his sword. All of the main characters' signature attacks are also shown off with light projection on the stage's back wall, as shown here.The characters' costumes were simply out of this world, and very faithful to the original artists' design. The chosen actors were able to encapsulate their characters wonderfully, with Zenitsu's actor perfectly hitting his shrill scream and Nezuko making adorable gestures in the background while the main characters are talking.
When the show is over, you have an opportunity to buy some of the available merchandise. These are usually random blind bags of clear files, pictures of the actors and a few extra goodies such as keychains, bracelets, towels or head scarves. If you aren't able to get yourself tickets to the show, these goods are available for purchase online with a link from the official stage show website, and are carried at affiliated stores.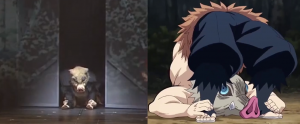 More 2.5D Theater
If you're interested in seeing one of your favorite anime adapted into the stage show, I encourage you to check out the 2.5D musical theater website and subscribe to their newsletter. You can see a list of all the upcoming shows until summer 2020, with new shows announced regularly. Notable mentions include the My Hero Academia Stage Show, Haikyuu, Durarara!, a second part to the Hypnosis Mic project, the constantly running Sailor Moon show and the one I'm most looking forward to: Fire Force. Of course if you do miss a chance to attend any of these stage shows, DVD and Blu-ray copies of the shows are available for purchase on the Japanese HMV website.
As an anime fan for more than 15 years, I could never imagine seeing anything like this where I came from in Canada. The best I could hope for was dedicated fans putting on their own short skits for Instagram, or at an anime convention. Being a weeb in Japan has never been better and if you're looking to level up your anime-fan game, this is the way to do it.
All photos from: Victoria Esnard
Victoria is a first-year JET currently living in the middle of Hyogo Prefecture. She is originally from Ottawa, Canada and has been a lifelong anime and Nintendo fan. She enjoys playing Splatoon, spending entirely too much money on figures and manga, and hiking on the weekends. You can find more pictures from her outings on her Instagram @tori_in_japan. Her cosplay account is a secret to everybody.