This article originally featured in the April 2020 issue of Connect.
Or, more specifically, how to date women as another woman in Japan.
Clare Grady (Hyogo JET Alumnus)
This is something I thought was impossible when I moved to Japan in 2012 as a new JET ALT questioning her sexuality. But here I am now, on the other side (with a girlfriend of 1.5 years), after having figured it all out on my own.
There were no resources I could find at that time, so I want to create those resources for other women like myself who want to get into the wlw (women-loving women) dating world in Japan. Because it is very possible!
Japanese Lesbian Culture
Top/Bottom Relationships
Having coming out in Japan, I am not the best person to make comparisons between lesbian culture in Japan versus other countries but I have noticed, and had confirmed by others, that lesbian couples in Japan tend to adhere to the traditional roles of a top ("tachi") and a bottom ("neko") more so than abroad. While I have seen some girls speak out against this culture of announcing to others your "position," it is included in almost all dating profiles and will definitely come up in conversations about dating.
It can even be a determining factor in whether you can be friends with another lesbian or not! Two neko or two tachi can hang out as friends no problem, but a tachi and a neko together? That would be a date and possibly considered cheating if either person has a significant other. As most of my friends are non-lesbian foreigners, and my (Japanese) girlfriend is not into that clear-cut top/bottom culture either, I have not had any issue with this so far. But, this culture does exist, so do not be surprised if it happens to you! Also, don't be surprised if people assume your "position" based on the length of your hair alone!
Coming Out
It is often said that most sexual minorities are not out in Japan. That doesn't mean that no one is, and it doesn't mean that your partner will not come out for you. In fact, similar to how male/female couples often don't introduce their partner to their family until they are sure of marriage, sexual monitories in Japan tend to only come out to their family when they have a long-term, serious partner to introduce. This was the case for me and seems to be common from my research on Japanese YouTube coming out stories.
However, because many are not out, meeting people to date becomes more difficult. This is one of the reasons why I suggest lesbian-specific apps, bars, and events for meeting other women.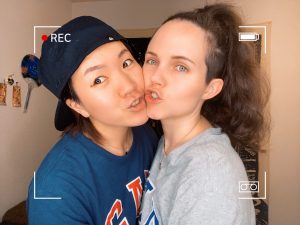 Looks and Popularity
If you've ever seen "The L Word," you may have noticed that the most butch-looking character, Shane, is also the biggest heart breaker. I have noticed this myself and had it confirmed by other women here: in America, masculine women are popular; but in Japan, they are not. Of course, everyone has their own preferences, but after speaking with lesbian dating event organizers, it seems that feminine wlw are in the highest demand here.
Coming from America, I made the mistake of thinking I had to dress more masculine in order to attract women, but that doesn't seem to be the case in Japan (and isn't necessarily the case in America, either). Time and time again I hear that there are too many butch tachi and not enough femme neko to date. I was surprised to hear that butch women are not popular here, but it's apparently true. So, if you're attracted to more masculine women, why not go up and say so? (It worked for me!) My guess is they will be pleasantly surprised to have someone interested in them. That said, I have also heard that androgynous types ("chuusei") are becoming more popular recently, and I don't think foreigners are held to the same standards. I think it's best to just be yourself and be confident. Other than language difficulties, I do not believe you will have any extra difficulty dating due to being a foreigner.
How to Meet Women
While relationships can start from friendships or in the workplace, the most common ways that two women start dating here are: lesbian apps, lesbian bars, lesbian events, lesbian message boards, or being introduced by a fellow wlw friend.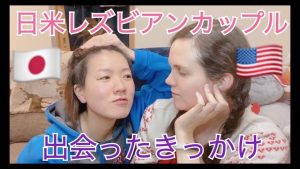 Lesbian Apps
Some of the top lesbian apps in Japan are: LBT Chat, LING, LMap, HER, and OkCupid. These are all available on the App Store. Other than HER and OkCupid, all lesbian apps in Japan are in Japanese with little English. If you prefer a partner who speaks English or is actively looking to date a foreigner, HER and OkCupid are your better bets. I do not recommend Tinder to find gay girls in Japan; you should use a lesbian-specific app whether it's in Japanese or English.
Lesbian Bars
There are probably more lesbian bars than you think, but not in every prefecture. While Tokyo and Osaka have by far the most, there are also lesbian bars in Sapporo, Aomori, Sendai, Nagoya, Kyoto, Nara, Kobe, Hiroshima, Fukuoka, and Okinawa (Okayama had one that closed in 2019). And yes, it is perfectly normal to go to a bar and not drink alcohol. I have seen plenty of women frequent bars who are sober or have at most one drink for the whole night.
Lesbian Events
There are big, women-only club events in the big cities like Tokyo, Osaka, Nagoya, Fukuoka, Sapporo, Sendai, and Naha. These are often once a month or once every couple of months, and are all-night dance club events with go-go dancers and meet-and-greet activities. There are also smaller speed dating type events hosted by lesbian bars which are often advertised through the bars' Twitter pages, so following lesbian bars' Twitters is a good way to get notified of those.
There are also general LGBT events hosted by Stonewall groups, which will naturally attract Japanese women who speak English and/or are specifically interested in meeting foreigners, so check your local Stonewall group's Facebook for those kinds of events!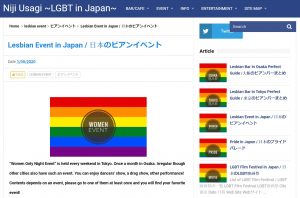 Lesbian Message Boards
There are several types of "message boards" for different topics and different locations. "Message board" in Japanese is 掲示板(けいじばん, keijiban), and a Google search with the terms "lesbian", "message board", and "(your location)" may bring up some local ones where you can scroll through others' posts and post an ad for yourself. As always, be careful of who you interact with online!
Introduction from Friend
If you're just getting into the wlw dating scene here and plan to be in Japan for a while, I suggest you start off making wlw friends first. You can ask questions, go to bars/events together, and once you get to know each other, they can give you advice and introduce you to other single gay girls! Friends usually last longer than relationships anyway, right?
Japanese Lesbian Vocabulary
Here are some of the most common vocabulary to describe your position/looks/sexuality and to describe the type of girl you are looking for.
Positions*
Top: タチ tachi
Bottom: ネコ neko
Vers: リバ (riba) (short for リバースriba-su)
*You can add バリ~ (bari~) before to say "extremely ~". For example, バリタチ baritachiis someone who only tops, never bottoms, aka "stone".
Looks**
Butch: ボイ boi (short for ボーイッシュbo-ish)
Femme: フェム femu
Androgynous: 中性(ちゅうせい chuusei)
**You can add ~よりの~ (yori no) in between two to be more specific. For example, フェムよりの中性 would mean "femme-leaning androgynous". This can be used for positions, too. For example, タチよりのリバ would mean "top-leaning vers".
Sexuality
Lesbian: レズビアン (rezubian (often shortened to ビアン or L)***
Bisexual: バイセクシャル (baisekuzharu (often shortened to バイ or B)
Pansexual: パンセクシャル (pansekusharu(often shortened toパン or P)
Straight: ノンケ (nonke(from English "non-" + Japanese 気)
***レズ (rezu) is often used as a slur and therefore avoided. Also, ゲイ (gei) is only used for men.
Other lesbian resources
L Japan: This is my YouTube channel, that is mostly a couple's channel with my girlfriend (in Japanese) and also has some informative videos about lesbian dating in Japan (in English). We accept topics requests and have an anonymous question box.
L Bian TV: This is the most popular Japanese lesbian couple on YouTube who also have videos about lesbian culture (in Japanese). If you want to get familiar with typical lesbian issues in Japan, this is a great resource.
Nijiusagi.com: This is a website that lists lesbians bars and events in English. The lists are not exhaustive, but it is the best English resource out there, so I recommend this to those who do not trust their Japanese skills. Here's their twitter account.
Gachirezu.com: This is an all-Japanese website with loads of information about upcoming lesbian events, lesbian message boards, and LGBT-related articles.
In conclusion, it is entirely possible to date women in Japan even as a foreigner. As for dating Japanese people in general, I think it's more appropriate for the foreigner to at least initiate conversation; otherwise, the Japanese person may not know whether you speak Japanese, whether you are just passing through or live in Japan, nor whether you are even interested in Japanese people. So, if you are looking to date Japanese girls, my biggest suggestion is to be proactive and open-minded!
All photos by: Clare
Clare is a former JET ALT of Gifu prefecture, currently working as an assistant professor for a university in Hyogo prefecture. She and her girlfriend recently started a YouTube channel (L Japan) in November 2019 to raise awareness about binational/lesbian couples in Japan. Clare can be contacted through this email address: qingting312@gmail.com