This article originally featured in the March 2020 issue of Connect.
By Chantal Brown (Tokyo), Annelise Wilp (Saitama), and Yentel Le Roux (Nara)
Chantal Brown
This slideshow requires JavaScript.
The alarm goes off at six and every pleasant dream shatters into the bleary wakefulness of morning. From then on, it's a mad rush stumbling over sheets and tripping over my own feet to get to the bathroom. The time always slips away so quickly between waking and getting ready for work. If you're anything like me, even more precious seconds tick by retracing steps because I've forgotten my apartment key, or train pass—or deodorant.
As an assistant language teacher, fashion and nitpicking what you wear may not be the foremost thing on your mind. Especially when dress code regulations fall on the more conservative side, it may not inspire creativity to play around with your wardrobe and try different looks. Sometimes I'll second-guess a skirt or dress, whether it's appropriate or too showy, but I'll still take that risk.
For me, dressing for work is more than just abiding by the rules and being professional. As with most fashion, how I dress is a statement; an expression of my style and the things I like. Bold prints, bodycon dresses, bright colors, elegant chic tops, pleated and flared skirts—even girlish garments—are important parts that make the sum of my wardrobe.
Whenever I go through my closet, I'll look at colors that contrast nicely, and articles of clothing that would make a good outfit. Burgundy blends well with beige and navy blue; the pleated yellow skirt with twin black bands around the waist goes well with my black, silk long-sleeved top. The process goes on and on as I set aside suits for the week. Or the month.
The winter period had me donning more sweaters and heat-tech layers than I would have liked. But some days I still put together looks that made me feel good. That's part of what fashion is for me: something that can generate positive vibes for me and perhaps those around me.
There is no question that when you look good, you feel good. Your entire attitude can be influenced by how you perceive yourself and how good you feel at any moment. This is part of the reason I shopped around for bright colors in particular. Early mornings and I don't go together, but seeing myself in flowery colors can instantly soothe my grouchiness.
When you like the way you look, it can help you walk with more poise and confidence. To take it a step further, your appearance can help set the tone for the day. Everyone's style is different, but there is always one commonality—if it looks good, people will admire your style. Another no-brainer is the fact that you can make an impression just by the way you carry yourself.
Admittedly, I've never really cared much for fashion. I always opted for easier, more neutral colors fit for blending in. But the more I skimmed through business and business-casual looks, I found it suited my growing tastes for casual, classy and elegant chic designs. Plus, it's so fun to experiment with different looks from your wardrobe!
Winter wasn't my favorite period, but rocking coats with faux fur around the collar made up for the lack of dressing up. Spring will see me in more dresses with flower patterns to match the blooming cherry blossoms, chiffon tops, skirts, and the heels that have been sadly catching dust on the shelves in my closet.
How will you be dressing this Spring?
Chantal is a first-year JET working in Shibuya. Hailing from the tropical island of Jamaica, she seeks to further cultural ties between her country and Japan in her own way. Her spare time is normally spent writing and finding the best eating spots around her area.
Annelise Wilp
This slideshow requires JavaScript.
My style in Japan is very different from what I wear in the U.S.. The first thing I noticed was that many women wore long skirts, so I went on a shopping spree at Aeon Mall to buy some. I specifically like the store Honeys, which has a lot of my favorite colors and florals.
In Japan, showing cleavage is a no-no. I always wear conservative shirts that go above my collarbone. For this reason, I ended up sending a lot of my American shirts home because they were too low-cut.
These photos were taken in February, so you can see that I am wearing sweaters with long skirts. Since insulation in the schools isn't very good, I always bring a scarf or shawl to wear. I love scarves to begin with, so I always coordinate my scarf with the color of my skirt.
I was worried about the conservative style in Japan, but in the end, I was able to find my style and am still able to express myself at work. I will probably not bring my long skirts back home, but I definitely enjoyed experimenting with my style over these past two years.
Annelise is a second-year ALT from Chicago, currently placed in Saitama. When she's not teaching high-schoolers, she enjoys reading, traveling, and trying to finish writing her future best-selling novel.
Yentel Le Roux
As South Africans, being vibrant, loving colour and expressing ourselves is a part of our DNA. This is evident, in not only our cultural attire, but our choice of work fashion. When I was placed as a prefectural ALT in Nara and made aware of the 'strict' rules for work attire, I was excited for the fashion challenge to still keep true to myself while meeting work standards. I was also more than willing to bend certain rules that aren't as stern—wearing COLOUR, bright colours!
It is important to remember that JET is an exchange program as well, and my not being afraid to wear bright colours shared a part of myself and culture with my co-workers and students. In fact, a few of my co-workers told me that they started wearing more bright colours to work because of me. They loved the fact that I wasn't afraid to stand out and they were willing to give it a go. Everyone I interacted with at work loved the fact that every other day, I had a different hairstyle. Some days I would have a French braid, other days a ponytail, some days a simple bun with a fringe(bangs).
To keep your style consistent and true to who you are, I think you should bring a few staple items (such as pants) from your home country that may be difficult to find in Japan, perhaps due to size. I also think that you shouldn't be spending an arm and a leg for certain items. I shopped for really cheap items at 2nd Street, a second-hand store, and at a few of those random underground stores at the train stations. I shopped at Honeys which sells clothes similar to Uniqlo but cheaper. I would often shop at Uniqlo if I wanted something simple, but if I wanted something more ornate, I would shop at GU. For items that I could wear professionally and casually, I would shop at Forever 21 and H&M.
Here are a few of the outfits I wore. I generally had a specific colour palette, and items that worked well together that I was able to mix and match. Here are some examples you can use as inspiration.
Use this as a blueprint, but remember it's all about how the clothing item makes you feel. Be yourself and play within your comfort zone!
Outfit 1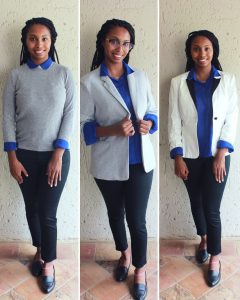 A long sleeve collared blouse with slim ankle pants.
How I mix it up: Wear a sweater or different coloured blazers, and roll up the sleeves.
How you can mix it up: Straight cut loose pants or high waisted pants that are either crop or wide-leg fits this look best, but wear what's most flattering and comfortable on your body type. You can also make this look less formal and more comfortable by wearing a cardigan.
Where I bought the items: Pants, Honeys; blouse, 2nd Street; sweater, GU and blazers from South Africa.4
Outfit 2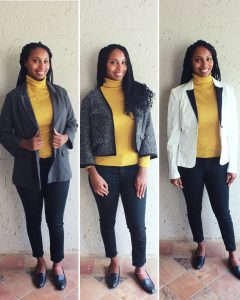 A turtle/polo neck and slim ankle pants.
How I mix it up: Wear different coloured blazers.
How you can mix it up: The same styles of pants suggested for Outfit 1 work here too, but this look will also work well with a pencil, A-line, flared, bell, circular or gathered skirt.
Where I bought the items: Pants and turtle/polo neck Honeys and blazers from South Africa.
Outfit 3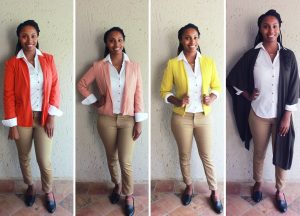 A long sleeve V-neck collared shirt with slim ankle pants.
How I mix it up: Wear different coloured blazers or a cardigan, and roll up the sleeves.
How you can mix it up: Layer it with a sweater. And yes, the same pants styles work here as well—versatility!
Where I bought the items: Pants, Honeys; shirt, Forever 21; cardigan, H&M, and blazers from South Africa.
Outfit 4
A bodycon dress.
How I mix it up: Wear with a blazer.
How you can mix it up: Layer it with something you are comfortable in, like a sweater. I'd suggest a shift, A-line, or sheath dress, but again, wear what best fits your body type and what you are more comfortable with.
Where I bought the items: Dress, H&M; blazer from South Africa.
Outfit 5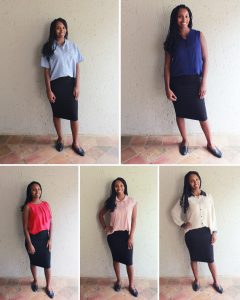 A shirt/blouse with a pencil skirt.
How I mix it up: Half-tuck the shirt/blouse in front and let the rest hang loose at the back—the classic French tuck!
How you can mix it up: Choose shirts/blouses with different necklines or cut sleeves. If you go sleeveless, it's best to wear a cardigan or blazer to cover your shoulders and respect the professional Japanese dress code. This look will also work well with a flared or A-line skirt.
Where I bought the items: Skirt, H&M; fuchsia pink sleeveless blouse, Forever 21; the rest of the shirts and blouses, 2nd Street.
Yentel is a South African graphic designer who was an ALT in Nara on the JET Program (2016-2019). While there, she enjoyed sharing her culture and creative talents at school and with those around her. Constantly travelling, she expresses her love for museums and people. Instagram: @blackrose31