This article originally featured in the January 2020 issue of Connect.
Head Editor: Alice Ridley (Gunma)
When my Filipino friend asked me if I wanted to join her family in Manila for a large and chaotic Christmas celebration . . . I couldn't say no to that now could I? But what I haven't actually mentioned to her is that I'm not the biggest Christmas fanatic. For me, living in Japan where there's only a sprinkling of the Christmas spirit is a breath of fresh air.. The Philippines, however, is known for its extravagant Christmas celebrations that begin as early as September. These early celebrations kick-off at the beginning of the "ber" months. Being a country where 86(1) percent of the population is Roman Catholic, this is easily the biggest holiday of the year. To put it simply, the Philippines is a country that is extremely devoted to their traditions and I will be thrown directly into this. I am excited but a little nervous about what the day may bring me.
A Christmas decoration that will likely be a common sight is the paról. A paról is a star-shaped lantern that is based on the story of the three wise men. These lanterns represent the triumph of light over darkness(2) and high spirits of the Filipino people during this season. Paróls are traditionally made with bamboo, Japanese paper and lit up with a candle. There is even a Filipino version of "Secret Santa" called Monito Monita. It's very similar to the version that we all know and love but takes things up a level with gift exchanges happening weeks before Christmas Day—sometimes as early as Dec. 1(5), with each week being given a certain theme. Some example themes being: something sweet, something soft, something that grows(3) and so on. On Christmas Day everyone reveals themselves and says "Merry Christmas, my Monita!"(4). Christmas Eve is traditionally spent with family and a midnight feast called Noche Buena is held. This is a lavish spread of food after midnight mass. Emphasis on the lavish. During this event is when family members open presents from one another.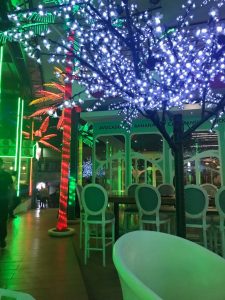 Plans after Christmas
After spending two days in the capital city, Manila, I'll be flying out to the southern island of Cebu. There I will be spending six days exploring the surrounding areas. The Philippines is made up of 7,641 islands. Unfortunately, I only will be seeing a couple out of the thousands. Some places in the area that I'd like to visit are Bohol, an island famous for rounded "chocolate hills", Moalboal, for its serene white beaches, and it wouldn't be a trip to Cebu without visiting the Kawasan Falls.
I plan to make the most out of these days. My biggest tip for travel, especially solo travel, is to never sleep in. You should also try to keep to your regular schedule so your body doesn't feel out of whack. If you want to get the most out of your trips, then there is no time for any sleep-ins. Maybe I'm a bit too hardcore with my schedule, but you will never regret an early rise!
Images provided by my friend Louis Go.
(1) https://bit.ly/2sfv1HS
(2) https://bit.ly/2LLDDNy
(3) https://bit.ly/35krF5q
(4) https://bit.ly/35krF5q
(5) https://bit.ly/36lVPFg
Alice is in her second year as an JHS & ES ALT in Gunma. Originally hailing from New Zealand, she finds a piece of home when staring off into the Gunma mountains. When not wearing the hat of Head Editor of CONNECT she enjoys trying to see as much Japan as possible, searching for plant-based eateries and working on other various volunteer roles as an international resident of Japan