This article originally featured in the January 2020 issue of Connect.
Wellness Editor: Caroline Allen (Tottori)
By the time you read this piece, I won't be in rural Japan, mourning the absence of central heating. Rather, I'll be staring down a sunset in Vietnam with a cocktail in my hand. This winter vacation, I'm headed to Ho Chi Minh city, where my family are flying over to meet me. Together, we will celebrate the new year in the sunshine. We spent last Christmas together in Kyoto and, quite honestly, at this stage I think my family are just glad to have an opportunity to travel east.
It's a different kind of celebration from the New Years I've spent in Ireland. For one thing, we're technically celebrating the Gregorian (Western) New Year, rather than the Lunar New Year, which is the most important celebration in much of East Asia. Japan is actually unusual for following the Western style of celebrating the New Year at the beginning of the Gregorian calendar.
Collecting and Adapting Cultures
One of my favourite parts of living in Japan is discovering new aspects of Japanese culture (and getting to reflect on Irish culture, in a way I had never thought of before). The seasonal customs of a country can tell us so much about their culture and history, from food to festivals. Another aspect of life here that I really enjoy, is the chance to incorporate aspects of this new culture to my own life.
I generally throw myself into the celebration of oshogatsu, buying myself an elaborate kumade to bring good luck and decorating my front door with a shimekazari. And yet I won't celebrate the New Year in Japan, so I've started researching a whole new set of traditions. The Lunar New Year is celebrated throughout East Asia. It was traditionally celebrated in Japan until the Meiji era.
Now, it persists in small pockets of the country with large Chinese populations, such as Kobe and Yokohama.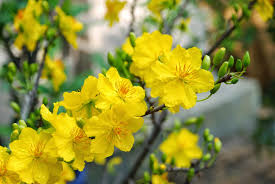 However, in many other countries, from Korea to Thailand, it's a big deal; think Christmas and Halloween and Easter all rolled into one.
As I've grown to love oshogatsu traditions, I've started to think more about the Lunar New Year as it is celebrated in Vietnam. The Western New Year is celebrated in Vietnam, as it is throughout Asia, with fireworks and countdowns and champagne, but it's really the celebration of Tet that is the most cherished time. The festival itself is called Tet and it is also considered the beginning of spring. (The Chinese word for the holiday is literally the "Spring Festival").
The Joy of Family: The Promise of a New Year
Tet, the Vietnamese Lunar New Year, is a time to spend with family. I haven't seen my parents since May and as we'll spend our first Christmas apart this year, I'm looking forward to seeing them. In many European countries, including Ireland, it's generally considered a bit uncool to ring in the New Year with your family. We generally consider it to be a night of revelry and excess—a night to steal a kiss from a stranger, to make wild promises, not to lounge in pyjamas, at home. That's not really my style anymore. I've become envious of the Lunar New Year: full of symbolism and tradition and spirituality.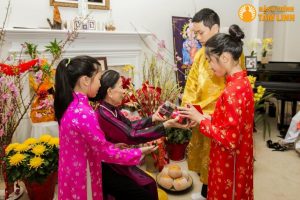 The Vietnamese have retained many Chinese aspects of the Tet holiday (such as tiger dancing, and giving lucky money to children in red envelopes) and adapted many aspects to suit their own culture. For example, there are many unusual superstitions that were imported by the Chinese, such as the belief that you shouldn't sweep during Tet, lest you sweep away any good luck. It's also believed that you shouldn't cut your hair or nails during this time (in case you cut off the good luck . . . ?) but many of Tet's private ceremonies and public displays are different.
Decorations and Celebrations: How to Celebrate Tet
The Vietnamese begin to prepare for Tet, a week in advance. They buy paper cloths and living carps, for the ceremony to bid farewell to the Kitchen God. It is said that the Kitchen God will report back to the King of Heaven and tell him about the family's affairs throughout the year.
The Vietnamese like to decorate their homes by planting in the garden, a small bamboo tree called a Cay Neu and a yellow blossom called Hoa Mai that represents spring. Red banners are placed on the door, as it is believed that red wards off evil spirits from entering the house. The night before, incense is burned and the graves of ancestors are visited. On the day itself, the whole country erupts in an explosion of noise, parades and excitement. Many people wear masks and mimic the Mua Lan (a magical creature supposedly based off a unicorn).
The night before the New Year, the Vietnamese like to offer up a boiled chicken head and rice, roses and joss paper to the gods. They have an indoor ceremony too, lighting incense and praying for dead ancestors. Families generally prepare for Tet by cleaning their house and buying new clothes to wear. Children are given red envelopes full of lucky money.
In many public places, there are stages set up with free displays of music and enter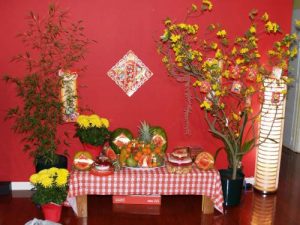 tainment. Many people throw bangers on the road to scare away evil spirits. That sounds borderline terrifying to me but I can imagine getting swept up in the excitement. Although I won't actually be in Vietnam to experience Tet in its entirety, I know I will take in some of that same energy.
An Unknown Future – What does the New Year mean for me?
For many of us, the turn of a new year is full of uncertainty. It is the time of recontracting papers, of grad school applications, of Skype interviews. It is all of these things for me too. Since coming to Japan last year, I've had to consider what my next step will be. Quite surprising myself, I've decided to stay for a third year.
The JET Programme has a shelf life built into it. It's a cultural exchange, not a long term career. I've changed since coming here. I want different things, I'm not the person who arrived, two years ago, with a heavy suitcase and no idea what to expect. She walked into a bare apartment. I wouldn't recognise that girl anymore. She was blinkered and so anxious. Since then I have grown into a woman. There's so many reasons why I've decided to stay another year. I started to figure out how to be happy. It took me until midway through my second year to make it all work.
This was the year I started taking antidepressants. This was the year I started seeing a psychologist who specializes in the therapy that works for me. This was the year I found myself in a serious, loving relationship. This was the year I began volunteering for something that I find exhausting but important. This was the year I began to write for CONNECT. Now I feel like a different person. I laugh every day (even on the days I cry). I read books. Sometimes, I even cook lunch the night before to save time. It would take a lifetime to tell you all the ways in which I can hardly recognise myself these days.
Some Things Change… Some Things Stay the Same
There's something about New Year that always makes me wistful. Back in Ireland, sometimes I would ring in the new year with a sense of disappointment and dashed hopes—a party I didn't go to, a comeback I didn't say in time, a path I should have taken but didn't. I would wonder if anything would really change for me, from one year to the next. Sometimes, frankly, not much changed. But I'm entering the next year with a sense of hope and excitement. I don't know what will happen in 2020. There will be downs as well as ups, undoubtedly. The process of life is change and the process of change is loss. For whatever I gain, I will lose: opportunities, old friends, jobs I could have taken, choices I could have made, love, time, and family members I'll never get back again. That is the nature of life.
I am hopeful, though. I know there are aspects of my old life, my old self, that I will never get back again, and I will not miss them. I think 2020 will be one of my better years. I'm still committed to changing, adapting, incorporating and adjusting. I'm looking forward to another year in Japan, of learning more about myself and the world around me.
The Lunar New Year this year falls on January 25th. Each year is represented by one of twelve zodiac animals. I was born in 1995, the year of the boar, and 2019, my zodiac year, was a fortunate one for me. 2020 is the year of the rat, the zodiac year for those born in 1960, 1984 and 1996—here's hoping for all you rats that 2020 will be a good one for you.
References: "Tet, a Celebration of Rebirth," Asian Nation
Caroline is a second year ALT from Ireland living in Tottori prefecture. She keeps busy by volunteering, organizing events for her local international plaza, listening to audiobooks in the bath and watching K dramas on Netflix.