This article originally featured in the December 2019 issue of Connect.
Clare Braganza (Fukushima)
For many of us foreign residents in Japan, we are unused to extreme weather. We hear about natural disasters in other countries, but are rarely affected ourselves. Natural disasters in Japan, however, are a fact of life. Earthquakes happen frequently, and typhoon season ranges from May to October. Japan equips itself with suitable architecture, early warning systems, and encourages people to prepare evacuation kits. Even with all this preparedness, the actual event can still catch you unaware.
On the 12th October this year, Typhoon Hagibis made landfall in Japan. Three foreign residents on the JET Programme, from Nagano and Gunma, share their experiences of the typhoon, and give advice on how to better prepare in the future.
My First Typhoon Experience
Hoong Shao Ting (Nagano)
Let's talk Typhoon Hagibis, also known as No. 19, one of the worst to hit the Kanto region in recent years, as well as the first disaster I've encountered. Coming from the natural disaster-free island called Singapore, the experience was slightly scary and extremely enlightening—here's a checklist of what I did and learned to prepare myself better for next time:
Before
Check and prepare your emergency kit—DIY with items from 100 yen shops and the supermarket!
Know your nearest evacuation centres—do you know where else you can go in case your nearest designated one is unavailable?
Check the news and traffic advisory, and make sure you are not stranded outside when the typhoon hits.
Fill your bathtub with water, which can be used for washing and flushing the toilet in case of a water outage.
Charge your phone, laptop, power banks etc. in case of a power outage.
Withdraw cash in case banks are closed, and ATMs are not working during the outage.
Download emergency alert apps on your phone to get real-time notifications.
If you feel unsafe in your house or are scared to be alone, go to a friend's—it's nice to have company and huddle together.
During
Keep your curtains closed and sleep away from the windows in case they break after being hit by objects swept away by the winds.
Monitor the news and check phone alerts—stay aware of the situation and know whether you need to evacuate.
Check in with people in your region—it's heart-warming to show concern for one another in times like these, and they can also be a source of information about your area.
Keep friends and family updated so they know you are alive and kicking!
After
Check travel advisory to see if your usual commute will be affected.
Avoid using the plumbing such as taps and toilets especially if there is a swollen river or flooding in your area—the sewage plant may not be able to handle it!
Know your surroundings and beware of falling objects, landslides, flooding and other potential aftereffects.
Replenish your emergency kit if you have used anything.
Seek help and support from friends and professional services, if necessary—you are not alone!
My local train's bright red bridge had its five minutes of fame, with videos and pictures of it collapsed into Chikuma River constantly repeated in the news. It is still sitting on the riverbed waiting to be restored, and is a reminder of how the force of nature is definitely not one to be reckoned with.
Shao Ting feels extremely fortunate to be born in natural disaster-free Singapore, and appreciates how resilient the Japanese are in the face of Mother Nature's wrath. When she's not hiding from typhoons, you can probably find her in some café, or travelling!
Near Yoda River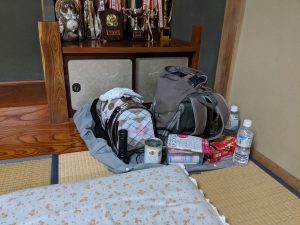 Typhoons have hit Nagano Prefecture in the past so when I saw Typhoon Hagibis on the news, I was not concerned in the slightest. I was ready with a carefully crafted emergency kit. My co-workers and Japanese friends also didn't seem worried. But this typhoon was different. According to my Japanese friend, Nagano hadn't seen a storm like this in decades. Everyone was so taken aback by the sheer amount of rain.
I live near Yoda River, which runs through Ueda City. Only an hour after the rain started, I saw the river rising quickly. From my window, it looked like it only had a meter left before it would overflow into my apartment area.
I had my bag ready to go, but I still panicked. "Where do I go?" My evacuation center was across the rising river. "What do I take?" I only had enough food for one day. "How long will I be gone?" I wrote "evacuated" on my door to let my neighbors know I had gone. Even though I had prepared for my physical needs, I didn't predict how panicked I would feel.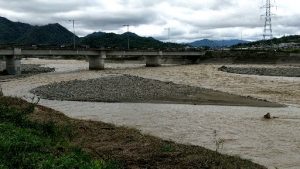 I thought I would receive a warning on my phone telling me where to go and when. Instead, I got several messages telling different districts to evacuate with varying danger levels. None of the alerts mentioned Yoda river even though I could see it rising quickly. I decided to leave anyway. After I arrived at the evacuation center, I finally got the warning for my district.
I always felt safe in Ueda because natural disasters are rare, and I had an emergency kit ready just in case. With Typhoon Hagibis, I realized that an essential part of an emergency kit is mental fortitude and planning.
Hannah Pettorini is a fourth-year JET ALT living in Ueda, Nagano. She loves teaching and exploring her countryside hometown. Totoro probably lives in the woods up the hill, though she has yet to find him.
Surviving a Typhoon, Tornado, and Earthquake
Linka Wade (Gunma)
The day Typhoon Hagibis hit, I had cleverly managed to put myself directly in its path. I was with a friend in his home in Moriya, Ibaraki-ken. Throughout the day, we had bursts of heavy rain and wind, followed by periods of calm. We diligently taped up the windows, filled the bathtub with water, and located a few flashlights to have nearby in case of a power outage. Then we waited. In the late afternoon, an evacuation order was put out for the elderly. Shortly afterward, we got notifications that a tornado had picked up nearby. At some point, we opened the door and peeked out. Trees were bent over and threatening to break under the wind, and it was a full body fight to even get the door open. I think it was then that we both realized that there was no way we would be able to leave. So we sat and made jokes about it, because what else could you do?
Later in the evening, there was an earthquake. It was then that we started sending our passport numbers and other identifying information to friends outside Japan. Just in case. The wind was so strong the entire house was shaking, and there was some serious contemplation about the structural integrity of windows covered in masking tape. Rain was somehow going in every direction simultaneously—up, down, and sideways. It was a long night with not a lot of sleep, but eventually everything was quiet. The power hadn't gone out, the apartment hadn't flooded, and the windows didn't shatter. So in one night, we had made it through a typhoon, a tornado, and an earthquake. And that ain't half bad.
Linka Wade is a second-year ALT in Gunma Prefecture. She is also the Events Section Editor for CONNECT. She enjoys traveling, learning to cook, attempting to bully her husband into studying Japanese, and procrastinating on literally everything. You can find her on Instagram as @linkaslens, or on her blog Linka Learns Things.
Featured photo: Hoong Shao Ting