Annelise Wilp (Saitama). 
This article originally featured in the April 2019 issue of Connect.
You read that right: Japan has the Kanamara Festival (commonly known as the Penis Festival) in Kawasaki, Kanagawa prefecture, every April. Here's a little background on this unique festival.
The purpose of the Kanamara Festival is to pray for fertility, healthy marriage, and success in business (this one surprised me a bit). It is held at Kanayama Shrine, which holds Hiko no Kami and Kanayama Hime no Kami, the guardians of blacksmiths and sexuality. During the Edo period, working women (oftentimes sex workers) would stop at the shrine on their way to Kyoto to seek protection from illness and misfortune. Over time, people suffering from sexually transmitted diseases would come to the shrine at night to pray for health. And so began the Kanamara Festival, a celebration that would allow people of all backgrounds to be able to feel protected during the day as well. Today, proceeds from the Kanamara Festival go to HIV and AIDS Research.
Another JET from my prefecture invited me to the festival, and at first I was hesitant. What would people think of me attending this event? But then I did more research on the event and saw that the funds went to a good cause and figured it would be an interesting cultural experience.
The festival started at 11:30 a.m., and my friend and I arrived in Kawasaki around 10 a.m. We thought we were early, but we were dead wrong. It felt like every foreigner in Tokyo had made the trip to this festival. We ended up waiting two hours to get in due to space limitations and the small size of the shrine. Once we were finally inside, we saw food trucks, a live band, and, of course, the famous phallic candies. It's not a day at the Penis Festival without a selfie with a phallic candy, right?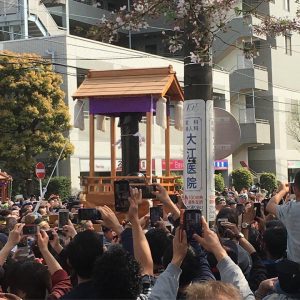 Finally, we saw what we came to see: the giant penis paraded through the streets. The most amusing part was a bus stopping in the middle of the road to let the giant float pass. The reactions of the passengers were priceless!
Despite the crowds and it feeling more like Lollapalooza with all of the foreigners, I enjoyed my day at the Kanamara Festival. While it's fun to take photos with all things phallic, it's important to remember the meaning of the festival and the diversity of the people who attended. There should be more events like this to celebrate and welcome all forms of sexuality.
Annelise Wilp is a first-year JET from Chicago, currentlyliving in Saitama prefecture. When she's not at school, she enjoys travel vlogging, reading, and writing her novel. You can follow her on Instagram and Youtube at @annelisetravels.