Chris Golden (Miyazaki)
Ah, winter: the bane of seemingly every Japanese person's existence. Granted, there are worse things out there: earthquakes, tsunamis, freakishly large-but-harmless spiders, and the equally freakish-but-not-so-harmless centipedes immediately come to mind.  But that's just me. Having experienced winters in places like Baltimore, Seattle, Minnesota, and New York City, where temperatures can easily reach and stay at -22C or lower, seeing Miyazakians wearing huge, puffy jackets and layers upon layers of heat tech on bright, sunny, 15 degree days always makes me chuckle.  Most people in Miyazaki see the temperature gauge drop and immediately pull out the ol' kotatsu for some cozy avoid-all-cold-experiences time.  But, there are a few brave souls who, every year in January, look outside, think of the cold air, the frigid ocean water, and think "Let's get naked and jump in there!"  Enter, Japan's Hadaka Matsuri.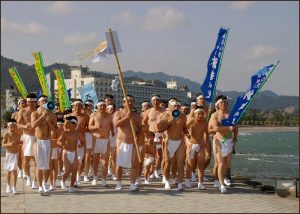 The one I participated in was in Aoshima.  However, there are festivals like it all over Japan around this time of year.  They exist for a variety of different purposes: praying for good luck and blessings, mental and spiritual purification, testing your mettle.  There's lots of different customs for the festival, depending on where it is. They run the gamut of everything from a moshpit-fight over a wooden figurine, a joust between men holding bamboo poles and a water hose, romps through the streets to the local shrine, a king-of-the-rope climb, etc.  But nearly all of those festivals involve cold water in some way. And all of them involve being nearly completely sans-apparel…
I've wanted to do this festival for a few years now. But, between that sans-apparel part and the chubby little man who lives in my stomach and very often screams "CHEESEBURGER!!!" at me, I'd been stricken with very acute but temporary case of selective memory around signup time.  But this year, my mettle won over my personal cookie monster, and I signed up with some friends to take the plunge.
We showed up on the appointed day, and got our special clothes.  That term is funny now when I think about it in context, because "clothes" actually meant a headband, a pendant necklace, a pair of tabi, and the underwear that was around before there was underwear, called fundoshi.  Anyway, we put on the ceremonial clothes and went out for an adventure in purification.
Aoshima's festival involves a short jog to the beach in front of the local shrine, followed by some warm up exercises to center yourself.  Then, you take a double shot of insanity sauce, and wade into the brisk sea water, squat down until the water is up to your neck, and pray/make a wish/meditate/wait until you see the people ahead of you stand up and turn around before you do so you're not the first (that part is about 2 minutes).  Then you get out of the water, go directly to the shrine to pray again, then run past another priest and his cauldron of onsen-temperature water, which he will "bless" you with using a special tree branch. To complete the ceremony, you will then jog to Aoshima's main shopping street, do a pseudo ice-bucket challenge, tag-team some old fashioned mochi pounding, and then head back for a dip in the onsen and some food.
This was a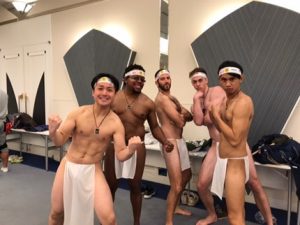 great experience for me.  It was cold, then hot, then cold again, then warm and relaxing (onsen for the win).  Granted, I did forget to make a wish while I was in the water. But there I was, naked and unashamed, being a part of the local community, and experiencing another part of Japan's rich history and age-old traditions.  If you're like me and prefer winter over summer, I recommend you try this festival. If you're not like me and hate the cold, I still recommend this festival. If not for the community, the adventure, and the overall wonderful experience, do it because participating in this festival is apparently worth 1000 normal, any-other-day, fully-clothed shrine visits.  An hour in a fundoshi in the middle of winter for a  sweet, community-building, friendship-deepening (or starting) adventure, and kami-sama's blessing, and +1000 luck points… that's a fair trade in my book.
Photos courtesy of http://japanshrinestemples.blogspot.jp  and Chris Golden