Jasmin Hayward, Ishikawa
Three current JETs tell CONNECT what it was like experiencing their first New Year in Japan: the highs and lows, the food, the unexpected advertising, and of course, the obligatory shrine and temple visits.
Jessica Scott, Akita Prefecture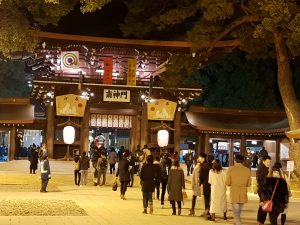 I'm a first year JET living in Akita prefecture. If you're not sure where that is, don't worry — I didn't know either when I was first given my placement. Akita is in the Tohoku region on the Sea of Japan side, so we receive a decent amount of snow this end of the world. As a Tropics born and bred girl from the Land Down Under (Australia) where we celebrate Christmas and New Year's outdoors lapping up the sun; swimming at the beach or in our backyard pools; and melting ice-cubes on our necks to escape the sweltering heat of summer (think 34°C plus), this whole winter experience is entirely new.
I know some of you are probably over the cold, dampness of winter by now, but I'm still struck in awe by the fluffy, white magical wonderland that's around me.
It was at this time, looking around at the completely foreign landscape before me while the year sprinted its last leg to the finish line, and everyone had jetted back home (shameless pun intended), that I could really take a moment to appreciate all the amazing opportunities 2017 brought me. And, in the spirit of welcoming new experiences and deepening my understanding of this culturally rich country, I decided to celebrate New Year's the Japanese way: doing hatsumoude — the first shrine visit of the year…with a twist.
About a one-hour train ride north of Akita city, is a small town called Oga, home of the Namahage in Akita. Here, you can find a beautiful Zen Buddhist temple called Dairyuji (literally: Big Dragon Temple). The welcoming family of the temple opened their doors to the public on New Year's Eve to literally ring in the New Year with 108 chimes of the giant bell — a symbolic act to rid us of the 108 human passion — followed by a Buddhist chant at the Dragon Altar at the stroke of midnight, and kicking the year off with a night of social merriment Japanese style, with plenty of beer, nihonshu (Japanese sake) and snacks to go around.
As the train services had stopped
running by that point and with no way of getting home, I was kindly allowed to stay over at the temple, which is an experience in itself. In the morning, I assisted with cleaning up to get the temple ready for a busy day of hatsumoude goers before enjoying a soothing cup of green tea in a traditional tatami room, overlooking the spectacular snow scenery of the water garden (known as rakusuitei). Needless to say, the start of my 2018 felt very Zen indeed.
Jess is a first year ALT in Akita City. She frequents Starbucks on the regular and is a language learning enthusiast. She's also partial to cute (and unnecessary) Japanese stationery.
Laura Pollacco, Kanagawa Prefecture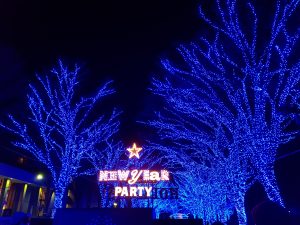 I spent New Years Eve here in Japan, and seeing as I live roughly an hour out from Tokyo I figured it would be a good place to ring in 2018. That and I had no other idea of what to do. A JET from Fukuoka flew up to spend New Year in Tokyo too, so we made our way to Shibuya Crossing to see the famous countdown.
In some ways, I knew I would hate it; big crowds full of people pushing and shoving isn't really my thing, but I really wanted to experience the grandness of it all. All those people chanting down to midnight, celebrating and cheering. It was busy when we arrived at roughly 10:20 pm and after going to buy a hot drink we tried to find some other friends to all meet together. This, however, proved to be impossible, the crowds were so thick that moving around was difficult and police had set up pedestrian areas which essentially barricaded people to certain zones of the crossing.
What really surprised me is that there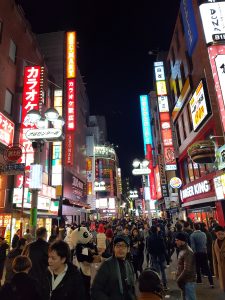 were more tourists and foreigners in that crowd than I had imagined. It was full of them. Most were just there like I was but many were loud and boisterous, shouting and chanting and making full use of drinking outdoors. Generally making idiots out of themselves in their high spirits. My friend and I found a spot and dug in, we had full view of the screen and were well located to feel in the centre of the action. Videos played on the screens surrounding us, I couldn't really make out what they were about but they helped me pass the time waiting for the countdown. There wasn't really much else to do.
The one thing that really bugged me though was the marketing of Coca-Cola throughout the entire evening. It was insane; everyone was wearing huge red top hats with the logo, the people on the stage were all pushing forward Coca-Cola bottles like some cheesy advertisement. There were adverts all around for it. It made the whole affair feel like Coca-Cola had bought the rights to 2018. Then, when the countdown began (against the background of the Coca-Cola colours), we all joined in, shouting out, "3..2..1 HAPPY NEW YEAR!"
Everyone was smiling and cheering, waving their hands and shaking others' hands. It was wonderful to see so many people in high spirits, all of them looking forward to the year ahead. It was staggering in its sheer magnitude but I wish there had been some music blaring out of the speakers, maybe some fireworks overhead. Instead, there was a small sprinkling of confetti, which felt a little underwhelming for the location and prestige of the event.
After the main event was over, we eventually bumped into the rest of our group and went to find food. This took quite some time and we were all freezing cold, but eventually we ended up in a yakiniku tabehoudai place. This was probably my favourite part of the evening. A warm room with food and fun was definitely a good decision, especially as it gave us something to do for an hour and half.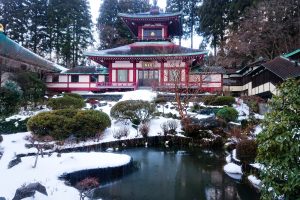 We then headed towards Meiji Shrine, going first through some beautiful illuminations, and paid our respects. I felt so happy that we were able to fit this Japanese tradition into our evening. I say evening, it was roughly 3:30 am when we arrived there and the lethargy and cold was really seeping into me. I didn't get back home to Kanagawa till 6:30 am and I was tired, cold, and drained, but getting to watch the sunrise and seeing Mt Fuji awash with the pink of that first light was spectacular. It was certainly a New Year I will never forget.
Laura is a 1st Year JET based in Kanagawa Prefecture. She enjoys martial arts, dancing, photography, singing, and drama. She recently made around 80 teachers dance like penguins in a confidence building seminar.
Edward Portillo, Gunma Prefecture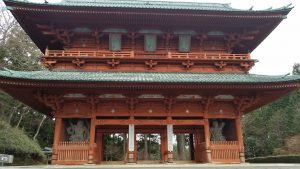 Before coming to Japan on the JET program, I was a big fan of a show called Journeys in Japan. For one particular episode, the show focused on a New Year's celebration at a place I'd never heard of before, Koyasan, or Mount Koya. After seeing the show, I decided that I was going to follow in those footsteps and spend the last night of 2017 and the first day of 2018 at that ancient and venerable power spot.
I had spent Christmas at home in America, and returned to Japan with just a day to spare. Most of my December 31st was spent traveling from Kanto to Kansai, riding the Shinkansen to Tokyo, and then to Osaka. Then onwards, south towards Wakayama and the mountain. However, after a storm earlier this fall, part of the railway was damaged, and so I had to take a free taxi from the last stop up to the temple where I'd be spending the night.
After an epic journey, tired, hungry,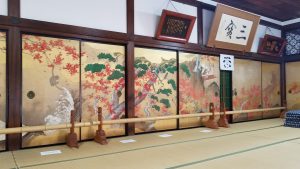 and cold, I arrived at the temple lodgings, or Shukubo, a bit after 9 p.m. where I found the kindly monks waiting for me. I was taken up to my accommodations, a traditional tatami room, where a delicious Shojin Ryori dinner had been prepared and laid out for me. After tucking into dinner and settling in, I headed down for the temple's celebration. I was one of several foreigners staying there, but the majority of the visitors were Japanese, and only one of the monks spoke English. However, everyone was very warm and welcoming, including me in all the ceremony that was to follow.
As midnight drew closer, we waited in a side room, watching the NHK on TV, as people trickled in. Eventually, our group of about a dozen was all gathered, and as midnight came, we proceeded to the main hall, where the monks said prayers, and then invited us to place incense and send our prayers as well. I can't say I understood all of what was going on, but the atmosphere was serene and unique, far from the huge parties, fireworks, and illuminations going on in the rest of the world. Afterwards, we returned to the side room, where we went on with more rituals, such as receiving the first rice of the year from the head priest, touching our heads to the kagami mochi, and drinking special sake. All of this was done in turns, one on one with the head priest, by every person present, which left me a lot of time for reflection, and gave me a feeling that, for at least one night, I was an equal with everyone, instead of an outsider.
After all this, the formality fell away, and colorful, anko filled, new year's mochi was distributed along with delicious amazake. Then, as a parting gift, everyone received small oranges, which were quite delicious. After watching everyone head out, I prepared to leave when the head priest offered me more oranges, and told me to stuff them in my pocket, with a kind laugh. As I happily munched on the fruit, I also got to talk to one of the locals who had come to visit with his grandmother. It's always fun to sit and eat with new friends.
Eventually, I went to bed at the early hour of 5 a.m. only to wake 4 hours later and head to breakfast, which was specially prepared osechi ryouri, a traditional meal full of auspicious foods to start the new year right. From black soybeans, kuro mame, to tazukuri, dried sardines cooked in soy sauce, every part of breakfast was meant to have a special meaning such as good health, or abundant harvest.
Full of delicious food, I then set out to spend the first day of 2018 exploring the small town of Koyasan, which can be easily walked from one end to the other in a few hours. First, I visited the Okunoin, where the founder of the temples here, the monk Kobo Daishi, also known as Kukai, is said to be in eternal meditation. After more than 1,200 years, he is still venerated here by the faithful, and surrounded by a cemetery which memorializes great figures such as Uesugi Kenshin and Takeda Shingen, alongside company memorials for Yakult and Nissan. Next I went to the gate at the entrance to the town, a massive structure for this small place, and the Danjogaran, home to the famous Konpon Daito pagoda. After a long day walking through the town in the crisp mountain air, I said farewell to Koyasan, but it is a place that will stay with me, and a place I will return to one day. For now at least, I am glad I started my year on this sacred mountain.
Edward is a first year ALT. He lives in Gunma Prefecture. He enjoys traveling, video games, and procrastination. You can find his blog at http://thisweekinjapan.tumblr.com/