This article originally appeared in the October 2023 issue of Connect.
Etienne van Rooyen (Aomori)

The Morning of the Race: 
I woke to an early start. I didn't know whether to get up or to go back to sleep. Eventually, I got up, changed and ate breakfast. I grabbed the bag I had packed the night before with the essentials: water, a spare change of clothes, sunscreen, hat and towels. I walked and talked to my parents over the phone on the way to the Tatehana Morning Market. The weather was overcast and predicted rain for race day, but the sun soon broke through.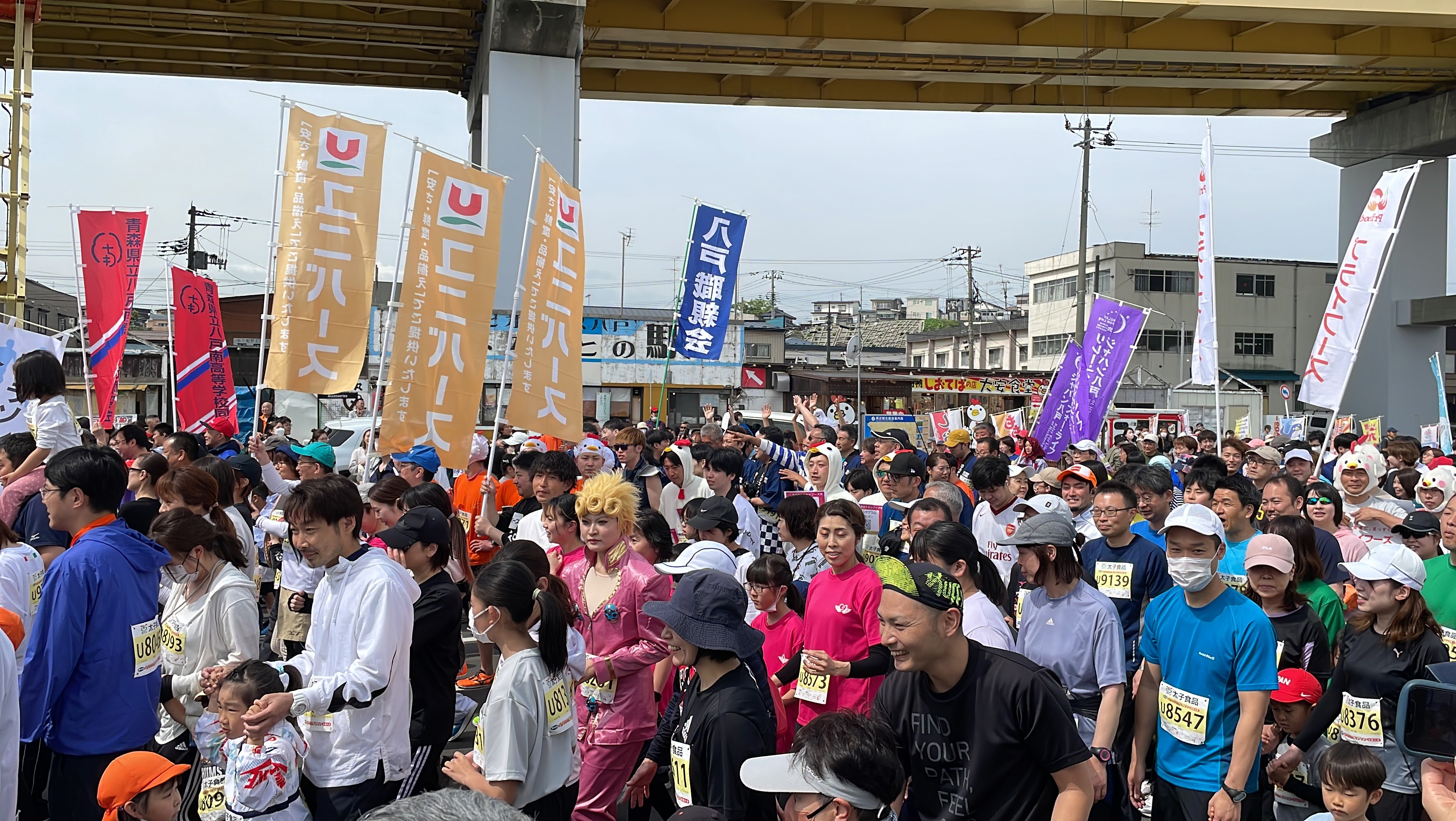 My race was at 10 a.m., but I arrived around 8 a.m. I made it in time for the opening ceremony and some words from the city's mayor and sponsors. After being postponed for four years, they wished every runner good luck. My nerves disappeared as the fun atmosphere put me at ease. There was electric energy and excitement from the crowd. Stalls with lots of free goodies lined the wharf. My bag was stuffed when I handed it to the baggage storage area.
Different coloured bibs represented the different categories and age groups of runners. Everyone was dressed to race seriously or to impress in a fun, goofy way. Coworkers, students, couples, and families wore various cosplays, mascots, and costumes. They were on full display in the three-kilometer race at 8:30 a.m., which kicked off the day's start!


And Then I Started Running: 0 km-6 km 
The spirit and fun of the three-kilometre and five-kilometre races eased my nerves, but the countdown was still on. I paced up and down the wharf, double-checking my running plan in my head. Before I knew it, racers were being called over to the start line for the main event: the half-marathon. Now, the nerves kicked. It was a gorgeous day as the sun finally broke through the overcast. Everybody was getting into their zone. Jitters intensified as each minute ticked down. Then, the mayor stepped up the podium, starting gun in hand, and all eyes locked on him. He raised it and fired. We began!
Everyone was bunched up at the start, then started to spread out as the race went on. The excellent runners took an early lead. I started quickly and stuck to the middle of the pack. The vibe was great! Hundreds of runners snaked through the wharf and portside industries that built Hachinohe. We passed crowds of spectators, performances, and water stations, all to the sound of 「がんばれ」 and 「ファイト」while the racers themselves were silent. The pounding of feet on the pavement and short, sharp breaths echoed throughout the track. 

Embrace the Hills and the Coastline: 7 km-15 km 
At the five-kilometre mark, we passed our first water station and the beautiful landmark of Hachinohe: Kabushima Shrine. The easy part was over; I averaged about one kilometre every six minutes. Now, it was time to run up hills. Those hills were challenging, but running along the coastline with a blue sky and shining sun improved the endeavour. The sea breeze and gorgeous views made the half-marathon worthwhile. I saw other runners, most likely visitors, pause to take pictures of the coast and observatory. Luckily, I had trained to handle the incline and recover on the decline. Upon reaching the halfway mark at Shirahama Beach, I had hit my stride and was making good time, too! I turned around and passed the coast and observatory once again. I was focused, consistent, and going strong. 

In the Wind and Over the Line: 16 km-21 km
After the 16th kilometre, I was going downhill and past Kabushima Shrine again. The home stretch was just five more kilometres away on flat bitumen. . . Five more kilometres. . . . At this point, my legs and body began to slow and shut down completely. I'd never run this far and for this long before.
"Why the hell am I doing this?" flooded my thoughts.
Those last five kilometres were tough. My pace slowed considerably as I switched between walking, jogging, and shuffling to make it across that finish line! The running pack I was with started to flounder, too. I would jog past someone I had paced with the whole race, only for them to jog past me as I walked. To be honest, it was all a blur. I only remember two things: how far I had left from the finish line and wishing for it to be over.
My body cramped up at the last kilometre. I couldn't give up now! The home stretch was within reach. I ran as best I could down the final straight. I reached for the finish line. . . and just like that, I stepped over and finished. There were cheers and applause for each runner as they finished their race. Moments that felt forever were now over.

Results:
After crossing the finish line, legs aching and slightly dizzy, I received my runner's certificate with my finishing time. My final time was 2 hours, 10 minutes, and 9 seconds. I came 187/300 for the A category (male/under 39).
My goal was to finish the race, but my bonus goal was to complete it in under two hours. I was disappointed, but I'm just happy to have lived to tell the tale! It's OK, though: next time, I'll complete it in under two hours.
I got my celebratory picture taken, changed, and was picked up by a friend. I felt terrible afterwards, but a trip to the onsen and a bowl of udon saved my soul. I struggled with sitting, standing and couldn't keep food down for a while. I also lost some weight and a lot of salt during my run. I weighed 90 kg (about 200 pounds) before the race. After, I weighed 87 kg (about 192 pounds).

Reflection:
This half-marathon was not a race; it was a farewell. I have lived and worked in Hachinohe for four years and am sad to say goodbye. That time itself was made to feel longer due to the ongoing effects of the COVID-19 pandemic, which, thankfully, now has subsided and allowed the pace of our lives to start over again.
There are the usual suspects for why someone runs: charity, performance, competition, sheer pleasure (or pain, I don't judge). I did it to prove what I was capable of. I also wanted to test the adage, "What you put in is what you get out," about one's JET experience (or any for that matter). Whether it is through running a half-marathon or not, I thought this challenge was insurmountable; it was not. I couldn't be more proud!
You can find articles written about the event here and here.
See me cross the finish line at the 3:00:00 mark.
Simple news article about the event.
Etienne van Rooyen is an Australian, fourth-year ALT in the delightful city of Hachinohe, Aomori. He spends his time practising the piano, gaming, or travelling in Japan while improving his amateur photography. He regularly contributes translations of tofu recipes for the prefecture's online blog "Good Morning Aomori" titled "Miso Hungry."
This is the second part of an article initially published in the May 2023 issue of Connect. You can read the first part here.