This article originally appeared in the May 2023 issue of CONNECT.
Tom Baker (Saitama) interviewed by the CONNECT Team

Since 2007, the Japan Writers Conference has been bringing together writers from all across the country for a weekend full of presentations about the "art, craft, and business of writing." Several of CONNECT's own past and present members have attended this event, and always spout praises of the people they meet and the methods they learn. 
For this issue, CONNECT chatted with Tom Baker, a JET alum and now the JWC Publicity Coordinator, about what writers can expect from the coming installments of the annual event. 
1.  When did you begin your role with the conference?
I have participated in the annual Japan Writers Conference regularly since 2009. 
I set up a Twitter account for the Japan Writers Conference in 2010, more or less as an experiment. Longtime organizer John Gribble asked me to officially become the publicity coordinator a couple of years after that.
2. What was the conference like in the beginning?
I wasn't there when the first JWC was held at Ochanomizu University in Tokyo in 2007, but I heard that it was originally meant to be a one-time thing. However, it was so popular that they decided to do it again the next year. And then it took off.
It is held at a different university every year. The host institution typically lets us use a set of four classrooms over a two-day weekend, with different presentations happening every hour in three of the rooms—which means we have dozens of presentations, each given by a published writer (or a panel of them). The fourth room is set aside for socializing, bookselling, and coffee. 
The presentations cover poetry, fiction, memoir, journalism, travel writing, and more—but I think the website's bio "art, craft, and business" is a key phrase behind the continued success of the conference. 
3. How do you define the "art, craft, and business" presentations?
"Art" presentations spark creativity or open new perspectives. Last year, for example, JET Michael Frazier led a poetry workshop called "O Death, Where is Your Sting?: A Poetics of Hope!" And the year before that, haikuist and photographer Edward Levinson gave a presentation on drawing inspiration from nature.
"Craft" sessions are more how-to, such as novelist and JET alum Charles Kowalski's presentation last year on how to achieve humorous effects, and John Rucynski's talk on how to assemble a multiauthor anthology, as he did with his book A Passion for Japan: A Collection of Personal Narratives.
"Business" presentations often focus on publishing, as JET alum Todd Jay Leonard did in his talk last year on publishing your own English textbooks. Some more unusual business topics last year included YA author Sara Fujimura sharing tips on how to hold a successful book-signing event and lifestyle writer Marc Antomattei discussing legal issues he has encountered in his writing career. 
Some presentations touch on more than one area.
4.   What is the attendance like each year? Have you noticed any common trends?
In the years I have been involved, the number of people attending has typically exceeded 100. I haven't noticed much change in that regard. There are many repeat attendees, but we also get a lot of new people every year, in part because the geographical location is different each time. The JWC has been held in the Tokyo area more than once, but we have gone as far north as Hokkaido (in 2018) and as far south as Okinawa (in 2013).
A lot of people, including me, enjoy following the circus around the country, which is how I found myself in Morioka in 2014—long before The New York Times declared that Morioka was cool. Other people wait until it is happening near where they live. Then they discover they love it.
This year's JWC will be in Nagoya. So all you Aichi, Gifu and Mie JETs, this is your big chance!
5.   What about the kinds of people in attendance? Is there a specific audience you hope to reach?
The audience we hope to reach is anyone who has a serious interest in writing in English. If that's you, please feel welcome to attend.

As for choosing our presenters, we are a bit pickier in that you must have published something to give a presentation. But we're fairly generous in what counts as "published." If in doubt, ask. You don't have to be a best-seller. (But some of our presenters have been, such as Barry Eisler, Naomi Hirahara, and Slumdog Millionaire author Vikas Swarup.)

Many of our participants are full-time writers, but many others have day jobs. Educators, from first-year JETs to grizzled university professors, are always part of the crowd. 
6.   What is the biggest challenge when it comes to the conference?
It is a free event, meaning that while we charge no admission, we also have no budget. We have always relied on the kindness of strangers—including the universities that let us use their rooms for free. Each year, there is often a period of suspense about where our next venue will be. It's a trapeze act from one year to the next, yet somehow we've kept it going for 16 years.
7.   What do you believe is the best part of the conference?
For me, the perfect two-word phrase is "collective effervescence." I instantly fell in love with this term when I learned it from anthropologist Sawa Kurotani's "Behind the Paper Screen" column in The Japan News in 2019. Kurotani, borrowing it from pioneering anthropologist Emile Durkheim (1858-1917), informally defined it as the "euphoria of being among the like-minded." She was describing her own experience at an anthropology convention in the United States, which she called "a gathering of social misfits who cherish being among their own kind." It sounded like a writers conference to me.
Writing is a powerful method of connection between minds. It works across time and distance. Another human being may read your words 50 years from now or on the other side of the world. That's wonderful—but you won't be there to see it land. If you want to improve your writing for the sake of those faraway folks, you should also meet people who are into writing here and now. 
You can learn some things about writing from opening a book or sitting down in front of a screen, but there is just no substitute for actually being there. From structured presentations in the lecture halls, to random encounters in the corridors, to socializing over lunch or drinks, all sorts of illuminating sparks are generated when you rub elbows with total strangers whose activities and experiences turn out to have relevant parallels to your own. 
The collective effervescence will have you afizz.
8.   How does this play into the community feeling?
A lot of collective effervescence occurs spontaneously when a critical mass of writers is gathered in one place. However, space for socializing is also baked into the structure of the event. For the duration of official activities on the Saturday and Sunday of the weekend, we have one room set aside as a lounge specifically for resting and chatting. This is also a space where participating authors can put their books out for sale, and where you can grab a cup of coffee. 
On Saturday night each year, there is a big official dinner party. The Japan Writers Conference itself is a free event, but dinner (which is optional) is not free. It costs several thousand yen, depending on what restaurant we make arrangements with. In the past, the price has tended to include a nomihodai deal. 
And on top of that, an informal get-together usually coalesces on Friday evening before things officially get started.
9.   Lastly, as a successful career-writer, what advice do you have to new or aspiring writers that may be reading this?
Observe the world around you, in Japan or anywhere else. Read a lot. Let your writing sit, and then edit it.

And most of all, come to the Japan Writers Conference!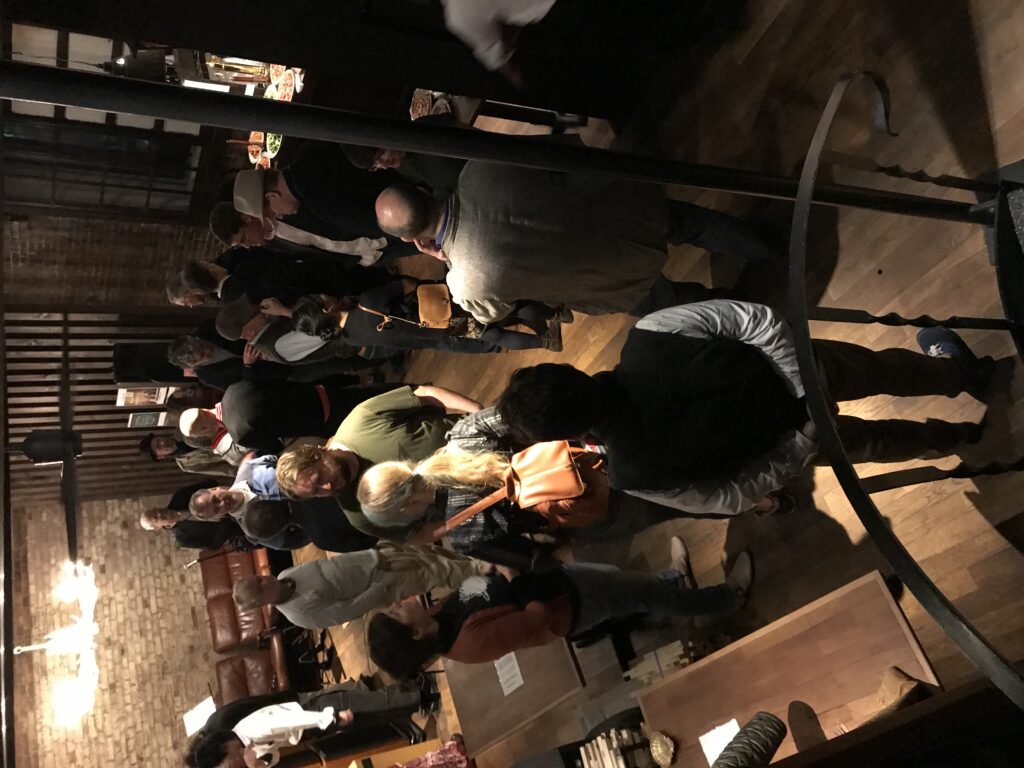 Check out these JWC talks given by present or former JETs:
Percival Constantine, "Successful Self-Publishing"
Joe Palermo, "Self Publishing A Memoir at Minimal Cost"
Michael Frazier,"O Death, Where is Your Sting?: A Poetics of Hope!"
Joanne Anderton, "Speculative Fiction Autobiography"
Charles Kowalski, "Personality Types and Character Arcs"
Tom Baker, "How to Write a Pub Quiz"
Suzanne Kamata, "Writing Identity" Panel Discussion
Tom Baker is a Chiba JET alum now working as a staff writer at The Japan News and volunteering with the Japan Writers Conference. He has co-written two books, Tokyo Chic and The Sushi Lover's Cookbook. Read his articles here.