This article originally appeared in the February 2023 issue of CONNECT.
Sophia Maas (Saga)
There are a truly monumental amount of things to do in and around Osaka, and anyone looking to go might be overwhelmed by the choices and the possibilities. Should you prioritize the food? The cultural landmarks? Universal Studios? I can't make any ultimate decisions for you, but I can give you my suggestion for a place to visit.
Personally, I favor the cultural side of things like temples and shrines, as well as any museums that seem even relatively interesting. Some of my favorite places to wander through, however, are aquariums. When my friend recommended we visit the Osaka Aquarium, I was ecstatic.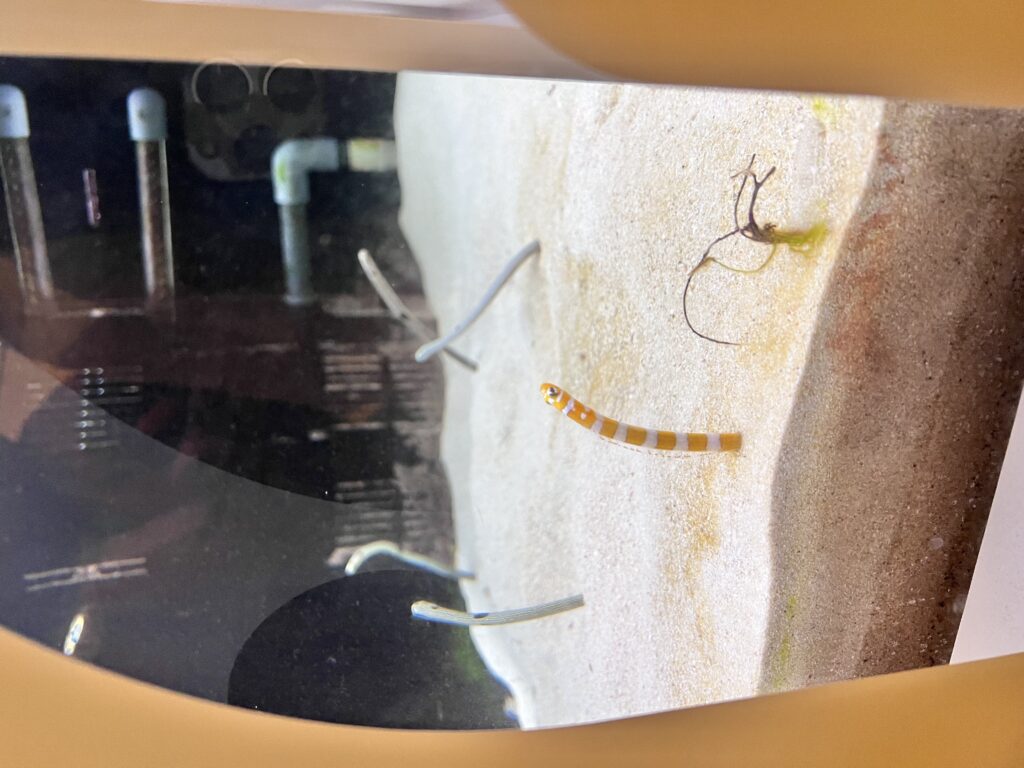 I was expecting the normal fare, a few large tanks and a lot of smaller tanks, fish in rainbows of colors, and maybe a small shark, if I was lucky. Not only that, but I was expecting the building itself to be somewhere in the city, boxed in by unrelated businesses. What I found, instead, blew me out of the water (pun, of course, intended.)
Situated in Tempozan Harbor Village, Osaka's Kaiyukan Aquarium is one of the largest aquariums in the world. The building itself is eye-catching, and inside are cleverly designed exhibits that take you through the oceanic environments of the Ring of Fire. When you pass through the Aqua Gate, you'll find yourself in an artificial Japanese forest. It feels like you've somehow been transported to an entirely different place! You can see fish native to Japanese forests, as well as otters, herons, and crabs. I wanted to stay there longer than we did, but we had to keep moving, because there were so many other regionally themed exhibits to see.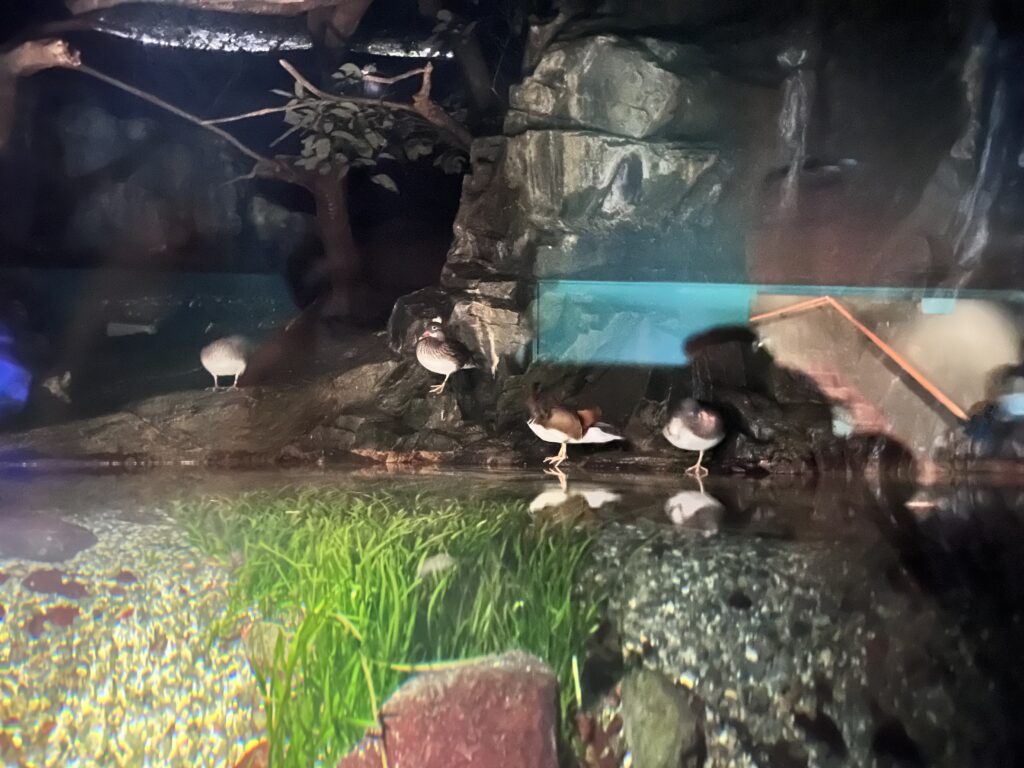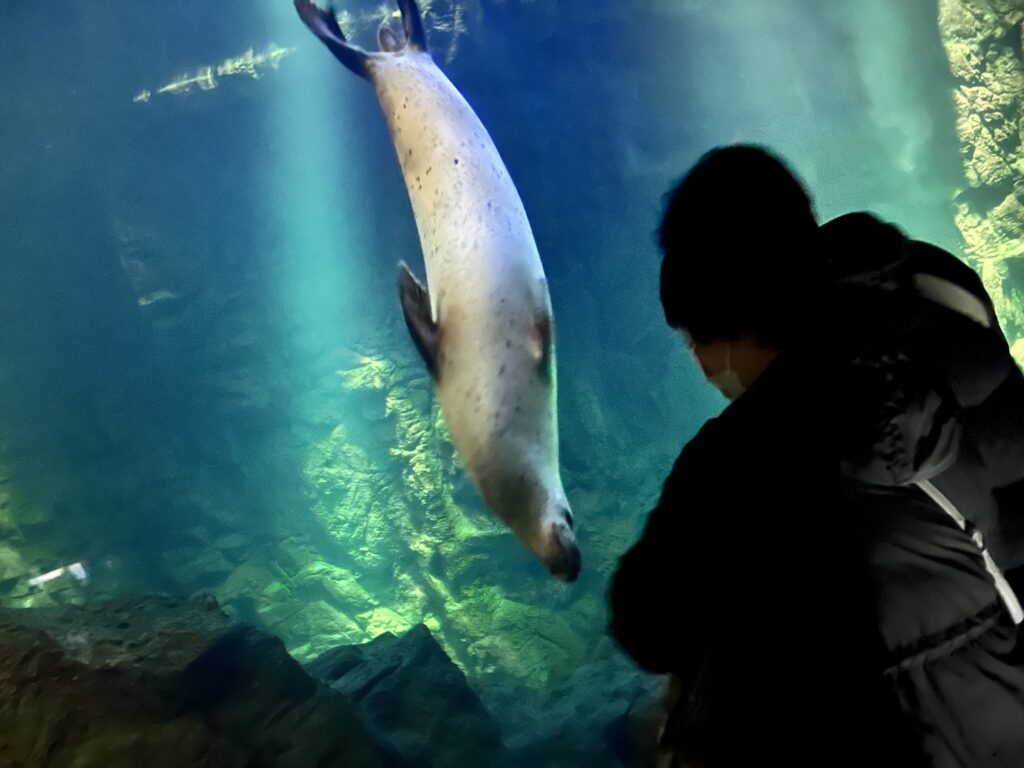 Some of the other exhibits include puffins from the Aleutian Islands, sea lions and seals from Monterey Bay, and penguins from Antarctica. Though they don't have the largest tanks in the aquarium—I'll get to that later—the tanks are still noticeably large, and actually reach down several floors. You might be lucky enough to see a seal plunging two floors down to say hello, or a puffin showing off its diving prowess. 
The main attraction, though, situated in the middle of the slowly descending hallways that hold the exhibits, is a massive 9 meters deep and 34 meters long tank that holds 5,400 tons of water. Inside this tank is a wide array of fish, including two enormous whale sharks, the world's largest fish, that you can see from many different angles as you explore the space around their tank. The tank seems to hold an entire ecosystem. Along with the majestic whale sharks you can see several large rays, colorful ocean fish, and an entire school of mackerel. The entire production gave the impression of somehow walking along through the Pacific Ocean, bearing witness to the natural ecosystem there. 
There is also a section of the museum dedicated to getting closer to the animals. Instead of being completely enclosed in glass, there was an exhibit with Emperor Penguins that were almost in arm's reach.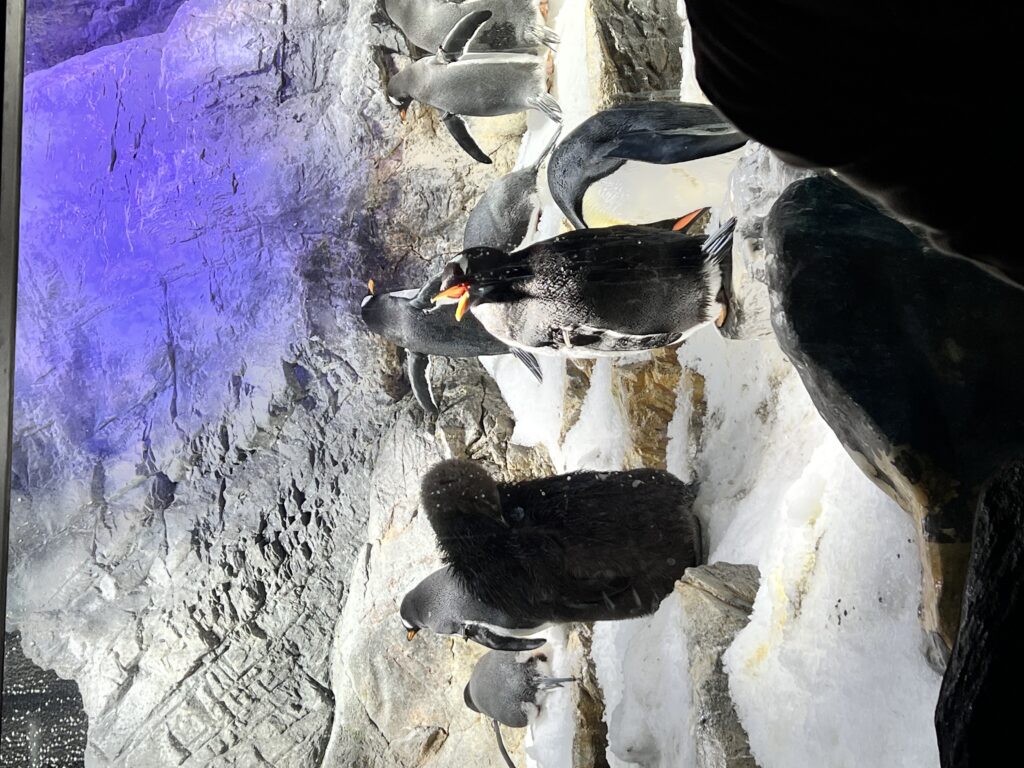 A similar exhibit also exists on the other end of the room, where several ringed seals lounged on an imitation of arctic ice, the glass low enough that you can get very close to the seals—if you're lucky!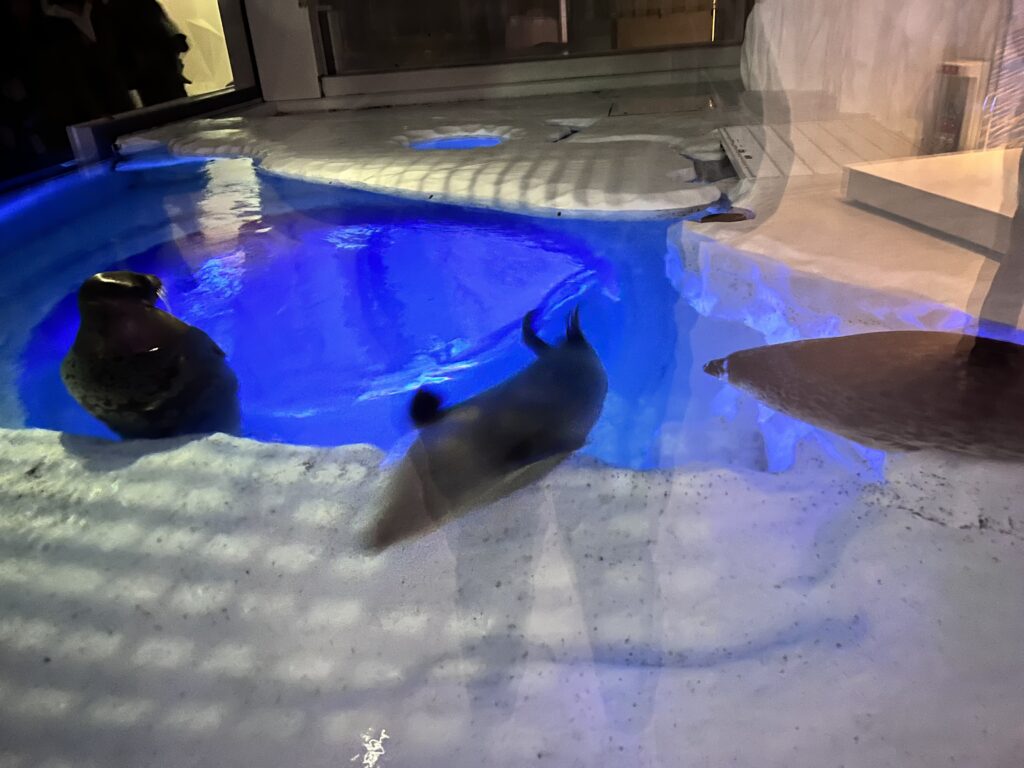 There is also an interactive exhibit where you can, theoretically, touch a collection of underwater creatures, such as small sharks and rays of various species. During my trip it was, sadly, closed due to COVID precautions. I have no idea when it will be open again, but if you are reading this in the future, check in on the interactive exhibit and see if it's open again! 
Inside the aquarium, about halfway through your journey, you'll pass by a cafe that offers a lot of cute, themed food. If you don't want to eat in the exhibit itself, though, don't worry, because there's another stand that sells similar treats near the gift shop. One of my biggest regrets is not being able to try their ramune soft serve, so keep that in mind before buying too many sweets beforehand!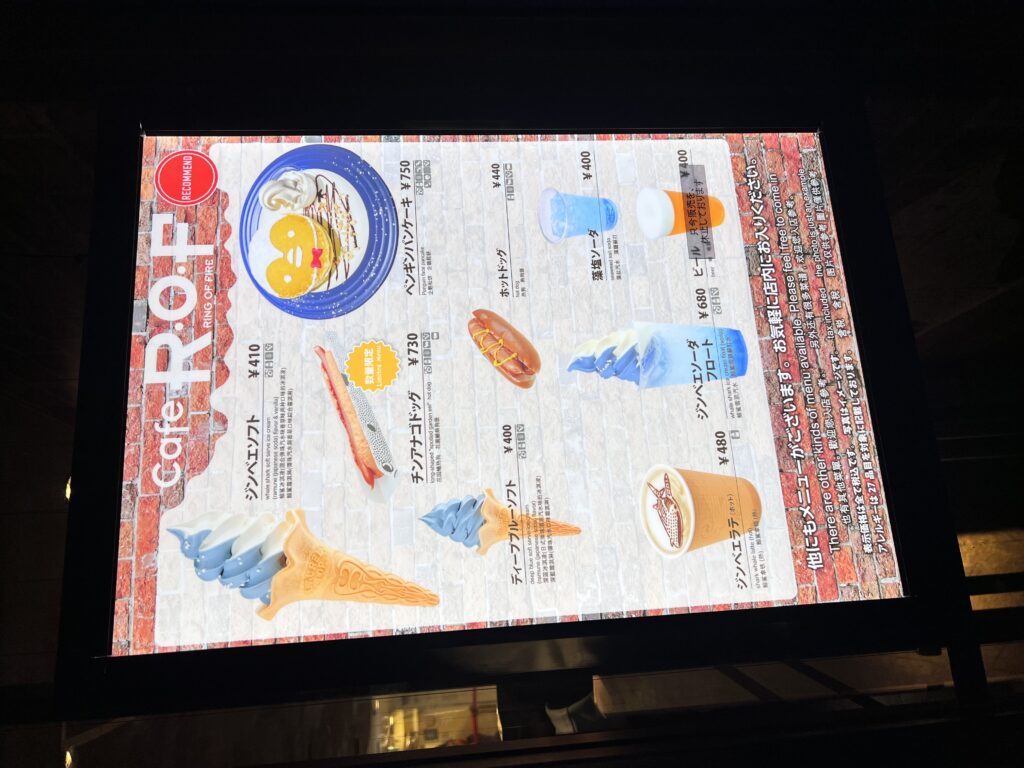 If I've convinced you, or if you were planning to visit beforehand, I have a few tips for making the most of your visit:
Before entering the aquarium, four important things should be noted. 
The tickets, around 2,700 yen each, are timed. If you don't reserve them in advance, you could potentially be asked to wait for admission. In my case, I had to wait an hour before I could enter. This didn't discourage my visit, but it was a little unexpected. If you order tickets in advance online, though, this isn't a problem. 

The aquarium has scheduled feeding times for its animals. They offer this information online, and if you want to see your favorite marine animal getting fed, I'd recommend checking before booking your tickets! 

The aquarium has a day cycle and a night cycle. In the day, the tanks are brightly lit, made to simulate a daytime experience. In the evening, around 5pm, the aquarium switches to night mode, where the tanks are much darker and illuminated in cool blue lights. I went in the evening, and the experience was magical, but if you'd prefer to see the animals being fed, the time of day is something to keep in mind when planning your visit!

Budget around two hours for the entire experience, or two and a half if you want to take your time. 
Maybe fish aren't your thing, or maybe you're not sure if you can dedicate the majority of your day to visiting one building full of fish when there are so many other places to visit in Osaka. Don't worry! As I mentioned before, the aquarium is situated in Osaka's Tempozan Harbor Village, which features many attractions, including a giant ferris wheel that provides a great view of the surrounding city and a cruise ship that can take you around Osaka Bay. I did not ride the cruise, so I cannot say whether or not it's worth the price tag (about 1,600 yen), but I did get to ride the ferris wheel, which is about 800 yen. This price might not be worth it for some, but I enjoyed my 17 minutes above the city and would consider going again.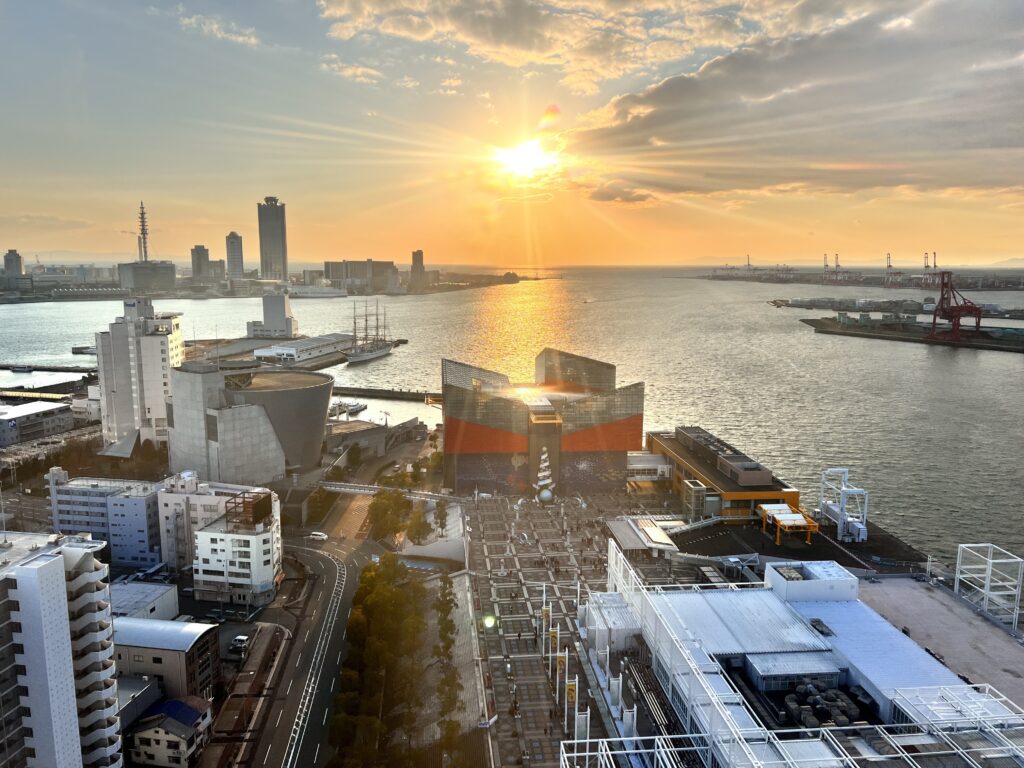 Of course, there's also a large shopping complex to pick up souvenirs like omiyage, buy some clothes from boutiques, visit the Sanrio store, or grab a bite to eat. Tempozan Marketplace offers many unique stores, as well as an indoor petting zoo, and a Legoland Discovery Center.
I spent some time utterly failing at the crane games in their arcade, which was not the highlight of my trip, but still fun. My favorite place to visit at Tempozan, though, was definitely Naniwa Kuishinbo Yokocho, usually referred to as a "food theme park" in English. 
The area is decorated to resemble a 1960s Osakan street, packed with vendors and places to sit down and eat the local cuisine. The rest of the complex is in a familiar modern style, so the nostalgic design will immediately transport you to a different time and place. Boasting about 20 restaurants, you can taste many Osaka staples all in one place. Have you been meaning to try Osaka takoyaki? Maybe okonomiyaki? Have no idea where to start at all? Well, luckily the food theme park is almost exclusively Osakan cuisine, and as long as you let yourself try something new, you're bound to run into something tasty and unique. 
If I've convinced you to give the experience a try, great! It was definitely one of the highlights of my Osaka adventure, and I hope it will be for you, too! 
Hello! I'm Sophia Maas and I'm a first-year ALT. I am stationed in Saga Prefecture. My hometown is Nashville, Tennessee, and I got my undergrad degrees at Middle Tennessee State University in English and Global Studies. I like reading books, playing video games, and traveling. I love talking about writing, culture, and unique experiences, which are all things we do here! I am very excited to be working with the CONNECT team and can't wait to see what we produce this and next year!