This article originally appeared in the February 2023 issue of CONNECT.
Hayley Closter (Kumamoto)
Japan is a country of resilience; it's built into the culture and mindset of its people. When struck with a devastating disaster, whether man-made or natural, the Japanese always rebuild. However, when Kumamoto Prefecture experienced the largest earthquakes in its known history six years ago, that resilience was shattered. At 9:26 p.m. on April 14, 2016, the quiet prefecture was hit with a magnitude 6.5 earthquake. (1) Cracks appeared in houses that had been standing for generations, water supplies were cut off, power loss sent the prefecture into pitch blackness, and thousands of people were forced to hurriedly evacuate to local schools and gymnasiums for fear of aftershocks. Little did they know how warranted their fears were.
At 1:25 a.m., less than two days later on April 16, a magnitude 7.3 earthquake rocked what remained of the fragile prefecture, casting it further into desolation. (2) Approximately 25,663 buildings sustained severe damage, while 8,241 of those already-cracked buildings were completely levelled. (3) Structures razed included the once-thought indestructible 200-metre-long Aso Bridge in central Kumamoto, whose might was thwarted when it collapsed into Kurokawa River below. 
After decades of tranquility, the disaster ripped through the livelihoods of Kumamoto's people in the span of two days, taking 273 precious souls with it. (4) The loved ones the survivors lost can never be restored to them, and the pain of that loss will never heal. In the wake of the disaster, Kumamoto was frozen with grief. How could rebuilding even be contemplated after so much sudden and intense pain? Kumamoto needed its strength back. It's no surprise then that its people looked first to restore the strongest symbol of their ancient culture, Kumamoto Castle.
Officially recognised as not only an Important Cultural Property but also one of Japan's Three Greatest Castles (alongside Osaka and Nagoya), (5) Kumamoto Castle sits upon a hill overlooking the heart of modern-day Kumamoto City. Perfectly framed between the towering buildings at the end of the street, the castle greets commuters alighting from Hanabatacho tram station like a principal greeting students at the school gates every morning. That image is one of the best examples of a contrasting old and modern Japan.
Constructed in 1607 by Kumamoto's founding daimyo lord Kato Kiyomasa, Kumamoto Castle was the very heart of the prefecture. Nicknamed Seikosho-san (loosely translated as godly prince), Kiyomasa was beloved by his people. Unlike other neighbouring daimyo, Kiyomasa put aside ideals of conquest in favour of improving his lands for his people. While in power, he helped develop international trade, flood management techniques, and larger agricultural assets to boost Kumamoto's quality of life. Throughout its history, the castle played host to renowned figures such as the master swordsman Miyamoto Musashi and Tani Tateki. General Tani, perhaps the perfect contrast to Kato, demonstrated the military prowess of Kumamoto. With just 3,500 soldiers, General Tani defended Kumamoto Castle from a 13,000-strong rebel army for almost two months in the Satsuma Rebellion of 1877. The 50-day siege proved how impenetrable the castle grounds were, likely serving as a lesson for future generations of the merit of persistence and the strength of one's beliefs. (6)
While its cultural significance wouldn't be recognised until centuries later, Kumamoto Castle was without a doubt an architectural marvel of its time. The central tenshukaku castle structure is unique, consisting of a taller daitenshu tower and a smaller shotenshu tower. (7) Surrounding the tenshukaku's outer grounds are high stone walls which at first appear easy to climb. However, the walls taper out into steep inclines the higher they rise. Even samurai and ninja notoriously failed to climb them. Unlike the structures within, the castle walls remained mostly the same as they had initially been built . . . until the 2016 earthquake.
Inside the castle towers themselves, many rooms are named after weapons which denote their original purposes—the armoury, gun room, and arrow room, to name a few. But its most famous room is undoubtedly the Honmaru Goten Great Hall. The hall is lined with gold-plated slides and artwork depicting, in exquisite mastery, the story of a tragic Han Dynasty princess. It's clear to modern visitors that while the castle was designed for feudal warfare, the inside reveals a passion for art and intellectualism which, to this day, remains a defining value of Kumamoto's people. Unfortunately, the beauty of the Great Hall remains a hidden secret while it's closed to the public for restoration, but it will be worth the wait.
Ordinarily, Kumamoto Castle and its surrounds would play host to a dozen cultural activities and festivals throughout the year. New Year's Day celebrations in January and the Moon Viewing Festival in August offer energetic shishimai dances and otaiko drums as well as calming traditional music performances and tea ceremonies. Thrilling horseback archery and Noh theatre are a highlight of Kumamoto's mid-spring and autumn festivals, which then lead into breathtaking autumn foliage and mizuakari bamboo night illuminations in October. In winter, up to 11,000 people participate in one of Kyushu's largest running events, Kumamoto Castle Marathon. (8) Then, at the start of summer, Kiyomasa-ko Festival—dedicated to the castle's founder—sees portable shrines paraded around the castle grounds. (9) Before the earthquakes, roaming actors dressed as daimyo, samurai, and courtiers would interact with visitors as if they had just stepped out of 1600s Kumamoto, or Higo, as the domain was called then. Still hoping to share Higo's culture and history with visitors, these actors have had to adapt their routine after the earthquake. Now, "Kato Kiyomasa" himself offers weekend tours on the outside of the castle during summer holidays. (10) Josaien, the Edo-style castle town at the base of the castle, features 23 local shops and restaurants and remains one of the best places to eat Kumamoto delicacies. (11) Traditions are kept alive at Kumamoto Castle thanks to the passion of its people.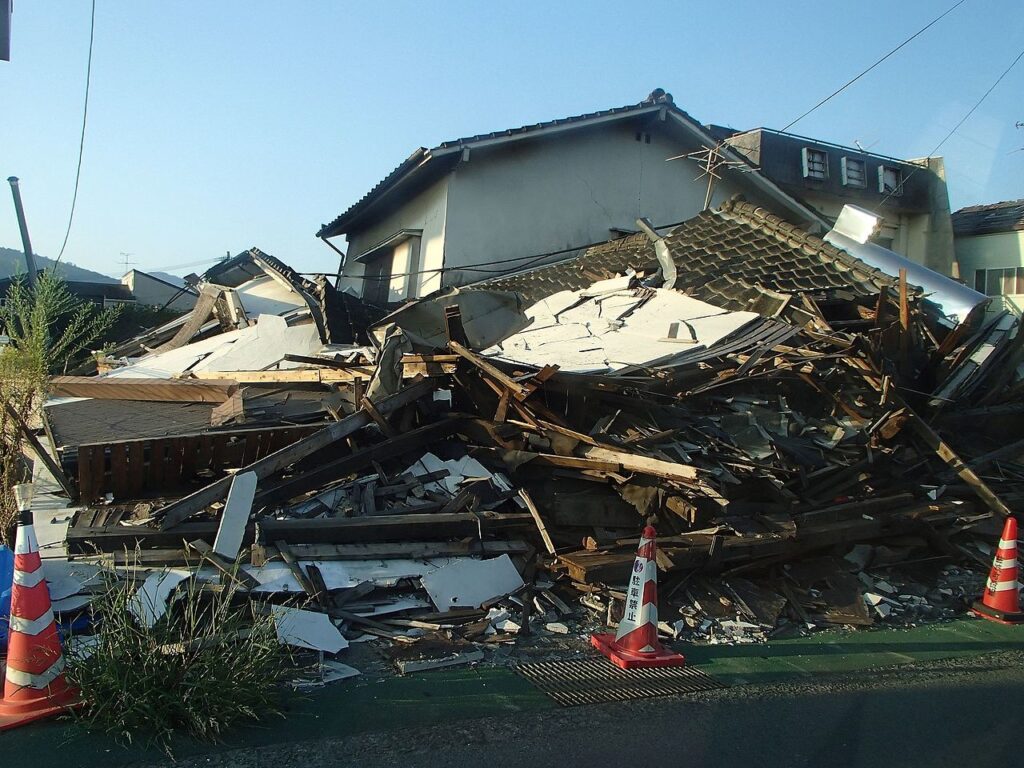 During the earthquake, steel reinforcements—added during a 1960s historical renovation funded mostly by Kumamoto's own eager-to-donate citizens (12)—spared the castle's main tenshukaku towers from serious structural harm. However, hundreds of roof tiles were destroyed beyond repair when they became dislodged and plummeted to the ground. All 13 of the Important Cultural Property buildings within the extended grounds of the castle were damaged, with two tragically reduced to their foundations. Even the floor of the exquisite Great Hall caved in on itself, just narrowly sparing the golden art within. The castle walls were by far the worst affected, with 40% of a total 79,000 square metres either sinking or completely collapsing due to the force of the two shocks. Seven corner towers and gate structures positioned atop key points along the wall are now at great risk of ruin due to the precariousness of the walls below them. (13) The utter disarray that this national treasure was left in post-quake was so intimidating that Kumamoto's government found themselves contemplating a daunting question: how do you maintain Kumamoto Castle's authenticity when you have to rebuild almost from scratch?
The answer was found through the collaborative research of many historical restoration experts. One of the teams, led by the Kumamoto Castle Research Centre's Cultural Property Protection Supervisor Kamura Tetsuya, established the "Kumamoto Castle Restoration Basic Plan" in March 2018. Two of the seven Restoration Basic Policies that Kamura's team emphasised were the importance of "laying the foundation for restoration looking 100 years into the future" and the "preservation of the value of cultural properties such as stone walls and buildings." (13) Kamura, who grew up in Kumamoto Prefecture, understood exactly what was at stake. To preserve the castle's classification as a Specific Historic Site, the walls needed to be restored to their original appearance—as if the earthquake had never occurred. The herculean task would require approximately 70,000-100,000 stones to be restacked. First, Kamura's team carefully photographed the collapsed walls and numbered every stone. Each one was measured and had the coordinates of where it had fallen recorded, literally leaving no stone unturned. The remaining walls were fortified using metal nets and mortar spray to prevent further damage and to protect the dedicated recovery team.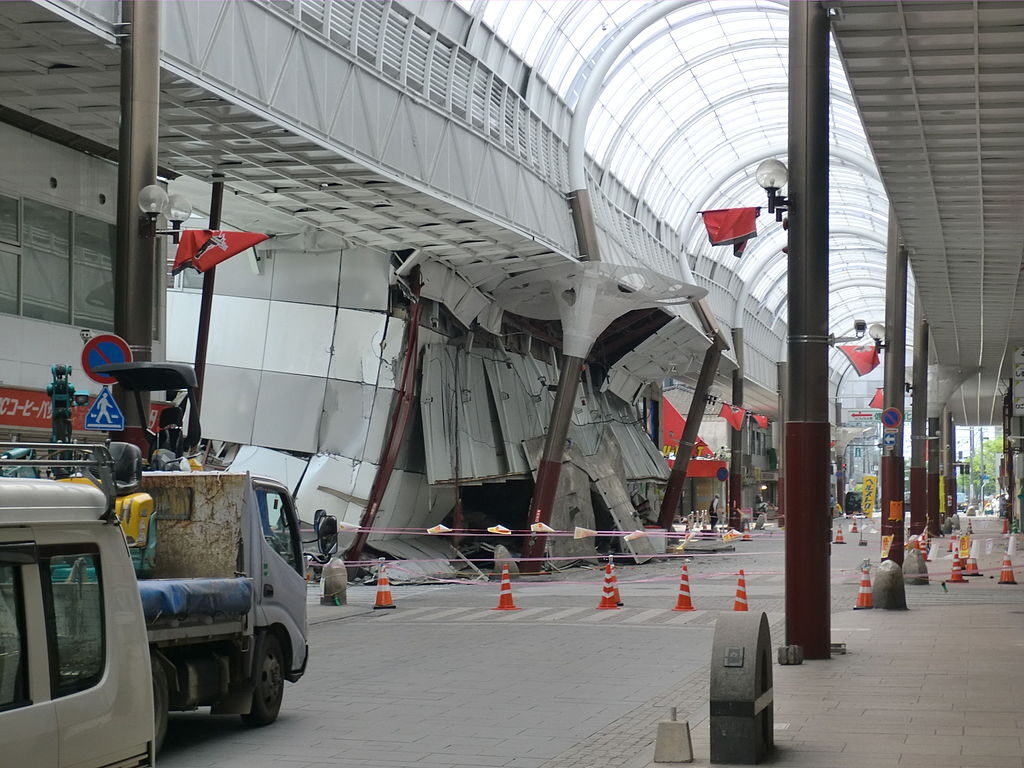 The fall location of each stone was captured using SfM-MVS—Structure-from-Motion/Multiview Stereo—technology. SfM-MVS is able to turn a real object into a digital replica and calculate its digital elevation model (DEM). Using this data, an ultra-sharp Google Maps-like aerial satellite image can be created to compare each stone to pre-earthquake photographic records and work out exactly where they need to be returned to. (14) While this process doesn't guarantee absolute historical accuracy, the team was able to successfully confirm the original positions of more than 90% of the stones near the castle's resident shrine, Kato Jinja. Through advanced technology, Kumamoto Castle is slowly being meticulously and lovingly fitted back together like a puzzle.
The significance of the project was recognised both nationally and internationally when dozens of not-for-profit organisations banded together to raise funds for the castle's restoration, as well as establish support programs for earthquake survivors. GlobalGiving.org received over 116 million yen in donations from all over the world (15) and Nippon Foundation pledged 3 billion yen directly towards the restoration of Kumamoto Castle "as a means of supporting the hopes and aspirations of people in the affected area." (16) The full restoration is estimated to take two decades to complete. It may seem like a long time to be without such a culturally important part of Kumamoto Prefecture, but the castle's return to its original condition will re-solidify its position as one of Japan's greatest castles. It's a small price to pay to allow visitors to continue to experience Kumamoto Castle in its original glory.
Already, a major success was achieved when the tenshukaku main towers finally reopened to the public on April 26, 2021. (17) The outside of the towers appear exactly as when the structures were first built, but the inside has been transformed into a state of the art, interactive museum. As guests ascend each level of the castle, they move through time and follow the four-century long story of the castle—from the 17th century on the first floor, all the way to the 21st on the fourth floor. From the sixth-floor viewing deck, visitors are offered 360-degree views of modern-day Kumamoto all the way to Mount Aso, where a new Aso Bridge has also been built. (18) With the reopening of the castle's viewing deck, an AR experience which superimposes an image of Meiji-era Kumamoto City over the top of the view was introduced. (19) The experience provides a cyclical end to the journey guests start on the first floor, and also demonstrates that Kumamoto's thriving and progressive future was possible due to its strong historical foundations.
In their quest to restore the castle, Kumamoto's people aren't just rebuilding a historical symbol of strength. By holding onto their culture, they are able to hold on to the past in which their loved ones still live. With each stone that finds its way back to its original 400-year-old home, each person in Kumamoto regains a bit of their own strength.
Currently, Kumamoto Castle's main grounds and tenshukaku are open to the public from 9:00 a.m. to 5:00 p.m. daily, only setting guests back a mere ¥800 to journey back through time and experience an awe-inspiring, cultural wonder.
Hayley met her Japanese partner during her 2016-2018 JET assignment in Mimata, Miyazaki  Prefecture. They lived together in her partner's home prefecture Kumamoto for two years before they moved back to Australia in 2021. She spends her time reading, expanding her kimono wardrobe, and dreaming about chicken nanban.
Sources
Image Credits