This article originally appeared in the December 2022 issue of CONNECT.
Knox Yoder (Saga)
Ah, the holidays. It's a special time of year for many across the world. 
In the West, the holidays represent family and religion. Here in Japan, Christmas is mostly a romantic holiday for couples, with New Year's being more centered around family and tradition. No matter how you celebrate, one common theme can bring us all together this holiday season: anime. 
From anime overtly centered around the holidays to those that simply give off appropriate vibes, here are some anime to watch to give you that special holiday feeling.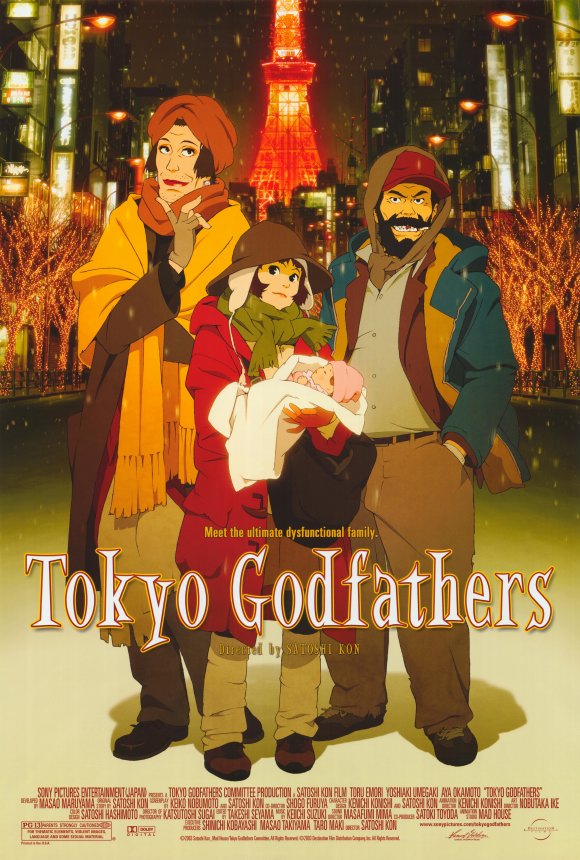 Tokyo Godfathers
Perhaps the most overtly Christmas anime out there, Tokyo Godfathers is a must-see for any anime fan every December. 
Directed by legendary director Satoshi Kon, Tokyo Godfathers follows the misadventures of a group of three eclectic homeless people: Gin, a middle-aged alcoholic man, Hana, a trans woman with a love for song, and Miyuki, a teenage runaway. After they stumble upon an abandoned infant on Christmas Eve, they embark on a journey across Tokyo to find her parents. 
Satoshi Kon is a master at escalation, something that is put on full display in Tokyo Godfathers. The main characters continually go from one out-of-this-world situation to another, from being involved in an attempted mob assassination to a highspeed car/bike chase through Tokyo. Within the wacky antics and action, however, is a deeply emotional story about family (the one we choose and the one we are born with). In Tokyo Godfathers, you'll laugh, you'll cry, but most importantly, you'll feel that iconic Christmas spirit.
Toradora
Did I mention that Christmas is a couple's holiday in Japan? To get a look at what Christmas is like in Japan for love-struck teens in Japan (through an over-the-top anime lens, of course), look no further than Toradora.
The series follows the daily lives of Ryuji Takasu and Taiga Aisaka, two high schoolers trying to help each other find love with their respective best friends. As one might expect, however, it turns out the real romance might actually lie between them. While one might not initially expect Toradora to be a Christmas anime, some of the series' most important episodes take place around or on Christmas, complete with Santa costumes and snowfall. While these episodes take place towards the end of the series' 25-episode run, Toradora is one of the all-time greats when it comes to romantic comedy anime, so it's worth the investment if you've never seen it.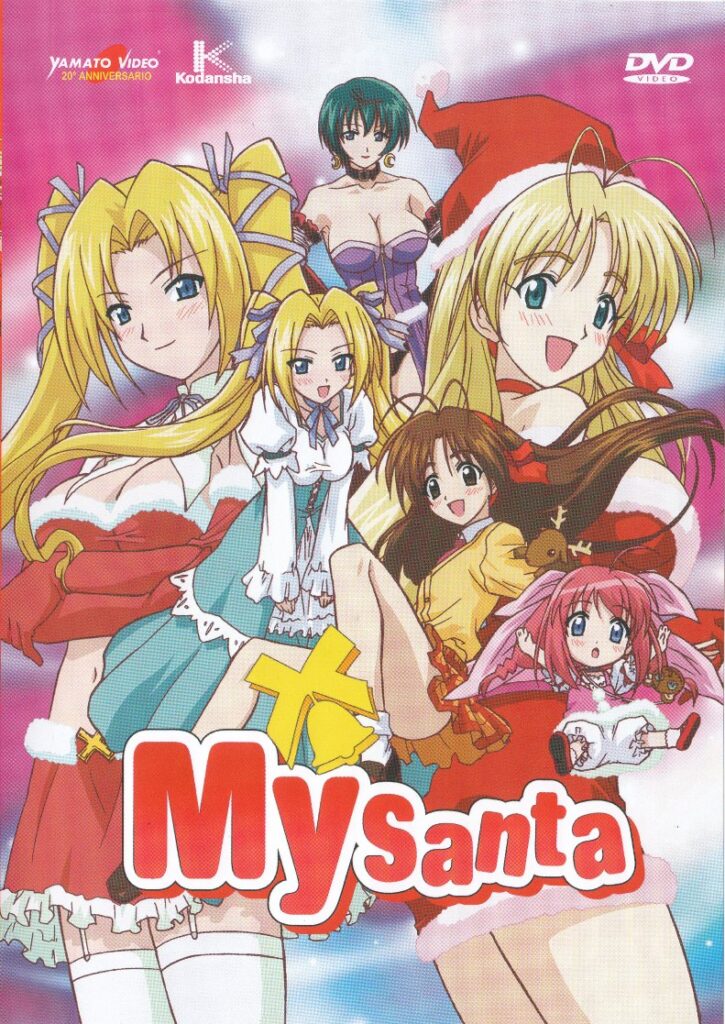 Itsudatte My Santa!
Are you a fan of anime from the mid-2000s? Like a little romance in your anime? Maybe even a tad bit of. . . ecchi? Well if you like all of this and Christmas, then it might be worth checking out the two-episode OVA Itsudatte My Santa!
Itsudatte My Santa! (literally meaning Always My Santa!) follows a boy who, after being born on December 24, was named Santa. This caused him to be bullied growing up, leading to a resentment towards everything Christmas. Upon meeting a strange girl named Mai, he begins to learn Christmas might not be all that bad (and experiences a little romance in the process). 
While Itsudatte My Santa! might not be the deepest anime you've ever seen, it's a fun short watch at only two episodes long. Having been released in 2005, it very much feels like an anime of this era. Sometimes for the best (look at that nostalgic art style!) and sometimes for the worst (some of the sexual humor and ecchi elements didn't age the best). Still, if you want to watch an anime based around Christmas, Itsudatte My Santa! might be worth checking out.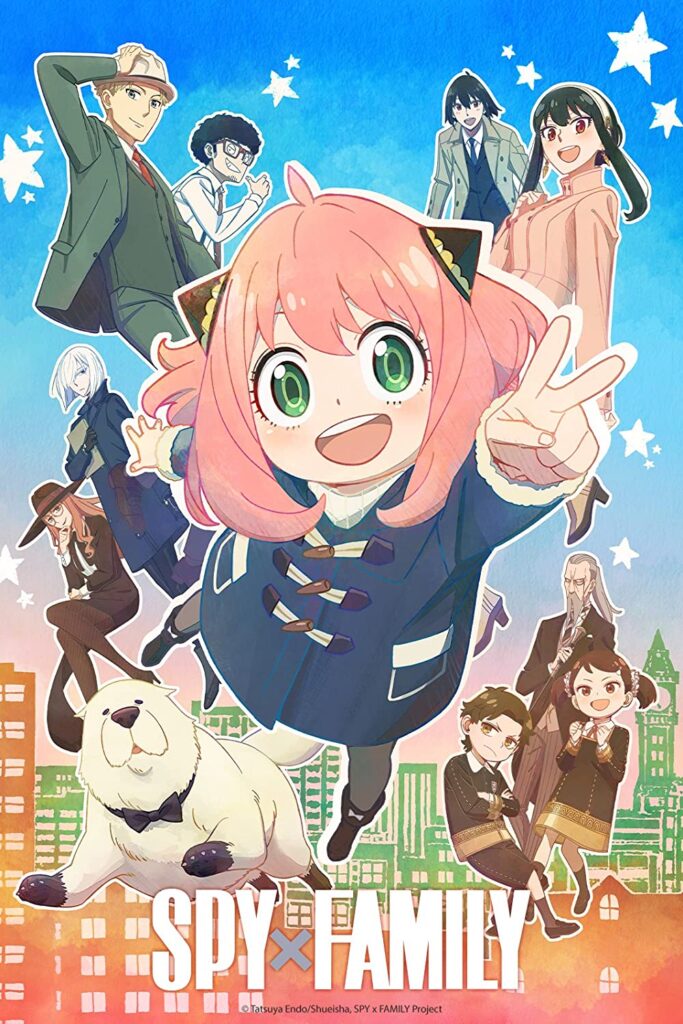 Spy × Family
Okay okay okay, hear me out on this one. Is Spy × Family an anime that really has anything to do with the holidays? No. Is it even winter themed? No. However, Spy × Family centers around what makes the holidays so special for so many around the world: family. And, similarly to Tokyo Godfathers, Spy × Family specifically focuses on the family we choose for ourselves, something that might hit a little different for many, like myself, who may be thousands of miles from their given family these holidays.
If you don't know, Spy × Family follows master spy Twilight as he goes undercover in the fictional country of Ostania to gather intel on one of the nation's leaders. In order to do this, he must create a fake family in order to get close to him. Through happenstance, he ends up "marrying" Yor, secretly a master assassin, and adopting Anya, secretly a telepath. Together, they must attempt to live a normal life while hiding their secret identities from each other. 
Before long, real emotions and happiness begin to form between the titular spy family. The wholesome moments featured in this series highlight the magic of found family, something that embodies everything about the holidays. 
Knox Yoder (they/them) is a first-year JET living and working in Ureshino, Saga. They have too many hobbies, including but not limited to binging horror movies, playing new and old video games, reading manga, and nerding out over My Chemical Romance. They love Wham!'s "Last Christmas" more than they love themself.