This article originally appeared in the November 2022 issue of CONNECT.
An E-Bike Tour through Western Shikoku
James Steinbrueck (Ehime)
There exists a saying in Japanese, ichi-go, ichi-e, which translates to one time, one meeting. Its meaning is bittersweet; appreciate the moment, for nothing can last forever. Fittingly, it was during a three day e-bike tour across Western Shikoku that I learned this phrase. Now that those three days are over, I experience ichi-go ichi-e like the opposite of deja-vu; rather than wonder if it has happened before, I wonder if I will ever get the chance to do it again. It left me wanting for more.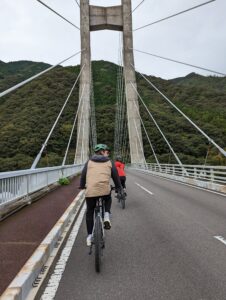 When most people think about biking in Shikoku, they think of the Shimanami Kaido, a ride over a series of bridges which begins in Eastern Ehime's Imabari city. However, this ride is on the complete opposite side of the region, beginning in Southwestern Ehime in the coastal city of Uwajima. Boasting one of the final twelve castles in all of Japan to still be in its original condition, Uwajima is no small town. 
"Despite our varied backgrounds, it's nice that we can all come together like this to appreciate the region."
Starting here, the first day of the ride was a warm up, featuring a leisurely ride circling Ku Island during which we stopped to drink hot chocolate and watch the sun sink below the sea. When I asked my friend what he thought about the first day, he told me, "Experiences like this are why I've come to love Japan." I couldn't have said it better myself.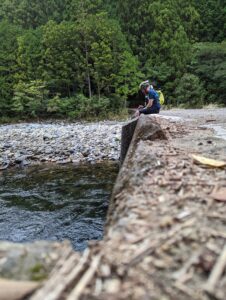 There were twelve riders including the two leaders—Will Turner and his wife Tamie—and a few support riders who were there in case of emergencies. It was good company all around. Many of us were from neighboring cities, came either to enjoy the region, enjoy the biking, or both, and we all had differing levels of experience. We were quite the diverse group. My friend and I were both Minnesotans, Will was from England, and the others were all from different parts of Japan. 
On the last day, Tamie mentioned, "Despite our varied backgrounds, it's nice that we can all come together like this to appreciate the region." The ride itself was a pilot for a new line of tours aimed at promoting this part of Ehime through cycling. When I asked Will about it, he told me that the governor really enjoys cycling and is continually attempting to incorporate it into the community. It really shows, too. The whole experience was very affordable, and the support staff extremely friendly. 
If the first day was a warm up, the second day was the main event. At roughly sixty kilometers of travel, the day proved to be a workout, even on an e-bike—though what was waiting for us at the end made it well worth the effort. Our destination was Mizugiwa no Lodge, or Riverside Lodge, located in Nametoko Gorge. 
The style of the lodge reminded me of the lakeside homes in the forests of northern Minnesota, but with a distinctive Japanese twist to it. That night, in the lodge's built-in Italian restaurant Selvaggio, Will congratulated us for making it through the day. "I love the feeling of accomplishment when I see just how far we've come," explained the woman next to me. Half lost in a pleasant wine delirium, I just nodded and smiled. 
The final day came too quickly. This time, our scheduled travel was only thirty kilometers, half of the previous day, but a strong headwind made for slow progress. I didn't mind this, however, as although reaching the finish meant a good meal of taimeshi—an Uwajima specialty of sea bream sashimi, soy sauce, raw egg, and hot rice—it also marked the end of the tour, and a return to our daily lives. The riders were quiet as they rode, the wind filling their ears while their eyes took in the mountains, rivers, and sky. 
Ehime's countryside is a uniquely beautiful part of the world, and I can sympa
thize with the governor's desire to share it with others. Cycling has been a hobby of mine ever since I was young, but even if the idea of an e-bike tour doesn't appeal to you, I wholeheartedly recommend making a visit to the area.
There exists another saying in Japanese, ju-nin, to-iro, which translates to ten people, ten colors. It is similar to the English phrase "to each their own" but differs in that it also expresses an immense magnitude of human possibility. Thus it is an apt phrase, I believe, to describe such an experience as this was: one which brought people together through a common passion.
Will and Tamie are still leading various e-bike rides around the region, and the Riverside Lodge has recently reopened for tourism. 
James Steinbrueck is an English teacher residing in Ikata, on the westernmost tip of Japan's Shikoku Island. Born in Minnesota, he moved to Japan in mid 2022, and loves his new home. Currently a General Section Editor for CONNECT Magazine, he enjoys gaming, mountain biking, fiction, and laying in the sun.