This article originally appeared in the November 2022 issue of CONNECT.
Alexandra Crombie (Gunma)
Earlier this month I travelled to Takayama, a town in Gifu Prefecture, where I embarked upon a four-hour road trip. Takayama is home to the Hachiman Festival, named after the Hachiman Shrine residing in the northern half of the old town. This autumnal festival is renowned as one of the most beautiful in the country, and my friends and I were lucky enough to see the floats out in full force on Sunday morning.
We arrived on Saturday afternoon and settled ourselves in our hostel before heading out for dinner. With only Google Maps for guidance, we selected a local izakaya around the corner.
Trying to avoid meat products anywhere in Japan always limits you somewhat, but eating out means there will usually be a decent selection of seafood. Although the section was ominously named "marine products" on the menu, I was spoilt for choice. I went for the sashimi, as I am making it my personal mission to try and test the sashimi platters of every prefecture I visit.
I received a beautifully organised plate that was more varied than usual, featuring seven different kinds of white fish, octopus, and what I suspected to be some part of a jellyfish. I have to admit there were two thick, white, circular pieces that I have yet to identify. I am no fish connoisseur, but I have finally decided on my favourite type of sashimi: seared bonito. Although Kochi Prefecture is best known for this delicacy, I have enjoyed it the most every time, wherever I am.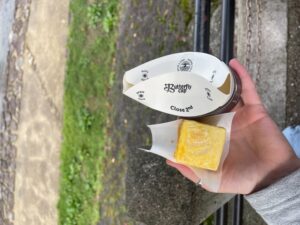 On Sunday morning, we arrived at the festival early in order to catch the famous Miyagawa Morning Market. This consisted of numerous stalls and shops set up to cater for the swathes of people wandering down the narrow street that lay parallel to the river. Slightly hungover, we hunted down some breakfast. From a small hatch in a wall, we bought some fresh coffee and a tamaten. This curious snack is made from egg whites and sugar, and is essentially a marshmallow, or the Japanese answer to a meringue. Egg whites are beaten, dipped in egg wash and sweet sake, and then lightly fried so they take on a cube shape. They are light, fluffy, sweet, and go exceptionally well with coffee. The tamaten is originally from the Hokuriku region in north-western Japan, but the stall owners are well established in Takayama, with a second store further out of the centre.
Making our way up the street, we passed a café with particularly delicious looking plastic reconstructions of its menu outside. The enormous queue also hinted that this store was worth a look. Here, I tried warabi mochi. Warabi mochi itself is a tasty, sticky paste that is covered or dipped in kinako. I thoroughly enjoyed it by itself, but in order to be adventurous I added their café au lait to my order. This turned out to be the most aesthetically pleasing drink that has ever graced my hands. The warabi mochi had been soaked in coffee and pounded into smaller pieces, forming the bottom layer of the drink. Rich, milky coffee and a final spiral of whipped cream made up the remainder. I would highly recommend both.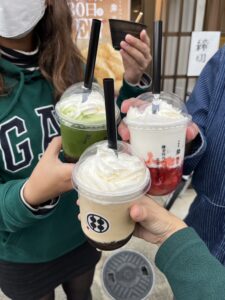 Unfortunately, it started to rain around two o'clock in the afternoon, so the remainder of the daytime festival and the evening festival were cancelled. We only allowed the rain to deter us for a couple of hours while we holed away at the hostel, until we ventured out for dinner. 
We came across a decently priced, family-run restaurant that offered ramen local to Takayama. Funnily enough, the dish I ordered was called "Takayama ramen." It came with curly noodles, a lovely broth with a depth of flavour, and a boiled egg that had been marinated in soy sauce overnight. It also contained a circular cut of broiled pork that I niftily transferred over to my friend's bowl. Given that the specific flavours and type of broth can differ from region to region, ramen is also something I try to order at least once each time I travel. This particular bowl was warmly received on a rainy Sunday evening. 
You may have noticed I left some meals out of my descriptions. For these, I relied on the trusty conbini. If you are ever peckish, in need of a post-night-out snack or quick breakfast-to-go, 7-11 might not be the height of sophistication, but it will never let you down.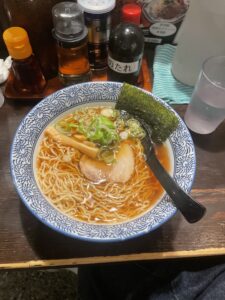 Although I have focused largely on the meals and snacks I consumed over the weekend, the scenery can't go without mention. The drive was magnificent. This probably had something to do with the fact that I was free to gaze out of the back window rather than having to traverse the terrifying winding tracks misleadingly named "roads." Millions of trees created a moss-like blanket over the mountains that straddle the prefectures of Nagano and Gifu, one that was lazily transitioning from a green to an orange hue.
As we ascended, the cliff-drop to my right became completely obscured by fog. It was difficult to see even two metres into the distance, and it felt like we had accidentally stumbled into another dimension. Thankfully, as we descended the opposite side of the mountain, we returned to earth. We made it there in one piece, and I was able to complete my research for this article, as opposed to being carted off to face the Terminator, for which I am sure you are all very grateful.
Alexandra Crombie is a first-year JET living in Gunma prefecture. Her favourite colour is a dark, muted blue, and she likes to spend her free time camping or exploring with friends. She also enjoys watching copious numbers of films.