This article originally featured in the December 2021 issue of Connect
Interview with a Dancing JET
David Cowland-Cooper (Tokushima) interviewed by Marco Oliveros (Tokushima)
Awa Odori is both a dance style and one of the biggest festivals in Japan. For four days in August, locals and visitors, in the thousands, pour out into the streets of Tokushima to join what's basically a massive dance party. The dance fever has even swept up JETs, other parts of Japan, and places overseas. Here's an inside look from one JET, David Cowland-Cooper.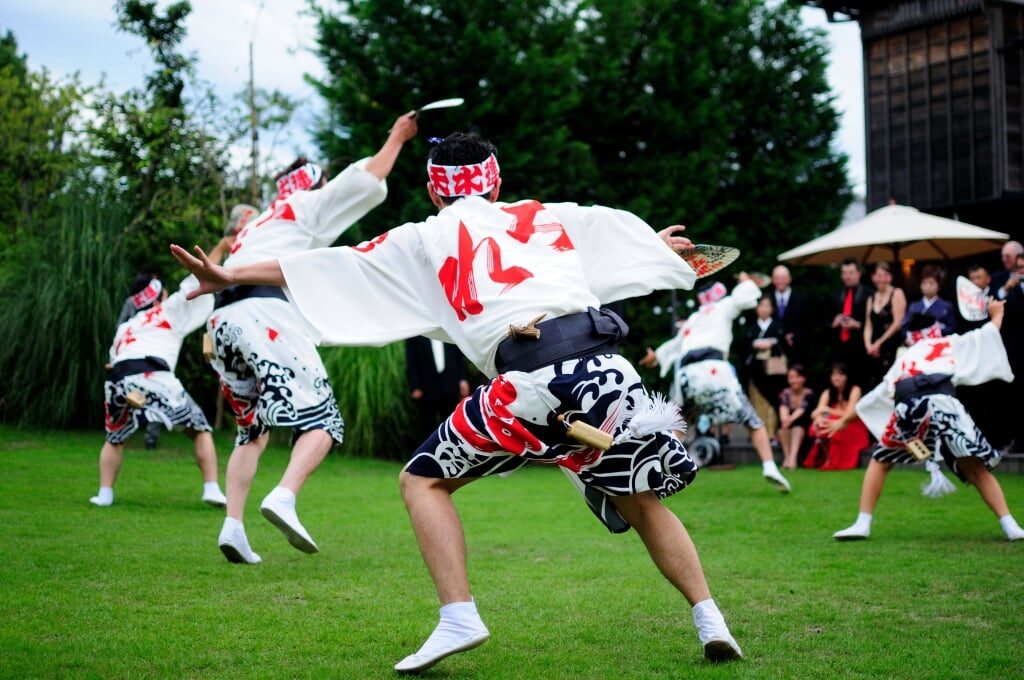 Could you tell us a little about Awa Odori and its origins? Also, what started your personal interest and passion in Awa Odori?
Awa Odori is popularly thought to have originated around 1586 during the celebration of Tokushima castle's construction. Awa is the traditional name for the eastern part of Shikoku, now Tokushima Prefecture. The Japanese word odori literally means dance. The drunken dancing of the Awa locals, accompanied by simple but catchy music, was entertaining, eventually taking on a life of its own as "the fool's dance" of Awa Province.
Even prior to the 16th century, the roots of Awa Odori lie in Bon Odori, traditional dancing connected to the annual Obon festival in August. Bon dances have been practiced for centuries and are still done all over Japan, with styles that vary region to region. Most traditional Bon Odori are relatively low-key local events, but Awa Odori has evolved into a massive spectacle of performance lasting several days. [[pull-quote]]It is a wonderful expression of the spirit of Tokushima's people.[[pull-quote]]
New teachers coming to Japan as part of the JET Programme generally arrive in the middle of summer, which is festival season across the country and peak time for Awa Odori in Tokushima. As part of our new Tokushima JET orientation, before doing actual teacher training, my JET group was thrust into Arasowa-ren, an Awa Odori dance team established expressly to foster international exchange. That was my first taste of Awa Odori, but I had little idea of how big it would end up becoming in my life!
I heard that you are a part of and actually lead an Awa Odori ren. What is a ren and how did you end up participating in one?
I've always struggled with translating the word ren neatly. I feel it has nuanced connotations of community or family, but I usually go with "team" or "group."
My first Awa Odori ren was a local team in western Tokushima called Minoda-ren. I grew to love doing Awa Odori so much that I decided to move to Tokushima City in August 2004 and join a famous team there.
The Awa Odori team that I'm a member of in Tokushima now is called Tensui-ren. I'm just a standard member of that team.
Tensui-ren is one of the largest and most well-known Awa Odori teams in Tokushima and across Japan. Tensui-ren was founded in 1946 and is amongst the original groups involved in the post-war rebirth of Awa Odori as a modern festival. It has sister groups across the country—in Osaka, Saitama, and Tokyo. You might say that Tensui Australia—a team I started when I moved back to Australia—is also a sister group. 
For my group here in Australia, you could possibly refer to me as Tensui Australia's renchou, or leader.
So you are a member of Tensui-ren in Tokushima, and you also started and are leading the Tensui Australia ren. What would you say is your biggest challenge with leading your ren in Australia? How have you been dealing with it?
The challenge here with Tensui Australia is getting ourselves known and growing the team.
To put on a proper live Awa Odori performance requires a critical mass of dancers and musicians. It's been hard to pull together enough people in Australia to achieve that.
The real power of Awa Odori is in live performance—the group dynamic, the sound of the live music, and the interplay between dancers and musicians. To show people what it's all about and communicate its feeling, it's hard to just show them a video or talk about it. You really need at least a handful of dancers and solid musicians to make the magic happen. We're just about at the point where we can do that.
Starting out, we focused on the dancing and just used recorded music (from Tensui-ren) to practice and perform. Along the way, we have taken opportunities to practice the music with instruments and do a couple of outdoor parades and workshops with very basic instrumental accompaniment. We are getting to the point where we can perform on stage with live music.
We are also starting to get more invitations to festivals and workshops, from which we can hopefully build into something sustainable.
I've heard Awa Odori consists of different dances, like a male dance, a female dance, and other sub-varieties. Could you tell us about some of these dances, their differences, and what dances your ren specializes in? Additionally, how common is it for women to do male dances and men, female dances?
Dancing itself is basically two styles—onna odori, which is danced only by women, and otoko odori, which can be danced by anybody. If I was translating the terms into English, I'd refer to these dances as the feminine and masculine styles, rather than really "women" and "men" ones.
Otoko odori typically wear either a short happi coat or a longer yukata summer robe, with fitted tabi plastic-soled socks and a hachimaki headband tied in one of many styles. Otoko odori is typically danced in a lower, open stance, a bit more freestyle, embodying the theme of the "dancing fool" that Awa Odori is famous for. Onna odori wear a more ornate full length odori kimono, lighter than a traditional formal kimono for ease of dancing, with wooden geta clogs and the distinctive half-moon amigasa reed hat. This costume compliments the onna odori dancing style, which is more upright and refined than otoko odori, but still full of motion and joy.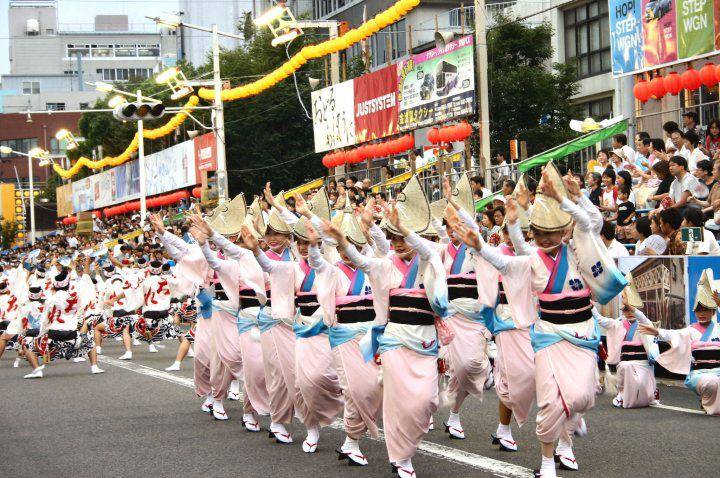 It is quite common for women and girls to dance otoko odori. I have seen some men parody the onna odori style or use an amigasa hat for a bit of light entertainment, but I have never seen anyone other than a woman or girl seriously dressed in the onna odori gear or doing the onna odori dance. Perhaps there has been someone out there who has done it, but I haven't heard about it. The majority of men probably couldn't handle dancing in geta clogs anyway!
Although a ren traditionally features dancers of both styles, it isn't compulsory to have both, and there are many smaller teams that just do one or the other. 
In Tensui-ren, we have both. For otoko odori, we have both men and women. When we parade down the street, we tend to have a kids group with boys and girls together doing whichever style they want, followed by the onna odori, the otoko odori, and finally the narimono, or accompanying instrumentalist section, at the back of the pack.
Speaking of musicians, what else goes into a ren's performance besides dancing? I've personally seen various instruments being played in this narimono, and different accessories being employed by the dancers.
There are a number of traditional Japanese instruments that typically feature in the narimono, all of them played while walking: drums of different sizes, bamboo flutes, three-stringed shamisen guitars, and the small kane gong.
Awa Odori can be danced with a wide variety of accessories such as fans or lanterns, which are often recognisable elements of the style of each individual ren. In Tensui-ren, the otoko odori usually dances with an uchiwa fan in their right hands. Back when I was in Minoda-ren, we often used uchiwa in both hands; we also used chouchin lanterns, sensu folding fans, even a metal utte stick at times. I've seen some groups using traditional umbrellas, too. Of course, you can dance without accessories; all you really need are your hands and feet. Between the music, costumes, choreography, and accessorising, there's quite a lot of variety in look and style amongst Awa Odori teams.
My understanding is that most Awa Odori is performed in Tokushima—from August 12-15, the four days of Obon. In Tokushima, where does Tensui-ren usually perform during August? Has Tensui-ren ever traveled outside of Tokushima, before or after August, to dance?
The main dancing season kicks off in the lead-up to Obon, with practice for the main festival starting in June and ramping up through July. By the end of July, we are practicing every night of the week in the carpark of a local temple, and there are often lead-up performances during that time. We continue to practice and perform every day in August until the end of Obon on August 15.
Tensui-ren is actually large enough to practice and perform all year round. When it's not the main dancing season, we keep busy with regular performances at the Awa Odori Kaikan about once a month, occasional requests to dance at weddings, appearances at events or festivals elsewhere in Japan, and the major off-season events held in spring and autumn in Tokushima City.
As part of an association of the most famous groups, Tensui-ren also sends people overseas when requests come through, such as festivals in places like Taiwan and Paris.
Could you share with us one or two memorable experiences of you performing Awa Odori? How did you feel during and after it?
Dancing on stage at zenyasai . . . and in the sou-odori at the end of each night's dancing . . . these are probably the most memorable performances I've been involved in. 
Zenyasai is the major stage performance that happens every year on August 11, the day before the official start of Obon. It's regarded as the pinnacle showcase of Awa Odori each year, with something like 500 of the best dancers and 100 mixed narimono musicians performing on the biggest indoor stage in Tokushima City. Sou-odori is the "all-in dance," the big parade traditionally held at the end of each night during the Obon festival. About a thousand dancers are packed shoulder to shoulder into a single street stadium, making their way down the street to the combined sound of hundreds of narimono. 
There's not many Awa Odori performers who get to dance in either of these events, let alone Tokushima locals or foreigners. It's pretty special.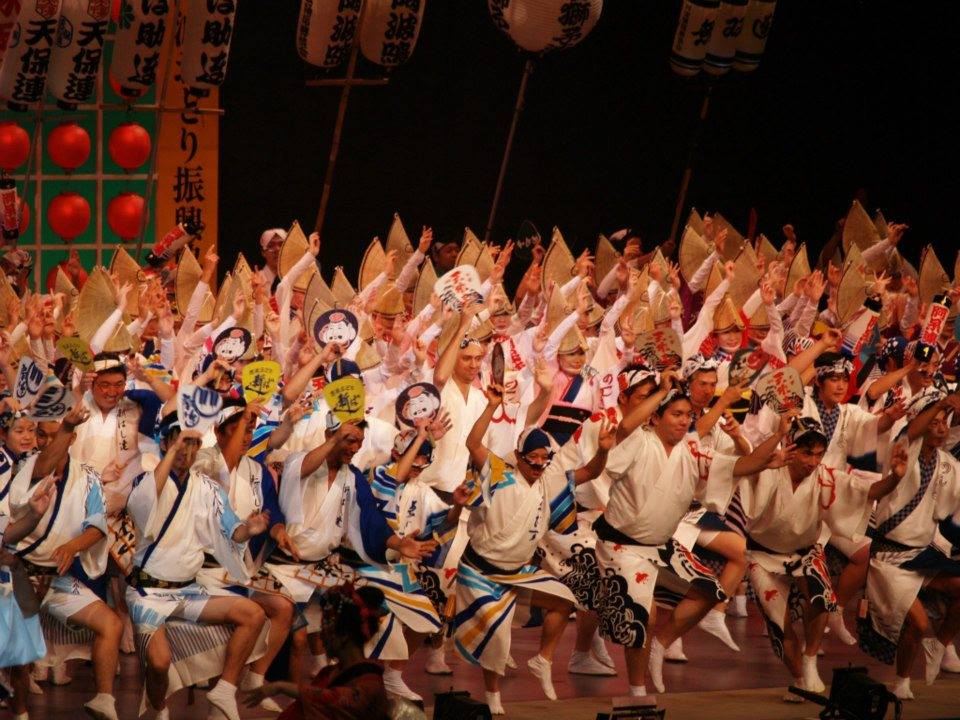 Could you tell us what's your favorite part about Awa Odori? What's your favorite part about your ren?
The beauty of Awa Odori is that it's for everyone. Kids can join in, and so can grandparents. You can dance otoko odori or onna odori, or if you don't want to dance, you can play an instrument instead. There's depth and complexity to the dance if you're passionate about learning it, but you can also enjoy Awa Odori casually if that's all you want to do. . . . And once we've finished practicing or performing, we tend to have drinks and be social, too. In Tensui Australia, particularly for our member parents who bring their kids along, they've said the kids really look forward to seeing their ren friends every week. Although they spend most of their time just running around, being part of an Awa Odori team makes these kids feel proud of their Japanese heritage in a country like Australia where, compared to Japan, there are few opportunities to celebrate it.
In what ways has Awa Odori changed your experience living in Tokushima or Japan?
At the time that I was living in Iya and Tokushima City, it gave me an immediate connection to my local community, a regular activity to keep busy and deal positively with isolation, a good amount of exercise, a social network beyond the dancing, an improvement in my language skills, and insights into Tokushima life and culture that are hard to gain otherwise. I ultimately stayed in Tokushima for over five years because of Awa Odori. I've always felt very lucky to have been placed in Tokushima as a JET.
Was joining a ren something that was easy for you? How easy do you think is it to join a ren now as a foreigner? Do you need to be in a ren at all to do proper Awa Odori? What advice would you give someone who's thinking of doing Awa Odori?
You can probably learn the motions of the dance or the rhythms of the music without joining a ren, but I think that would make for a pretty limiting experience. Awa Odori is more than the dance or the sound or the individual performances. The heart of Awa Odori is really in coming together as a community and being part of something larger than yourself.
So my advice would definitely be, firstly: give it a go! Try the dancing, but also watch a range of performances. You want to experience the depth and variety available within Awa Odori and identify what really resonates with you. Seeing the top teams perform on stage in Tokushima City was a real eye-opener for me that led me to move there and search for opportunities to take my dancing to the next level.
It certainly used to be rare to see foreigners in Awa Odori teams, but they're a little more common these days. If you want to join a team, the key is probably to find one with an atmosphere that suits your personality and commitment. The majority of smaller local teams are less about perfection and more about having a good time with your mates. Afterwards, if you find you really enjoy it and want to take it to the next level, you can search for a larger or more active team. April is a good time to do this. Many teams are waking up after their winter break by then and starting to prepare for the coming summer's festival, so they are often welcoming to new people.
If you approach an Awa Odori team and decide you want to try it out regularly, I think the key is to demonstrate commitment. Like most things in Japan, you can't do it in a half-hearted way!
David Cowland-Cooper joined the JET Programme in 2001 and spent over five years living in Tokushima Prefecture. He served as Chair of the AJET National Council in 2004 and did a season as a whitewater rafting guide on the magnificent Yoshino River in 2006, but his real reason for staying on Shikoku for so long was the dancing. He returned home to Australia and settled down, joining the public service and marrying a Tokushima girl (a dancer, of course!). David now has three kids who have all been co-opted into Tensui Australia.
Marco Oliveros is a fourth-year ALT and the current Culture Section Editor for CONNECT. He likes history. He lives in Tokushima. He enjoys watching Awa Odori, but he's pretty bad at dancing it.