This article originally featured in the October 2021 issue of Connect.
Release date: September 1st, 2021 
Ryon Morrin (Hokkaido) 
Enon Kawatani is relentless. An endlessly creative musician and songwriter, he's frequently forming new musical projects and composes almost all of the songs himself; an impressive feat for someone with five different bands. Kawatani is most well known for his work with romantic rockers Indigo la End and genre-bending masters Gesu no Kiwami Otome. He's also in the studio writing and producing Dadaray's brand of piano-pop. Add to that Ichikoro, his collaboration with Japan's living guitar god Ichika Nito, and he shows no signs of slowing down.
Genie High, another one of Kawatani's many projects, just released their new album, Genie Star (ジェニースター). It's a unique supergroup featuring Ikkyu Nakajima of tricot on vocals, famed comedians Cookie (くっきー) and Toya Kazutoyo on bass and drums respectively, and accomplished composer and pianist Niigaki Takashi on keys. Kawatani writes all the music and lyrics for Genie High. He also plays guitar on the album, and his unique playing style shines through the dense, busy mix. His voice, however, is mostly absent from this record, with most songs entirely sung by Nakajima.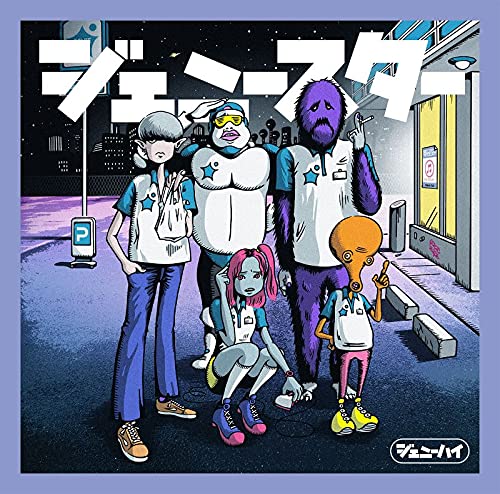 Upon hearing the first few tracks on Genie Star, Kawatani's songwriting flair is immediately evident. Many of the songs feel like they would fit well on a Gesu No Kiwami Otome album. For those unfamiliar, Kawatani's most accomplished group to date ambitiously pulls influences from a wide variety of genres like hip hop, J-rock, classical, and even jazz and funk. High energy, dance-worthy pop songs; a shred guitar, dirty and distorted rock epic; a somber, emotionally driven ballad; a salsa-inspired spoken word jam. All a part of the band's catalogue. For Genie Star, Kawatani borrows some of the elements present in Gesu No Kiwami Otome's music while maintaining a separate identity. Robust string arrangements, tastefully technical guitars, beautiful sprawling piano—layers that add depth without sounding overplayed or distracting. The music's pop formula allows anyone to follow along easily, but there's enough variety to keep you on the edge of your seat. It's tremendously catchy music, but the complexity exceeds what you would expect to hear, steering clear of monotony. 
Genie Star weaves numerous genres together. The string section and piano blend for moments that feel grandly classical. Things get funky, too, with some slick drum grooves and wah guitar. There's plenty of crunchy rock and roll riffage, too. Surprisingly, there's even a trap beat wedged in here featuring all five members on vocals; its bizarreness makes it an interesting listen. The one major misstep is the inclusion of a Christmas song which even features jingling sleigh bells. It feels painfully out of place alongside the rest of the tracks on Genie Star, and considering it's September, it's quite early for holiday music. Thankfully, this minor disruption doesn't detract from the album's successes.
As a whole, Genie Star stays within the boundaries of pop music but also steps over them into new territory. An example is 卓球モンキー, an aggressive rock song that opens with gritty guitar and bass accompanied by sweeping classical piano. Genie High crafts a sound that is simultaneously reckless and elegant. Two-thirds in, there's a brief moment where they slam the brakes for a deeply emotional spoken word segment by Nakajima accompanied by Takashi's fleet fingers, only to put the gas pedal back into the floor until the very end. At just under four minutes, it keeps you bobbing your head and tapping your foot while your ear is captivated by each carefully composed detail woven into the backdrop behind Nakajima as she wields the power in her voice. Genie Star bends the rules, adhering to genre conventions while adding a heavy dose of experimentation to the mix. 
You can stream Genie Star now on Spotify. 
Ryon Morrin is a third-year ALT based in Shintotsukawa, Hokkaido. In his free time, he enjoys discovering new music, hiking in the mountains, and playing rhythm games at the arcade.