Discovering More About The Land Around Us
This article originally featured in the March 2021 issue of Connect.
Kayla Francis, Anne Yi, Katie Ehrlich (Tōkyō)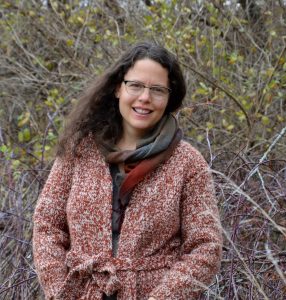 This article contains recipes and extracts originally published in "Eating Wild."
Now more than ever, Japanese cooking is prevalent. Go to any bookstore, regardless of the country, and you are sure to find titles from The Just Bento Cookbook and Sushi Taste and Technique to Japanese Soul Cooking and Japanese Farm Food. Very rarely, however, do you find a Japanese cookbook that encourages you to go out and not just find the ingredients yourself, but seek the plants you easily excuse as weeds.
Eating Wild isn't your typical cookbook—it's also an anthology of beautifully written essays detailing Winifred Bird's time exploring the inaka of Japan. Bird doesn't just awaken our curiosity in sansai (the Japanese word for mountain vegetables), chestnuts, bamboo and seaweed. She shows us the connection that food has to the land around us. That food, as we often forget in the city, comes from somewhere, and with it, a rich history. Most importantly, Bird reminds us that plants come from the very planet that we live on and have to protect for our own survival. Eating Wild isn't just a book dedicated to lesser-known produce hidden in Japan's countryside; it's an exhibit on sustainable living, remembering the food of our past, and eating what is in abundance.
My personal experience of eating in ryokan (Japanese-style inns) has always been a curiosity, but other than admiring how pretty each dish was, I never stopped to question what exactly I was eating. The tales Bird describes of visiting a chef and preparing the dishes with him—"batter lightly; wild tempura is more attractive if the green shows through"—brought back memories of the dishes I had eaten. It wasn't until reading this section of the book that I fully appreciated where that food had come from and how much effort goes into preparing each dish. Bird emphasises this by embedding the recipes into her essays.
Though an education on food is never a bad thing, how does Eating Wild actually work as a cookbook? Is it worth experimenting with sansai? We decided to try a couple of recipes out for ourselves.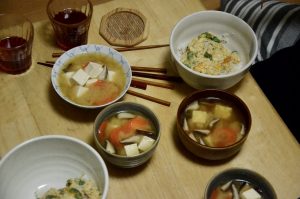 Mitsubano Tamagotoji
Anne Yi
After a long workday, you're hungry and dragging your feet back home. You don't feel like eating shoulder to shoulder with a salaryman, nor do you feel like getting junky fast food. What could be better than a hot, comforting meal that takes no time at all to make and is cheap? The meal should not cost more than 200 yen per person in total.
This simple egg dish makes for a quick weeknight dinner and uses ingredients rea-dily available at all Japanese supermarkets. The only ingredient that you might not al-ready have in your fridge is 'mitsuba,' which looks and tastes like a mixture between parsley and coriander/cilantro. The flavour is subtle and adds a nice touch to the eggs, which are silky and delicate. Flavoured with dashi, mirin, and soy sauce, it tastes similar to the comforting and familiar oyakodon (chicken and egg on rice). Using a konbu dashi, this would make for a good vegetarian meal. Give it a shot.
A cousin of the classic oyakodon—"parent and child rice bowl" made with chicken, sliced onions, mitsuba, and eggs—this comforting homestyle dish is surprisingly delicious with mitsuba alone. Tofu makes a nice vegetarian alternative to chicken if you want a more substantial dish; simply break up a cake of soft tofu into the pan before adding the eggs.

Servings: 2

Ingredients:

15 stalks mitsuba with leaves attached
2 large eggs
1/3 cup dashi
2 tsp soy sauce
2 tsp mirin
2 tsp sake

Instructions:

1. Chop the mitsuba into one-inch lengths. Lightly beat the eggs.

2. Bring the dashi, soy sauce, mirin, and sake to a simmer in a small frying pan.

3. Add the mitsuba and cook until just wilted, about 20 seconds. Pour the eggs over the mitsuba, cover, and cook for about 1 minute until barely set.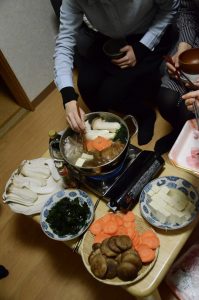 Wakame Shabu-Shabu
Katie Ehrlich
I have to admit, I made a few changes to this recipe. I wanted to make it for a (very hungry) group of six. So I got double the veggies and a little more than 1.5 kilos of shabu-shabu meat. I also got a combination of eringi mushrooms and shiitake mushrooms, since eringis are these lovely, large mushrooms that taste meaty in a hotpot. Also, fresh wakame is difficult to find, but honestly, to me, it tastes exactly the same as dried wakame, so it's a safe bet (and cheaper) to just get that. Buying everything here in Tōkyō at a grocery store called Hanamasa, everything cost 4,222 yen, about $40 for the six of us—a little less than $7 per person—so it was a great way to feed a crowd for cheap. I did have the sake, wakame, konbu, and seasonings at home, so you'll probably have to get those, though they are great cupboard essentials and can be used for many delicious dishes!
Making things here in Tōkyō is just like making things in any city of the world, where local fruits and vegetables and high-turnover items will invariably be cheaper here. But I know, at least, in the United States, it was easy to find them at Asian supermarkets or online. Making it was quite simple: just thinly slicing the veggies and setting them out on the table, setting out the meat (it was pre-sliced), bringing the pot to boil, and dipping the ingredients! We left the veggies in so they could cook through a little more. Pro tip—cook the udon in a strainer so it doesn't get lost in the soup; this makes it easier to serve and stops it from going mushy! Overall, this recipe is a classic shabu-shabu recipe and a great way to feed a crowd for a reasonable price. I recommend trying it out!
Shabu-shabu is a hotpot meal in which diners swish thinly sliced pieces of vegetables, meat, or fish through a clay pot of broth kept simmering over a burner at the table. Nearly all Japanese families own one of these single-burner ranges fired by a small canister of gas, which are essential for hotpot eating because they allow ingredients to move from platter to broth to mouth in a matter of seconds. In the USA, similar ranges are sold as portable butane stoves for outdoor use and are well worth the investment if you like homestyle, Japanese cooking. Wakame shabu-shabu can be as simple as a pot of water, a pile of fresh wakame, and a sauce or two to dip it in. This more elaborate version is adapted from a pamphlet on the seaweed cooking of the Noto Peninsula published by the Ishikawa New Agriculture Total Support Organization.

Servings: 4

Ingredients:

Fresh wakame
8 fresh shiitake or large white mushrooms
1 large carrot
1/2 daikon radish
1 package firm (momen) tofu
1/2 lb thinly sliced pork with some fat (optional)
6-inch x 6-inch piece of konbu
6 cups water
1/4 cup sake
1 1/2 tsp salt
Store-bought ponzu sauce for serving (a mixture of soy sauce and lemon juice can be substituted)
Store-bought sesame sauce for serving (optional)
2 single-serving packages of fresh udon noodles

Instructions:

1. Wash the wakame and cut into lengths measuring several inches long. Remove the mushroom stems. Use a peeler to shave the carrot and daikon into long, thin strips. Drain the tofu and cut into 8 cubes. Arrange these ingredients attractively on a large serving plate. Arrange the pork, if using, on a separate plate.

2. Place the konbu, water, sake, and salt in a clay hotpot or large sauce-pan and begin heating it over a portable range at the table. Set out a small bowl for each diner, into which they can pour a small amount of either sauce.

3. When the broth comes to a boil, reduce heat to a low simmer. Diners should pick up ingredients from the serving dish with their chopsticks and swish through the broth until just cooked, then dip into their bowl of sauce and enjoy. When all the ingredients have been eaten, the meal can be finished by briefly simmering the udon noodles in the flavorful broth. Alternately, use the broth to make a savory porridge for breakfast the next morning—just bring to a simmer, add about one bowl of rice per cup of broth, cook over low heat for 5 minutes, and stir in 2 beaten eggs immediately before serving.
The joy of this book is not just the recipes and stories that Bird shares with her audience, but also the conversations she starts. Through reading this book and creating the recipes together, we were encouraged to discuss the key themes—noticeably, the climate issues that arise. Life in Tōkyō is not sustainable, and we continue to see an overabundance in plastic usage. This book opens the conversation to another way of living and using what we have on hand. For this city girl, though I am passionate about food, the thought of looking for food would never have occurred to me. Eating Wild offers some guidance and comfort for those who are starting out and those like me who have no idea where the starting point even is. I genuinely appreciated the conclusion essay dedicated to the people of Ainu, the indigenous people of Japan in Hokkaidō. Despite living here for almost two years, I have seen very little about them. Eating Wild is not just a cookbook; it's an ode to the Japanese countryside and the people, food, and history within it.
Eating Wild will be available from March 2021.
Paul Poynter, illustrator
Cover photo: Katie Ehrlich
Winifred Bird is a writer, translator, lifelong cook, and lover of plants both wild and domesticated. From 2005 through 2014, she lived in rural Japan, where she worked as an environmental journalist, grew organic rice and vegetables, and ate as many foraged foods as possible. She currently lives with her family in northern Illinois.
Kayla Francis is a Tōkyō JET from London, UK. She is also CONNECT's Sports Editor. When she is not cooking and eating too much, she can be found reading or staring at her yoga mat.
Anne Yi is a Tōkyō JET from the Southern Hemisphere. She loves to cook, read, and find interesting music in her spare time.
Katie Ehrlich is a Tōkyō Metropolitan public school JET from Colorado, USA. She is a language-learner, hiker, biker, Tōkyō tiny kitchen chef, and artist.