This article originally featured in the February 2021 issue of Connect.
Richard Pearce (Tottori)
Situated in the historic fishing village of Mikuriya, the Richi-Yado Guesthouse is at the centre of the local community's revitalization project. Its owner and namesake is me, Richard Pearce, an Englishman who has been a Tottori resident and ambassador for 12 of the last 14 years.
The guesthouse concept was the brainchild of town councillor and life-long resident, Noriyuki Kato. At the time, Kato-san was heavily involved in local Machizukuri efforts. The term Machizukuri literally translates as "town planning," but since the 1960s it has come to mean a form of locally driven town planning and community enhancement initiatives which contrast with the traditional, highly centralized model, known as Toshi-keikaku. At the time, I was looking for ways to both promote and give back to the community that had given me so much. So when Kato-san contacted me, it seemed like a happy coincidence.
The Coastal Cost
Mikuriya, like many rural towns in Japan, is suffering from the dual impact of an ageing population and urban migration. In recent years, it has seen a slight upturn in repopulation from urban centres, but it's still pretty much a one-way street. Coastal towns haven't benefited as much from this positive trend however, as families and individuals relocating to the countryside tend to prefer less densely populated inland villages where houses often come with a small plot of land. Also, the tsunami of 2011 is still fresh in many people's minds and many are wary of living directly next to the ocean.
Just a generation ago, Mikuriya was a lively and affluent fishing community with a vibrant high street running through its centre. The street was lined with ryokan, restaurants, shops and bars. All but a few of these businesses are gone now and many of the buildings stand empty or have been demolished. Councilor Kato said, "We really wanted to find a way to attract both Japanese and international visitors to come to the village. We hoped that if people could come and stay here they could appreciate the local scenery, delicious fish and enjoy talking to the local people. They might think, this is a pretty nice place, I could live here quite happily." He continues, "when we see the international guests coming here and enjoying themselves, local people can feel a source of pride".
Kato-san is keen to stress the importance of the guesthouse visitors to the local economy. "We are at a point now where local businesses need all the support they can get. We are close to the tipping point. Once the local supermarkets, banks, post offices etc close, it will be very hard to attract them back. Even if we can get more people to live here in the future, it would be very hard to bring these important businesses back. In addition, some of the smaller shops have been trading here for centuries. They are a part of our identity, our soul".
When asked why his Machizukuri group reached out to me specifically, Kato-san explains, "We needed an expert in inbound tourism and Richard's experience is well-known around here. His work with the Japanese giant salamanders in Nichinan Town is really great. We have salamanders around here too. We in Tottori are proud of Richard. He knows more about this area than most local people!"
From Savannahs to Mountains
I originally came to Tottori as an ALT with the JET Program in 2006. After two wonderful and life-changing years, I left Japan to further my travels and have more adventures. I headed back to Africa and conducted biodiversity surveys in Madagascar before completing my life-long dream of qualifying and working as a Safari Guide in South Africa. I returned to Japan in 2010 and after briefly working as a private teacher, began working as a Tour Leader for Inside Japan Tours, an industry-leading tour operator based in the United Kingdom.
Mikuriya, like many rural towns in Japan, is suffering from the dual impact of an ageing population and urban migration.
The job of a tour leader is very cool . . . on paper! You get paid to travel all over the country, stay in luxurious ryokan, meet geisha, eat exquisite kaiseki ryori and more. Of course, that is all great! But in truth it can be EXTREMELY tiring and stressful to escort a group of up to 15 people of all ages, nationalities, backgrounds and character types around Japan for two weeks at a time. It certainly was character-building though and after several tours it was mostly a very rewarding and enjoyable job. The experience and knowledge I gained about the inbound tour industry in Japan was priceless and would transfer well into running the Richi-Yado Guesthouse.
Personally, I've always loved Mount Daisen and had decided it was where I wanted to put down roots. Knowing the area well, I was aware that there were many empty houses around and I was convinced I could find something special at a very reasonable price. With this in mind, I contacted the local Akiya Bank. Akiya means "vacant home" in Japanese and the "Bank" element is a service that aims to connect a database of "akiya" to potential buyers. However, what they had at the time of my initial search didn't suit my requirements, so I decided to put it on the back burner for a while.
A few months later, a representative from the Akiya Bank contacted me, and to my surprise, asked if I was interested in opening a guesthouse in a fishing village at the foot of Mount Daisen. They said that through coverage in the local press and on regional television, the local group was aware that I had experience in bringing in foreign visitors to the area through my tours, language school, and salamander conservation experience. They also added that the property would be rent free and that the government would pay for the renovations. I decided it would certainly be worth listening to their proposal!
It turned out to be a lot more complicated than it first appeared and I ended up buying the house and land from the owner and investing some of my own savings to get the renovations to a level I was happy with. The results have been great though and we've welcomed several hundred guests from overseas so far. In recent times, the Japanese Language camps aimed at ALTs and foreign residents living in Japan have been very well received and a lot of fun.
Wisdom on Business in Japan
In regards to advice on starting a business in Japan, I have a few words of wisdom. I'm a great believer in making your own luck. If you are proactive in your approach to life, then you have a better chance of being successful. I think of it like fishing. Imagine that each idea for a project or business opportunity is attached to a hook on the end of an individual line that you cast out into the world. The more fishing lines you cast, the more chances you have of catching a fish. As you gain experience and have a more extensive network, your fishing technique improves and your bait becomes even more tempting. Sure, it takes some time and effort to bait each hook, but the chances of catching a juicy fish improves with every effort!
Don't be afraid or too proud to receive help from someone when you need it, but also be strong enough to say "no, thank you".
For Japan specifically, it's all about building a profile and being true to yourself. In a conservative society such as Japan, people are often afraid of taking risks for the fear of failure and losing face. Of course nobody wants to fail and do all we can to avoid that, but I think as foreigners we are free from many of these restraints. In my experience, many Japanese people will go out of their way to help you behind the scenes if you are the "face" of the operation. Don't be afraid or too proud to receive help from someone when you need it, but also be strong enough to say "no, thank you" when the assistance being offered is to the benefit of the person offering it and not your own.
As for the future of small local communities, I hope the future moves towards a sustainable society and local shopping increases. Post-COVID, whenever that might actually be, I think we will see more and more people moving back to their ancestral lands and also higher levels of counterurbanization overall. This will be driven both by financial concerns and the desire to live in less crowded conditions. I hope and believe that the demand for locally created and quality made products will increase as an attitude of quality over quantity prevails. For the good of the planet, I hope I'm right.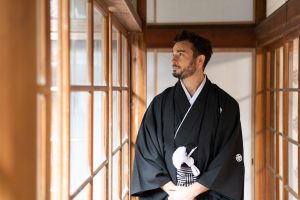 Kato-san's vision is also one of optimism: "Richard, the guesthouse, his staff, and most importantly the guests have been like a breath of fresh air for the local community. They have given us hope."
Richard Pearce is owner of Richi-Yado Guesthouse and Bushido Japanese Language School and Director of Bushido Adventure Travel Ltd UK. Bushido is an official partner of National AJET. For information about Japanese Language camps for ALTS in the school holidays, online Japanese classes and a chance to help with the conservation of Japanese giant salamanders in the wild, please see bushidojapan.