This article originally featured in the December 2020 issue of Connect.
Jonah Reid (Hokkaidō)
I had spent a few years working at IBM, in the corporate Information
Technology world, where there seems to be more theory than practice. I was taught to break everything down to further understand it, and I have loved applying this to snowboarding. Specifically, in helping others to snow-board, there can be difficult problems, and I just want to make it easier for others to improve. Snowboarding is an exercise that one can always improve; most snowboarders have a technique or a trick that they are working on.
The 2019-2020 winter season was my first time instructing, but I enjoy steep learning curves and dealing with the associated pressure. I came to Japan on an Educating Adventures Ski & Snowboard programme to learn how to be a snowboard instructor. The pros and cons of that scheme are for another time; however, it let me have a thrilling time over the winter in a wonderland-like place doing incredible work. I am now in a position to maybe work another season and to hopefully sit my level-two instructor exam. The level-two certification would allow me to be more employable in other resorts around the world.
Why Japan?
I chose to instruct in Japan because I was ready for something completely different. In the end, it has become so much more than just a snowboarding trip, even more than a career change. Ignoring the current state of the world, all I can do is to recommend everything about Japan, especially the snow. The effects of COVID-19 were felt though, as we were very scared at the start of the year. Niseko is an international hub of activity, and we felt that we were very susceptible to the virus due to the number of different nationalities that were present. Some of us believe that we were already infected in January when the first stages of the outbreak happened, whereas others believe that it didn't reach us. The 2019-2020 season was apparently the worst season for snow conditions that Japan has seen in recent history; I thought it was pretty sweet. While this may say a lot about me, it reveals the severity of the conditions that I've snowboarded in before. I have mainly ridden in the French Alps during springtime, which is a mix of slush, ice, and sometimes rain. I was also taught to snowboard by my brother, who only had a couple of weeks of experience at the time (another steep learning curve).
So how exactly do you need to get started in snowboarding? Here's my guide on everything you need to know for your own wild ride.
Equipment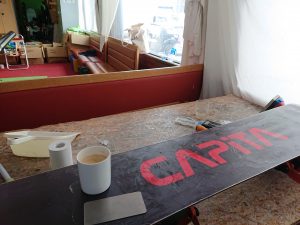 One of the problems with starting something like snowboarding is the attached price tag. The next problem is finding the balance between not committing enough money to having a quality time and spending so much that you feel like you have to enjoy yourself. My advice would be to initially rent clothing and equipment and find a real-snow slope closer to home than anywhere that requires a flight. You should experience wearing the gear, the cold, and the feel of snow under your boots and board before spending too much money. After having one or two lessons, you should begin to feel whether or not snowboarding is something you want to take further.
The Snowboard
After the taster sessions (depending on how much you've progressed already), I would suggest buying a good quality second-hand snowboard. The price tag should be lower, but do your research on the board: look up reviews, ask in online forums, and watch videos of people riding it to see what terrain the board suits best. One important specification regarding snowboards is their flex, on a scale of 1 (very flexible) to 10 (very stiff). As a beginner, it's better to get a board at the lower (more flexible, around 3-4) end of the scale, as you will not be used to the physical effort of bending and flexing a board to manoeuvre around the piste.
Boots
For snowboarding boots, try to find something comfortable. A huge bonus that we have as snowboarders instead of skiers is that our feet are comfortable most of the time while riding. Find a flexible boot as a beginner, and as you progress you may find that your riding style changes to need stiffer boots.
Bindings
The bindings are what keep you safely attached to the board, so buying these second-hand can be unsettling if they are beaten up. There are a myriad of securing technologies, each worthy of their own independent review, that you should skim-read to understand their pros and cons.
Helmet-WEAR ONE!
Preparation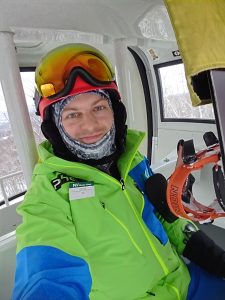 In comparison to skiing, snowboarding is hard work, especially at the beginner stages. It takes more time to be able to maintain any momentum on a board rather than on skis. But don't let this daunting doom and gloom deter you
from giving it a go. Once you are able to perform the early-stage key thing in snowboarding: changing edges, the mountain is your oyster.
There are a few things that you can do to make the learning stages easier and more fun. With regards to physical fitness, the main muscle groups that you use will be in your legs. Get comfortable with being in a squat position for a long time; wall-sits and slow squats are good exercises to try out. Cardiovascular performance only becomes an issue when you want to spend more than an hour snowboarding at a time.
Some people can learn to snowboard in a day, but they have usually either done skateboarding or gymnastics previously or are especially gifted at picking up new things. When you are new to snowboarding, don't give yourself a time limit that you can't control. Aim to have fun and be relaxed about how fast you are able to learn. You will learn more while having fun.
Instructing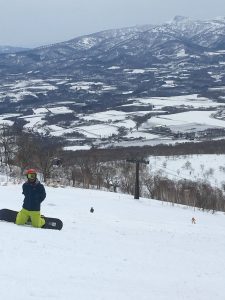 I really enjoy teaching people how to improve their snowboarding. I find it challenging because as an instructor one has to communicate in a way that the customer can understand. Thankfully, all of my lessons last season were in English. However, within any language, there are varying degrees of terminology that can be used. Some people want to know how different parts of the snowboard work before they ride; others just want to experience the feeling of riding, and then adapt from there. An instructor must realise the best way in which a student learns in a short amount of time. Therefore, being able to read and understand how others think is a beneficial skill. Most lessons are about two hours long in the Niseko area, and within this period the instructor must decide how much time should be spent on each aspect of a lesson. Differences between students will change how much time should be spent talking, demonstrating, practising, and reviewing. It is amongst all of these different factors that I find the true pleasure in teaching: no two lessons are the same. It's such a cliché phrase when people talk about their jobs. However, when you have so many different people that you can teach, in such a wide range of weather conditions, on 61 different runs in the Niseko United area, I really haven't had two lessons that have been the same.
Though I am hoping to work another season as an instructor, I am still planning on returning to the IT world. My interest in tech is only just surpassing how fun it is to ride a snowboard as a job.
Jonah is an engineer-turned-snow board-instructor. He lived in the UK until he was 25, which is when he had a first-quartile-life-crisis and moved to Japan to pursue being a snowboarding instructor. Jonah enjoys studying the Japanese language, culture, and visiting the quiet beautiful places in Japan. You can follow him at offthebeatenpiste.net.