This article originally featured in the December 2020 issue of Connect.
Birgit Bianca Fuerst (Hokkaidō) interviewed by Sangeetha Ratnayake (Hokkaidō)
Birgit Bianca Fuerst's passion for the sustainable lifestyle began in 2006. Being a mother with three small kids, and her fondness for nature along with her German background was the foundation of Hakkenzan EcoCatering. She wanted her kids to grow up with nature: simple night walks and converting anything and everything natural into fun crafts was the beginning of her 14-year-and-counting journey in her sustainable lifestyle. Hakkenzan EcoCatering was initially a small community where moms and kids could get together and do some crafts to learn about nature-given opportunities, and then it grew up into a social business when she introduced eco-catering to the program in 2012.
"It is not the eco-catering everyone expects us to be. We are not a food delivery company. Instead, we are catering not the food, but the knowledge of sustainable lifestyle concepts and the happiness of living in the moment," Bianca said. Bianca came to Sapporo in 1996 and worked for three years as a Coordinator for International Relations in the JET Program. At the same time, because of her passion for the environment, she acted as Head of the Environmental Council of Sapporo City for two years. During her time on the environmental council, her talks about her sustainable lifestyle in Germany ended up giving her the motivation to bring the concepts of sustainability in Japan. She started introducing renewable energy projects such as solar cookers, biomass, off-grid wind, and solar panels.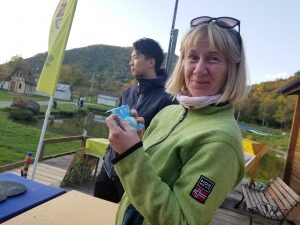 Hakkenzan EcoCatering closely follows the United Nations Sustainable Development Goals (SDGs). Mainly the following goals of No. 3: Good health and well-being; No. 7: Affordable and clean energy; No. 12: Responsible production and consumption; No. 15: Life on land and No. 17: Partnerships for the goals.
As Hakkenzan EcoCatering is located next to the Hakkenzan orchard at the bottom of the amazing Mount Hakkenzan hiking trail, they have the amazing advantage of delivering their message of sustainability to participants with hands-on activities. With the partnership of Hakkenzan orchard, they show participants how to make pickles or jam using a solar cooker and freshly harvested organic fruit, learn the value of our food and where it comes from, appreciate every step of its journey and the people involved in that journey till it reaches your plate, and also learn the nutritional values of ingredients as they are cooked. "I want people to learn about the chances they have for lifestyle," Bianca mentioned, while she was showing us how to boil eggs in a solar oven.
They use natural ingredients and materials which we can find in our surroundings, and teach us how to convert them into something amazing. Bianca brought this concept to the dining table at the "Eco Food Green Convention". Have you ever faced an awkward situation where you were looking for the waiter to refill your glass of wine? Or even though you do not need a refill, sometimes they refill your empty glass?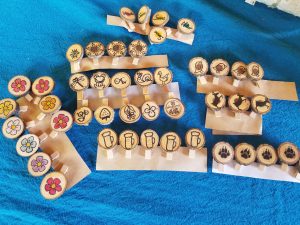 Hakkenzan EcoCatering came up with an idea that stops the food waste and makes the catering staff's jobs much easier during big events. Guests were given a small handmade pin at the convention and asked to put it on their glass if they want a refill. "We are trying to get the society into transition," Bianca said,because a small step is the beginning of the long journey of converting the conventional city lifestyle into an organic one.
As a result of all these efforts, Hakkenzan EcoCatering received the "Environmental Conservation Creation, Sapporo Mayor's Award" in 2016. With the help of not just local partners such as authorities in Sapporo and the locals living in the Hakkenzan area, but also international partners from all around the world in Germany, Switzerland, Malaysia, and Vietnam, Hakkenzan EcoCatering is currently continuing their mission by organizing training camps, workshops for everyone.
Weather is the biggest challenge for eco-catering programs. Hokkaidō is covered with snow for half of the year from November to April. During that time, food-related activities are not part of their programs. However, they overcame this challenge by organising outdoor winter activities like snow picnics or winter survival camps, where you can sit around a campfire and bond with your teammates. "People are so much attracted to bonfires, especially on a winter starry night. So why not give them a chance to enjoy the only three resources—fire, snow, and a sky full of stars—that they can find around them for free?"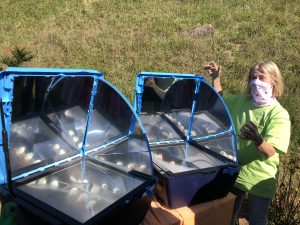 The Covid19 pandemic has been a challenge for everyone around the world. It is not a secret that it has affected community-based business the most. The Hakkenzan EcoCatering community is mostly families, kids, and students' groups in Sapporo. They also have the international community come to enjoy their eco-tourism targeted activities. Hakkenzan EcoCatering had to cancel all of their events, raising questions such as "How will it be?", "Can we survive?", and "How long is it going to last?".
Other local businesses have started converting into digital entrepreneurship. Hakkenzan EcoCatering was thinking about e-advertising, but their mission "to help people come to us to get hope and energize through our programs" made them patient and hopeful, and they are now slowly starting to serve society again. "I wanted to dare the technology. Even in a situation like this, I wanted to make our mission clear: how we can do outdoor events away from the screen."
Bianca is determined. On Oct. 31, 2020 they carefully held their first event since the pandemic, collaborating with the Hult Prize at Hokkaidō University and working to ensure that Hakkenzan EcoCatering is back in business and a safe place to conduct events.
"I hope we can give some hope and refreshing time for everyone," Bianca said at the end of the event.
Bianca is from Germany, living in Japan with her family. Aside from being a mom of three children, she inspires many from her creative ideas of sustainable lifestyle camps and team-building workshops. If you are in Hokkaidō and looking for something fun to do, you can contact her through their website and social media.
Sangeetha is from Sri Lanka and studying Bioinformatics as a Ph.D. student at Hokkaidō University. Aside from her passion for computational biology, she enjoys hiking, dancing, and handcrafting. With her passion for social entrepreneurship and sustainability, she organizes events related to Sustainable Development Goals, Social Entrepreneurship, and Teambuilding for students.