This article originally featured in the October 2020 issue of Connect.
by Nicholle Applewhite (Yamaguchi)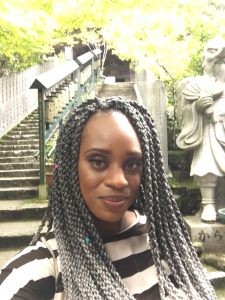 My name is Nicholle and I'm from Atlanta, Georgia by way of Grand Rapids, Michigan. I came to Japan on a whim from living in Thailand. Currently I am running an English immersion babysitting service and English conversation bar at SourApple Patch in Gentengai, near UbeShinkawa in Ube. When I'm not at work, I host parties and gatherings based on various American holidays to promote cultural exchange. 
A Feast From the Heart
One of the events I hold is a Thanksgiving dinner. Initially, there was a previous JET who used to hold a small dinner for her friends. When she left, one of the attendees that enjoyed the event wanted it to continue. He asked me if I could do so and I agreed, but chose to open the event to anyone who was interested in living in the area instead of making it a small "only friends" gathering.
I cook a traditional southern Thanksgiving dinner with members of my "village" (my small community of both foreign and local friends). We hold the event at a local izakaya called Kaisendonya owned by Etsuo Fujimoto. The largest group we've hosted had an afternoon and evening seating that fed 68 people. To express the cultural significance of Thanksgiving in America, we talk about the importance of the meal and what it now represents. After dinner and dessert, we play games to help share what we are thankful for and show Thanksgiving movies on the big screen to usher in the holiday season. Towards the end of the night you can really feel the warmth and communion between everyone in the room. This exchange is the true goal of the Thanksgiving dinner. 
All Treats, No Tricks
Another big event I hold is a Halloween party. I host two different parties, one for children during the day and one for adults in the evening. We have activities, games, photo shoots, and trick-or-treating for the children. All the events are held in English to encourage communication for the kids to use the skills they practice in school and tutoring. For the adults I cook theme related foods, play a variety of games, and hold a costume contest to encourage the locals to dress up and revel in the holiday spirit.
This event was born out of a conversation between a friend who owned a now-closed English bar and I. We were talking about American holidays that are known in Japan but not celebrated. One of my favorites was Halloween. He enjoyed my enthusiasm for the holiday and asked me to plan a party at his location. That was the first one to happen and it's become a tradition that I now host at my own English conversation bar. This is the reason why I keep doing them; It's become a tradition. I like parties and I like keeping up traditions, especially those I've had a hand in starting.
Before the COVID-19 pandemic, there was a plan to host a Valentine's Day party, a Woman's Day event, an American-style summer BBQ, a Black History Month celebration, Thanksgiving, a Halloween party, and a Christmas party. However, all events have been postponed until I can find a way to host the parties while keeping everyone safe and the spread of the virus to a minimum.
While events are on hold, I'm getting prepared to add a sweets café to my business stead called Karmel Apple Kafe. The sweets will be American themed and there will be seasonal themed items as well. This will kickoff by November 2020.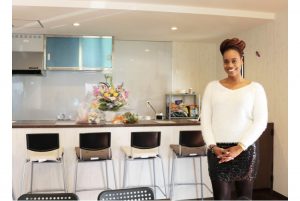 Lessons a Book Couldn't Teach
People are receptive to learning about other cultures when given the chance to experience them on a first hand basis. Reading about a holiday in a book or an article versus experiencing it first hand are two totally different things. You can dispel so many fears, wrong information, and stereotypes when people are allowed to experience the event first hand, especially when the hosts are knowledgeable about various outlooks on the event/holiday in question.
I don't do what I do for recognition or to be told "good job". I host events because it's a joy for me. Hosting allows me to put some of my passions to use (cooking, parties, being social, learning and teaching others new things in a fun environment). That's the only reason I started my business and the reason I will continue to host events.
Nicholle is from Atlanta, Georgia and currently resides in Ube, Yamaguchi. She is a self-made business owner in Japan. When she is not busy working you can find her supporting the community by offering a small range of cultural exchange opportunities that will be expanding in the future. You can learn more about her events and businesses on Instagram at sourapplebabys, Facebook at SourApple Patch, or on her website Sourapplepatch.