This article originally featured in the October 2020 issue of Connect.
Japan's Wonderful Train Stations
Clarissa Combe (Aomori)
Japan is the land of trains. From the bullet train to your local futsu-densha, there's something relaxing about trundling through the Japanese countryside, rice paddies flying past the wide windows. I often find that half the fun of travelling around Japan are those idle hours where my brain switches off to enjoy the scenery. However, it's not just the trains; Japan's myriad of bizarre and unique train stations also adds some excitement to getting from point A to point B.
Aomori's Jomon Overlord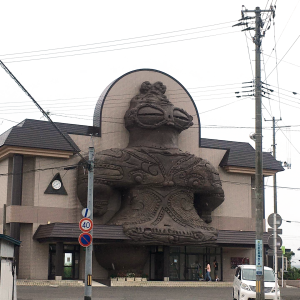 While it's more customary to approach a train station on a train, Kizukuri Station in Tsugaru City, Aomori Prefecture, is far more impressive if you drive. The first time I visited the station was on a work trip around various Jomon era archaeological sites in the area, and I did not expect my first encounter with the Jomon to be a giant statue of Shako-chan suddenly peering down at me from above when we drove around the corner. Shako-chan is the name locals give to the Jomon shakoki-dogu, or goggle-eyed clay figurine, that was discovered in a nearby rice field by accident in 1887. One day, a farmer saw something poking out of the ground, and when he tugged on it, out popped Shako-chan. Discovering Jomon artefacts is a surprisingly common affair in Tsugaru City, which is home to the Kamegaoka Site, where hundreds upon thousands of dogu and pieces of pottery have been excavated since the Edo period. However, Shako-chan is not like other dogu and has become an icon of the area.
Animal Crossing fans may have seen Shako-chan on Redd's ship before because the 'ancient statue' is also a shakoki-dogu. However, the Shako-chan titan that graces Kizukuri Station is closer to the forgery than the original as her eyes also light up eerily when a train approaches the station. The first time I went to the station, I was lucky enough to witness the irasshai beam in action as Shako-chan's narrow eyes lit up in seven different colours, like an ancient piece of alien technology suddenly awakening. I was half-expecting laser beams to start locking onto me, like when I stumble across a hidden Guardian in Legend of Zelda. As I've yet to see another station in Japan that boasts a giant Jomon statue, I have to say Kizukuri Station is worth a stop on your journey.
Clarissa is a 3rd year CIR who left the London life behind to frolic in the mountains of Aomori. When she's not lying on her sofa reading, she's busy horse riding or digging into her third taco rice of the week.
Kitty Station Master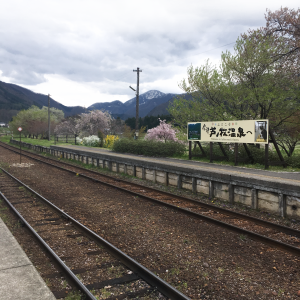 Kirsty Broderick (Saitama)
The extended Golden Week of 2019 had arrived, and I was off to Fukushima for a few days! I had purchased a Yuttari (relaxing) Aizu Tobu Free Pass, which allowed me to travel from my home in Saitama to Aizuwakamatsu in Fukushima on Tobu trains at a much cheaper rate than the shinkansen. The trip would be slower but considerably more budget-friendly, and I like to travel on the cheap so I can travel more!
As I researched my trip and the long journey (over four and a half hours), I thought about breaking up the train ride along the way. I discovered that Ashinomaki-Onsen Station, a station along my route, had a cat for a station master! I was intrigued and decided I would stop there on my way.
The original cat station master was Tama, who became station master of Kishi Station in Wakayama. Tama put the station on travel maps and saved the rural Kishigawa Railway Line, which was under threat of closure due to low ridership and financial difficulties. Tama was originally a stray that stayed around the station and was cared for intermittently by different people in the community. In January 2007, Mitsunobu Kojima, president of the Wakayama Electric Railway, officially declared Tama as the station master of Kishi Station.

Following Kishi Station's success, in April 2008, Ashinomaki-Onsen Station appointed their first cat station master named Bus. Bus was a stray who had lived around the station since 2000. Bus was named for the Catbus in My Neighbour Totoro and became an icon for the town. When she passed away in 2016, the whole town turned out for her funeral. A peach blossom tree was planted by the station in her memory, and people still leave flowers and small offerings to her. The waiting room area where Bus liked to spend most of her time is also kept as a form of memorial to her. Out of respect, no food, drinks, or pictures are allowed in here.
Bus was succeeded as station master by a cat named Love. The station has become a popular date spot for couples in the area due to the new station master's name. The station has created an 'insta-bae' photo spot to further encourage this.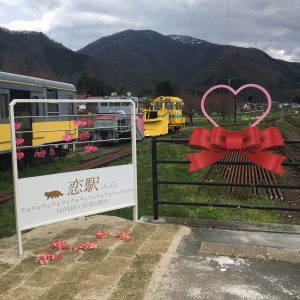 Another cat named Peach has since joined Love. Both cats are adorable and well-loved. The station staff keeps a close eye on them to make sure they are not overwhelmed by the visitors, and they have resting areas in the office where the cats can retreat and have some privacy. Unfortunately, when I visited, the cats were resting, and I could not pat or photograph them. I was glad their wellbeing is looked after though, especially considering animal rights are often neglected.
Several other stations now have animal station masters too, including some dog station masters! I encourage anyone to seek out these stations and visit our animal station masters. The stations that employ animal station masters are typically very quiet, in rural towns, and can be quite fun to visit.
Kirsty Broderick is a fourth-year ALT. She originally comes from New Zealand and now calls Saitama home. She can usually be found daydreaming about her next adventure—at least corona can't steal dreams . . . only plans!
Deep Inaka The Way to Japan's Deepest Station
Dahlia Lemelin (Gunma)
I am an over-planner for most things, and travel isn't an exception. Before I had even moved to Gunma Prefecture from Canada two years ago, I had already looked into all the interesting places that the cabbage-land prefecture had to offer. I was looking forward to spending my weekends going down my countryside to-visit checklist.
Last November, a small group of ALTs from my city planned to board the Tanigawadake Ropeway to attend an illumination event at the top of Mount Tanigawa in northern Gunma. The original plan had me riding local trains to Gunma's capital, Maebashi, and then transferring to the JR Joetsu Line at very specific times that would guarantee an early arrival to the station. I would then catch a bus to the ropeway base station. As I usually do, I arrived extremely early and realized the bus schedule had recently changed. What would have been a perfect transfer promising to bring me there comfortably early turned into a one-hour stop at a small station with little to do on a cold November evening. I sat outside with a hot chocolate from a vending machine, hoping I could save my defunct plan with another bus or even by sacrificing a few yen on a taxi.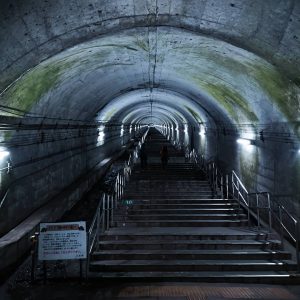 Surprisingly, my transport navigation application was offering me a new route; not with the bus this time, but rather, a new available route on the same line I had just arrived on—the Joetsu Line. Calculating travel time and carefully looking at the details of the route to make sure I could get to my destination safely in such an unfamiliar area, I saw the name of the recommended final station, and, surprisingly, it rang some bells. Doai Station (土合駅).
Sitting on the train with about a dozen people, I headed north to my destination: the last station of the Joetsu Line in Gunma Prefecture before it enters Niigata. I saw the dense forest of the inaka grow darker as the sun set behind the mountain range. The train then made a turn and entered a 13 km long tunnel under the mountains, the Shin-Shimizu Tunnel. And this is where it led me: to the middle of the dark tunnel at the north-bound platform of Doai Station, 70 m (230 ft) underground. Welcome to the deepest station in Japan.
A handful of people disembarked and looked around in awe, phone cameras out to snap shots of the train leaving us behind in the dimly-lit, humid tunnel, where an old sign drips with rust and the nostalgia of a previously useful station. For years, the unstaffed station hasn't been too popular, with about 20 passengers daily. The opening of the Joetsu Shinkansen pushed it towards its demise as a commuter station, transforming it into a post-apocalyptic style abandoned tourist destination for train enthusiasts everywhere. After a few pictures, I quickly realized I had to go out to meet my friends.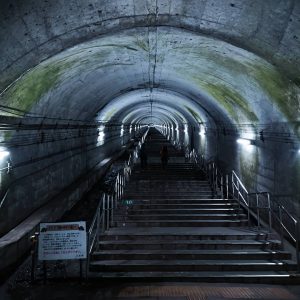 That's where the real challenge started. Even though the platform heading towards central-south Gunma is on the ground level and surrounded by mountainous nature, this underground platform doesn't have easy access to the exit. It lies at the bottom of a 486 step stairway, with no escalator or elevator. Only your legs can carry you out. The unstaffed ticket gate is at ground level, which takes about 10 minutes to reach by foot, or maybe 15 for unfit people like myself. Nothing has seen sunlight since the station's opening about 90 years ago; the humid grey walls are lined with metal pipes and screws, rust claiming most of the exposed parts. With hikers quickly going up and leaving me behind with only myself, my heavy breath and the flowy sound of underground water dripping created an atmosphere that was undeniably creepy and cool.
For train enthusiasts, hikers, or even travel nerds, I recommend the detour, even if only for a few instagrammable shots. The Minakami area is famous for its ski resorts in the winter, and Mount Tanigawa is a popular hiking location, so if you ever find yourself in northern Gunma, ride the Joetsu Line to find Doai Station! The more courageous and physically fit should arrive through the tunnel to climb the stairs and meet the more casual travellers who stopped at ground level—all marvelling at the mysterious, long stairway to the deep inaka.
Dahlia Lemelin is a French-Canadian JET living in the southern part of Gunma Prefecture. Interested in alternative Japanese fashion and music from a young age, she decided to move to Japan to share her creative hobbies with local communities and friends as well as take part in domestic events with people like her. She hopes to share the curious and mysterious, quirky side of Japan to outsiders in an approachable and fun way to destroy stereotypes of "weird Japan".