This article originally featured in the September 2020 issue of Connect.
By Mary Fisher (Niigata)
Sitting under the open night sky, the harbor breeze cooling the Ogi port, I stared at the enormous drums onstage. The crowd was as close as seated people could be without touching, with attendants asking everyone to leave no spaces. The lights went down and despite the crowd, despite being outdoors, despite the venue bordering the harbor, it was completely silent. There were no lights, no illuminated screens from cell phones or cameras, and everyone held perfectly still.
Then came the rumble. It was so soft that I was certain I was hearing my own heart. But it started to reverberate through my chest, my head, and my limbs. A beat emerged from the rumbling and my pulse matched the tempo. A flute pierced through the rhythm and I could feel it in my core. The lights began to fade in and on stage were a dozen drummers standing perfectly poised.
The Kodō concert had begun. It would finish with the entire performing ensemble of over 30 people and their special guests from overseas on stage together. The last number was a culmination of the past few days of sharing cultures and experiences and music. They danced with massive taiko drums strapped over their shoulders, smiling and shouting, blasting confetti into the jubilant crowd.
And that was the grand finale of Earth Celebration, the 3-day music festival held every August on the southern tip of Sado Island. The island, located off the Niigata coast, is usually remembered for its well-preserved customs and historic gold mine. But since 1988, Earth Celebration has been attracting between 5,000-10,000 people annually for what is best described as an international matsuri. Days are filled with cultural workshops and local experiences plus a market of various food and goods. Nights are centered around lively concerts from international artists and the famed taiko group Kodō.
A Westerner might first notice that Earth Celebration is much smaller than well-known music festivals like Coachella or Lollapalooza. However, this factor is key to making a more enjoyable experience for guests. Earth Celebration is focused on entertainment that broadens your appreciation of the world. Workshops, local tours, and activities offer a sense of community and participation.
In order to make the weekend accessible for foreigners and Japanese alike, there is a fusion of festival characteristics. The tone of a traditional matsuri is set by the street processions, the highlighting of traditions, booths offering local crafts and fun, and the abundant treats on sticks. Incorporating the more Western-style focus on music and theatrics, with nightly grandiose concerts, gives the weekend a uniquely blended feel.
About Kodo
So who are the organizers and why is traditional culture so important to them? Earth Celebration is the collaborative effort of Kodō and the people of Sado Island. Kodō (鼓童) is one of the most famous and enduring musical ensembles in the field of taiko drumming. Their use of various traditional instruments and regional styles helps their music better represent the diversity of Japan.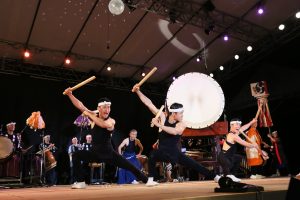 Since 1981, Kodō has been touring and familiarizing the world with the Japanese art of taiko. They have participated at global events such as the Nobel Peace Prize Concert, the FIFA World Cup, the Olympics Arts Festival, and the soundtrack for the major motion picture "Hero". The group is dedicated to presenting traditional Japanese culture faithfully. It was this desire to preserve and honor the traditional arts that struck a chord with the people of Sado.
Sado Island has a rich history despite its remote location. Festivals, rituals, folklore, and artforms have thrived with few disruptions. When Kodō was looking for a location to establish their center of operations, Sado turned out to be the ideal environment. For the past 30 years, Kodō has been based on the Ogi Peninsula of Sado. On this southernmost tip, they built Kodō Village as a training ground and headquarters for members and staff. Apprentices live on-site while the ensemble members are able to take a home nearby.
Earth Celebration is more than a music festival. It is an opportunity for Kodō to bring the world into the unique atmosphere that keeps their work focused. Likewise, it is an opportunity for the people of Sado to share the traditions they have worked hard to maintain. Be ready for a full-on experience.
What to Expect
Earth Celebration is an interactive experience offering workshops and presentations that teach festival-goers about the traditional arts unique to Sado. Many of the hands-on tutorials and intimate performances do cost money (including travel expenses and equipment rental) and have limited space, so it's important to look through the options and buy tickets early. Most events, with the exception of performances, are able to offer English assistance. However, many of the workshops ask for no photography/recording.
The Kodō workshops are a highlight every year. The taiko drumming class is usually one of the first ticketed events to sell out. A senior member of Kodō leads the group through the basics of taiko drumming; you will be working up a sweat so dress comfortably. In the vocal workshop you will be taught the hauntingly beautiful singing techniques used in Kodō performances. And Kodō also has a dance presentation. Hana Hachijo is a dance technique created by a senior member of Kodō specifically to be performed alongside drumming. (And if you aren't lucky enough to secure a ticket: you still have the opportunity to catch the free demonstration by Kodō's recent apprentices and hear about their life as students in Kodō Village).
The Sado Island workshops are equally entertaining. Onidaiko is one of the most highly regarded Sado traditions: the famous demon drumming. On Sado, oni are regarded as protectors and are called on to chase away evil. Every major event or turning of the season is marked by onidaiko being performed. It is part drumming, part dancing, and part acting; you will learn to portray the oni unable to resist the call of the drum. The troupe that teaches their local brand of onidaiko is native to Ryotsu, the northern port of Sado, and brings the full regalia.
And if you want to learn something more delicate, there is the okesa workshop. This dance began early on when Sado was a major port on the Kitamae-bune trade route, and of course every town has their specific style. While only some people are trained in onidaiko, EVERYONE on Sado knows the okesa. You'll want to learn this dance so you can join in the late-night festivities on the Ogi streets.
This slideshow requires JavaScript.
Earth Celebration charters buses to take you to recreational spots around the island as well. Noh performances, tea ceremonies, sea kayaking, the preserved neighborhood of Shukunegi, sake brewery tours and meals, the Iwakubi rice terraces, taraibune rides, gold mine tours, and more. These activities are available on Sado throughout the year, but the group dynamic is something that shouldn't be missed.
And for the thrifty festival-goer who is trying to have fun and not spend much, save your money for the concerts and enjoy Ogi! There will be bands playing throughout the day, drum circles, storytellers, parades marching through the streets, and by night one you'll already recognize the drumbeat of an approaching oni. Harbor Market attracts vendors from all over Japan and has fun and delicious foods from Sado and far off countries.
As for the Earth Celebration nights, it's all about the concerts. If you are smart, you will purchase a three-night concert pass because these performances are unlike anything you've ever seen before. Special guests are invited every year from around the world, deepening the sense of global community. Just in recent years, there have been musical guests from South Korea, Vietnam, Thailand, Myanmar, Belgium, Indonesia, and the Ainu tribe of Hokkaido. With a multitude of different styles and sounds, it is the height of cultural exchange. The final night always ends with a spectacular Kodō performance under the stars. Out of respect for the performers and their effort to create a complete experience, there are no cameras allowed in these concerts.
With the recent global pandemic, Kodō has been especially focused on giving hope and comfort through their social media accounts. Rather than cancel Earth Celebration this year, the organizers have found innovative ways to keep the festival alive via online participation. Workshops have been provided to a limited few via Zoom so as to keep with the intimate class structure one would normally experience in person. It is more difficult for them to have English support for these workshops, but they have gone so far as to ship out electronic taiko drums for the workshops (these must be returned afterwards). As for the concerts, video will always pale in comparison to live performances. To make up for this, Kodō is showing the natural beauty of Sado that most Earth Celebration guests don't get to see. They are recording their acts at different (often hard to reach) locations, showcasing their island home in a different way. This year, Earth Celebration will come to you.
Earth Celebration will change the way you think of music festivals. You will leave feeling like you not only attended an event, but that you took part in it. Follow the drums and we'll see you there.
Earth Celebration does employ charter buses and shuttles for certain affiliated locations (workshops/campgrounds) but if you plan to do any independent exploring of Sado outside of the Ogi Port, you'll probably want to rent a car. Travelling around the peninsula by bike is possible, but the hills are no joke and towns are very spread out, so you're likely to be spending all your precious time pedaling. Car rental offices are located near either port.
And lastly, where do you plan to stay? There are hotels both nearby and scattered across the island. I'd suggest you book close and book quick. There is fun to be had well into the night that you don't want to miss out on. For the more economical and experienced festival-goer, I suggest the Sobama campground! Sobama is still on the Ogi Peninsula, about 20 minutes away by car/bus. They have tents and other camping gear available to rent and Earth Celebration has a shuttle service between the campground and the port. You do still need to call and make a reservation for the spot and gear.
Here's some insider information to help you plan your trip
Concert tickets (adults):
¥4500-5500 per night; ¥15000 for 3-day pass
Workshops: ¥1500-4000 per session
Getting to Sado is an adventure in itself. Your only way of getting on the island is by ferry, either from Niigata City or Naoetsu. Whichever route/boat you choose, remember to direct your city taxi to Sado Kisen or you might end up at the shipyard.
Niigata/Ryotsu (northern port)
1. Car Ferry: 2.5 hours; cheapest, gentle
rocking, easier for large groups
2. Jetfoil: ~1 hour; most expensive, reserved
seats only, rougher on sea-sickness
Naoetsu/Ogi (southern port/Earth Celebration location)
1. High-Speed Car Ferry: ~1.5 hours; mid price, reserved seats,
roughest on sea-sickness
2. **BONUS** Morning after Earth Celebration, Kodō does a
ferry send-off
Mary Fisher is a former Sado JET. She graduated from the University of Kansas with a B.A. in East Asian Languages and Cultures and is currently attending Newcastle University for Creative Writing. She misses Sado rice and sushi most of all.