David Atti (Chiba)
An old motorcycle rests outside the countryside barbershop in Futtsu City, Chiba. The sign spells out "SANPATSU-YA HILLBILLY CAT" in circus font with a cartoon cat holding a pair of scissors below. I open the glass door plastered with so many stickers it's nearly impossible to see inside. 
"Hai Deibu!" Hillbilly Cat Toshi calls out after inhaling the last drag of his cigarette. The master barber is dressed all in black with a red bandana dangling from his back pocket. Black and grey tattoos crawl up his sinewy arms. Hillbilly Cat Toshi has been cutting hair for the last 31 years, becoming a barber shortly after graduating high school. The 50-year-old's bloodshot eyes reveal the toll of his 90-hour work week.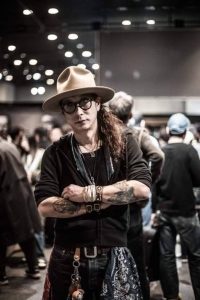 The rockabilly barbershop is almost like traveling back to 1950's America. Elvis Presley's "That's All Right" plays over the shop's speakers. A cooler stocked with ice cold Coca-Cola in glass bottles sits on the bar. Whisky bottles flaunt Toshi-san's taste for American bourbon. His beloved double bass stands upright in the corner as a reminder of his days playing in a rockabilly band. 
As I walk further into the shop, my eyes meet the deranged stare of a mohawked Robert De Niro from Martin Scorsese's Taxi Driver painted on the wall. The custom mural shows a blood-splattered De Niro pressing his index finger into his temple as if it were the barrel of a gun. If you look a little closer, the mural contains Toshi-san's creedo written in English:
To live fast is to live foolish Live life to the fullest till the end."
As a fan of tattoos, rockabilly and classic barbershops I was incredulous to find such a gem hidden in the inaka of Chiba Prefecture. I drive an hour every month from my placement in Kamogawa City to Toshi-san's shop in Futtsu just to get my haircut. Hillbilly Cat Toshi has even taught me more about American culture. His moniker "Hillbilly Cat," he informed me, was a lesser-known nickname of Elvis Presley before his coronation as "The King." When he opened his barbershop 17 years ago (February of 2003), he decided to name it in honor of Elvis, the original "Hillbilly Cat." Toshi-san said "Hillbilly Cat" in Japanese translated to something like "cheeky young man." 
Toshi-san's favorite hairstyles are "short and rough," such as skin fades and undercuts. These haircuts have gained popularity from shows like Boardwalk Empire and Peaky Blinders. The chain-smoking barber also introduced me to "riizento style." Riizento or regent style are Japanese pompadours made popular by bikers, social delinquents, rebels and rockers. 
Toshi's girlfriend Rie-san often serves coffee to customers as they wait and sweeps up after each cut. The barber acknowledges Rie-san is a kind soul but cautions me not to upset her as she has a reputation for being a dangerous kendo-ka. I enjoy talking to her about our mutual interest in Japanese martial arts while I wait to be called. It's easy to become vain with such a talented barber like Toshi-san. One thing I learned from the Hillbilly Cat that keeps me humble is this: 
 Everyone may go to their barber to be cool but I think a truly cool guy doesn't care about his hairstyle in the first place." 
HillBilly Cat Toshi can do it all in the world of barbering from towering pompadours to hot lather straight razor shaves. I sit down in the leather chair and Toshi throws a barber's cape over me filled with Sailor Jerry tattoo flash. He roughly shampoos my hair in the white porcelain sink. My head is soon met with the smack of a clean white towel. Toshi-san thoroughly dries off his only "kinpatsu (golden-haired) customer." 
This slideshow requires JavaScript.
Over the last year and a half, I've learned to trust this man carte blanche. When he asks what I'd like I just say "omakase shimasu!" (I'll leave it up to you!).  Each appointment is not only a haircut but an experience. Hillbilly Cat Toshi imparts nanpa pick-up lines and biker slang from his wild youth as he snips away. If the client isn't the talkative type, they're made to feel perfectly comfortable as the Hillbilly Cat focuses on his craft. Sure enough, I walked out with a cut like James Dean in Rebel Without a Cause.
On the off-chance that the reader finds themselves in the inaka of Chiba Prefecture, stop Hillbilly Cat Toshi's barbershop for a cut and a shave. The barbershop opens six days a week from 9AM until midnight. I know Hillbilly Cat Toshi's cuts have been an unforgettable part of my JET experience. 
HillBilly Cat Toshi's Instagram account.
David Atti is currently a second-year JET in Kamogawa City, Chiba Prefecture. He hopes to one day visit Kyushu and see Sakurajima. David graduated from SUNY Geneseo with a degree in American Studies before coming to Japan. 
Sources: