This article originally featured in the May 2020 issue of Connect.
Using What's in Your Cupboard to Make Tasty Meals
Hazel Reilly (Tottori)
All over the world, people are making do with less. As the number of Covid-19 cases continues to rise in Japan, this is an opportunity to learn simple, affordable recipes that can be made in a pinch, using ingredients you can find in the cupboard. "But wait!" I hear you cry. "I don't know where to start!" That's where I'll step in to help you, kouhai-chan. Let's start with the basics: pantry staples.
What is a pantry staple? Basically, it's an ingredient that will keep for a long time and that you will use again and again. What you will consider a pantry staple will depend on what you like to cook. I'm somewhat fussy but even I've found it easy to eat affordably and tastily in rural Japan, using just a few choice staples.
Online, you'll find lots of different lists with recommended staples. Budget Bytes is a good, self-explanatory website with tips on everything from meal prep to kitchen skills.
As a general guide, a good store-cupboard should contain all the pantry staples that are essential for making teriyaki sauce; soy sauce, mirin and cooking sake. This is a versatile sauce that you can use with anything and (nearly) everything. In Ireland (where I'm from), a lot of cooking is oven-based but with a lack of range ovens, it's important to be more creative with a frying pan.
Another staple that you will find yourself turning to again and again is tinned, chopped tomatoes. These are cheap and easy to find in even the cheapest supermarket. They are perfect for stewing, making pasta sauces, for whipping up salsas at short notice and making Bloody Marys—and with the way Abe's handling this crisis, we'll need more than a couple.
Herbs and spices are likely to be the most expensive additions to your store-cupboard but once you've got a handle on them, you'll find they're your kitchen saviors, rescuing meals from blandness, along with generous helpings of salt, the occasional dash of sugar and the right use of heat and water.
Which herbs and spices you buy will depend on what style of cuisine you most like— the wonderful book Salt Fat Acid Heat has a great chart explaining the different spices used in each region. Japanese cuisine doesn't rely heavily on spice (with a few exceptions) and mostly dances between savory (umami) and sour, with lots of saltiness thrown in for good measure.
But maybe you prefer a kick of spice? In that case you can start to incorporate spices, with an eye on how different flavors work together. In fact, with a little trial and error you can even start to create your own blends. Again, I'm sure I don't need to point you to the many online lists you can find, but I'd like to point out one of my favorite (dare I say, most iconic?) spice blends: the "Everything Bagel" seasoning.
The wonders of pasta in all its various guises and glory need no introduction. Dried pasta is a great staple that can keep for a long time, takes no time to make and is just the thing to bring in a bento box for work the next day.
Which brings me to pasta sauce. Obviously if time is really an issue, you can buy the ready-made sauce but it's easy to make it yourself using tinned tomatoes, some garlic and maybe some chili powder thrown in for some kick. And salt. Lots and lots of salt. Though one shouldn't underestimate salt-serious health conditions, it's what makes savory food palatable and you need to use lots of it.
Another staple of lockdown baking is the humble banana bread. Given that bananas are the only halfway-affordable fruit in Japan, this is something you're likely to have to hand and—if your plans to eat more healthily have gone awry and your bananas have turned black—can be used to salvage even the most far-gone fruit.
Recipies

Shashuka
The perfect brunch time recipe: a Middle Eastern staple that can be made with the simplest of ingredients.
Ingredients
1 medium onion, diced
1 red bell pepper, seeded and diced
4 garlic cloves, finely chopped
2 tsp paprika
1 tsp cumin
1/4 tsp chili powder
1 28-ounce can whole peeled tomatoes
6 large eggs
salt and pepper, to taste
1 small bunch fresh cilantro, chopped
1 small bunch fresh parsley, chopped
Method
Heat olive oil in a large sauté pan on medium heat. Add the chopped bell pepper and onion and cook for 5 minutes or until the onion becomes translucent.
Add garlic and spices and cook for an additional minute.
Pour the can of tomatoes and juice into the pan and break down the tomatoes using a large spoon. Season with salt and pepper, then bring the sauce to a simmer.
Use your large spoon to make small wells in the sauce and crack the eggs into each well. Cover the pan and cook for 5-8 minutes, or until the eggs are done to your liking.
Garnish with chopped cilantro and parsley.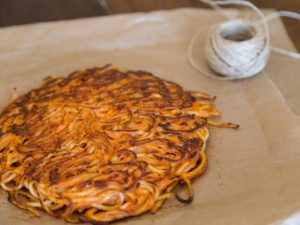 Spaghetti Frittata 
This is a recipe for cold, leftover, frankly unappetizing spaghetti to transform it into the most gorgeous comfort food.
Ingredients
200g day-old, cold spaghetti (plain or with tomato sauce)
3 eggs
3 tbsp grated parmesan or pecorino
Salt and black pepper
3 tbsp diced mozzarella or other melting cheese (optional)
Butter and oil, for frying
Method
Break the eggs into a bowl and whisk. Add the cheese, salt and plenty of pepper, then whisk again. Add the spaghetti and cubed cheese, and stir until the pasta is well-coated with egg.
Heat a little olive oil and butter over a medium-high flame, until the butter is foaming, then tip the mixture into the pan and fry for a minute, stirring constantly.
Press down on the mixture to even it out in the pan, turn the heat down to medium and leave to cook for two minutes, then use a plate to invert the frittata and fry on the other side until golden.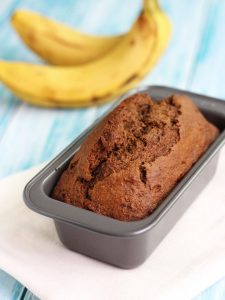 Banana Bread
Ingredients
1 small or medium very ripe banana, mashed, (at least 1/4 cup mashed)
1 large egg
1 tablespoon canola oil
1/4 teaspoon pure vanilla extract
1/2 cup white whole wheat flour or all-purpose flour
1/4 cup granulated white sugar**
1/4 teaspoon baking soda
1/4 teaspoon ground cinnamon
1/8 teaspoon fine sea salt
Method
1. Adjust your toaster oven's cooking rack to the lowest placement and preheat to 350F on the "Bake" setting.
2. Grease only the bottom of a 3 x 5.75 x 2.5 inch mini loaf pan.
3. In a medium bowl stir together the mashed banana, egg, oil, and vanilla. Add the flour, sugar, baking soda, cinnamon, and salt. Stir until just combined and small lumps remain.
4. Pour batter into your prepared pan and bake until a toothpick inserted in the center is free of crumbs, about 24 to 28 minutes.
5. Allow bread to cool for at least 10 minutes before removing from pan to cool completely on a baking rack.
Hazel Reilly is a second-year ALT living in Tottori prefecture who loves crafting, watercolours and discovering new places on her bike. Can often be seen at local festivals, sporting a colourful yukata.